Nathalia Passarinho
BBC News Brazil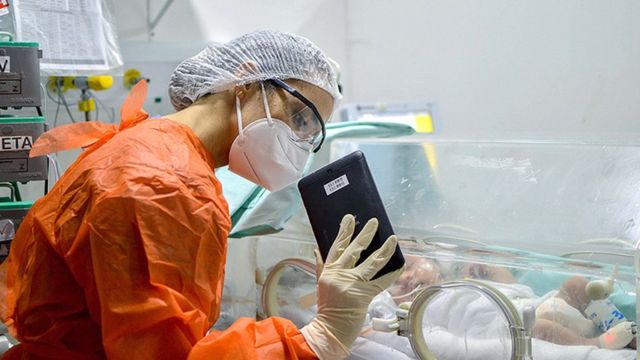 Every morning, in front of the hospital lavatory, intensive care pediatrician Cinara Carneiro takes a deep breath, pauses for a minute, tries to meditate while washing her hands, and begins to put on her mask, hat, gloves, and layers of protective clothing. that he wears on his body.
A 12-hour shift is going to begin in the Covid-19 Intensive Care Unit of the Albert Sabin Children's Hospital in Fortaleza, in the state of Ceará in northeastern Brazil.
There they are hospitalized babies, children and adolescents fighting for their lives unable to shake hands with their mothers or fathers.
Cinara tries to cheer up these children, but cannot even smile at them because of the protective mask.
It has to transmit humanity through touch, eyes and voice.
Visits to relatives in covid-19 ICUs were prohibited in most hospitals in Brazil due to the context of uncontrolled infections.
Even when the epidemic had not reached the peak of deaths, visits were restricted because public hospitals lack protective equipment for parents to visit their children.
"Interaction with the child, wearing a mask and vest, is something that causes us suffering. In our unit no we allow the presence of relatives, as allowed before, due to the risk of contamination. We don't have enough personal protective equipment to make available to parents, "explains Cinara Carneiro to BBC Brazil.
He reports that, on occasions, the patient arrives at the ICU conscious, but worsens, intubates and ends up dying without the parents being able to accompany him in this process.
The severe cases of covid-19 in children are rare and, according to the pediatrician, most of those who end up needing to be admitted to the ICU recover.
But patients with chronic health problems and comorbidities are at higher risk.
And, although it is a minority, there are cases of death by covid-19 of children who do not fit this profile.
"It hurts to see a child die without seeing their parents. The mourning of these relatives is very hard for not having seen it, for not having physically monitored the deterioration. As much as we try to explain to them over the phone, many things are neither seen nor experienced. ", He says.
"Solo time later will heal these wounds".
In the absence of family members, health professionals are in charge of welcoming and calm the fear and physical pain of these little ones patients.
"Those who are aware they see what is happening to the most serious patients, because it is an open unit. It must be very shocking and confusing for them to see this. We try to calm them down and make up for the lack of parents as much as possible, "says pediatrician Jessica Lira, who also works in the ICU of the Albert Sabin Children's Hospital.
One of the most sensitive moments of the hospitalization of a patient with covid-19 is intubation.
A conversation with a 14-year-old teenager, moments before being sedated, was etched in Cinara Carneiro's memory.
Bad news
As the oxygen saturation level dropped, he repeated, "I don't want my mother to suffer, I don't want my mother to suffer."
"I said, 'You need help breathing. I'm going to do it right now, but you will receive medication to sleep, so as not to feel pain. And we'll be here talking when you wake up, '"recalls the pediatrician.
But the boy, who had no comorbidity when he was infected with the coronavirus, he never woke up again.
"I am very afraid of promising things that I cannot keep. That day, I was very afraid that it would not get well. And it was not cured. And losing a child who had everything to recover in another context is very difficult."
After watching the patient die, Cinara Carneiro had another difficult mission ahead: to break the news to her mother.
The one that the child was so afraid of causing suffering.
"I was able to speak to his mother in person, in a suitable room here in the hospital. It is a lot of suffering because the virus brings a lot of guilt. Parents wonder: 'Was it me who brought the illness at home?'. In that family many questions were asked like this: 'How did you get it?' "He says.
Fresh in the memory of intensive care pediatrician Jessica Lira is the conversation with the parents of another child who, like the 14-year-old, had no previous illness and died after contracting COVID-19.
Multisystem inflammatory syndrome
The girl was 2 years old and developed encephalitis, an inflammation in the brain that could have been caused by infection with coronavirus.
"He died of brain death. The conversation was difficult, the parents were very angry, it was difficult for them to understand how it evolved until this. They did not know that the covid could trigger in a situation like that," says Jessica.
One of the rare but possible consequences of covid-19 in children is the development of the so-called multisystem inflammatory syndrome, which can compromise the brain, causing encephalitis or important organs such as the heart and kidneys.
In the UK, 1 in 5,000 children who become infected with coronavirus developed this immune system reaction, according to data from the British government.
Symptoms, which include high fever, low blood pressure, and abdominal pain, usually appear about a month after contact with the coronavirus.
The vast majority of children who become infected with the coronavirus do not develop this inflammatory process or recover with treatment.
But in some cases, the syndrome it can lead to a serious condition.
"What hurts me the most in my daily work is talking to the parents of the patients, you can feel the suffering in their voice. They are not seeing their children, and we have to explain to them, from a distance, that the child is at risk of dying This is very painful, "says Lira.
Unable to touch the body
In addition to the suffering of not being able to accompany their child to the hospital, parents cannot touch the body of the child who died of covid-19 This is because, as an infection control measure, the bodies of the people who die after contracting the virus they must undergo a complete treatment and are delivered packaged to prevent the virus from spreading. "The body has to be delivered in a bag, by the risk of contamination. Then, the mother no longer touches that skin ", describes Cinara Carneiro. The pediatrician says that, since the beginning of the pandemic, she began to suffer even more with the death of patients, because, in addition to mourning the loss, daily presence of the limitations that prevent parents and children from saying goodbye in life and even after death."As if losing a loved one is not enough, you cannot touch him. The amount of suffering that exists around that is very difficult. We are trained to care as well as heal. And we are not being able to care like before"he says." If I can't hand over the child's body to a family to touch and say goodbye, no I am managing to take care al 100%. We have suffered a lot for that. "
Collect for a table to make video calls
In an effort to minimize the suffering of parents and children, the doctors and nurses at Albert Sabin Hospital made a collect between them to buy tablets.
They were able to equip all the inpatient units with a device, and the smallest patients received the gift of be able to see their parents through video calls.
According to Cinara Carneiro, in the midst of all the difficulties, this brought joy to parents and children.
"We did more than one hundred video calls between family members and patients. This child's contact with parents via video has greatly reduced stress. "
The team also supports children in one of the most sensitive moments, but also one of the happiest moments in the process of recovering from illness: when to withdraw intubation and sedatives.
"Many times the child asks about the parents When he wake up. We tried to take the tablet and make a video call with the family member and explain to the child why he is alone at that moment in the ICU, "says Cinara Carneiro.
The pediatrician says that, at that time, the presence of psychologists working in the ICU has also been essential.
"They help us a lot in this task of bringing other care tools besides the look of a doctor. When the child wakes up, in addition to using the tablet, we try to bring a colored pencil, paper, something to color with. "
Discharge is a party time
If the loss of a patient creates enormous suffering, the joy of seeing a child's recovery that he has already been in a serious condition is the main fuel to keep working, says Cinara.
"Before when someone was discharged we celebrated it, but now we do it ten times stronger. We put balloons on the edge of the crib when we discharge him, because we are finally delivering the child to his family. It is a very happy moment for the health professional. "
Jessica Lira recounts the conversation she had with a teenager who recovered from COVID-19 after being intubated for days.
"I asked him, 'You've been leaving the house, haven't you?' He replied, 'Doctor, do you think I was the only one who went out and got sick? They brought sickness home'", dice.
In fact, in many cases, family members end up transmitting the virus to children, as schools were closed for almost the entire period of the pandemic.
Cinara Carneiro says she observed a aIncrease in hospitalizations in the periods following the New Year and Carnival. And it appeals:
"We do not know the impact that covid can have on a child. We know that there is systemic inflammatory syndrome, a serious disease associated with covid. Who will have it? We do not know. How to prevent this? Reducing the chances of contagion , avoiding crowds. We have to wait for the vaccine and take care of our little ones. "
Now you can receive notifications from BBC Mundo. Download the new version of our app and activate them so you don't miss out on our best content.

www.bbc.com
Eddie is an Australian news reporter with over 9 years in the industry and has published on Forbes and tech crunch.