After weeks of sustained calls for Hong Kong to relax its quarantine and border restrictions, the city's leader just announced that they are tightening.
Currently, Hong Kong's border rules are a labyrinthine array of entry requirements based on the traveler's point of origin, vaccination status, visa status, and quarantined hotel reservations.
The city primarily bans non-residents and requires participants to undergo up to 21 days of quarantine. There are some exemptions to that, including allowing some resident travelers to undergo shorter quarantine periods or for other people such as diplomats and business figures, including recently Nicole Kidman, who was filming a movie, to bypass it altogether or isolate themselves in home.
At a regular press conference on Tuesday, Lam announced that "most" of the quarantine exemptions for visitors from both overseas and the mainland will soon be canceled. He said that only essential workers, such as truck drivers transporting goods between Hong Kong and China, would be allowed to travel without quarantine.
Hong Kong has gone roughly two months without a domestic case of Covid-19, but its leader, Carrie Lam, has made clear that she is prioritizing reopening travel with mainland China over lifting international border restrictions. China is following a Zero Covid strategy and hopes that Hong Kong will have a similar situation and response measures to facilitate cross-border travel.
Lam admitted that this posed a "dilemma", but a continental bubble remained the priority.
"So if Hong Kong loosen border controls for people arriving from abroad or adopt what other countries have done, the so-called [living] with the Covid-19 virus, then the chances of traveling with the mainland will be reduced. "
The decision further alienates Hong Kong from what international business groups, businesses and expats, as well as residents with family ties abroad, had been pushing.
Given the uncertainty of border closures in addition to a worsening security and political environmentForeign chambers of commerce have warned that many existing companies are leaving, downsizing or relocating staff to other Asian cities.
"What we don't see is a massive exit of companies from Hong Kong," Frederik Gollob, president of the European Chamber, said recently. told Bloomberg. "But we do see the trend of restructuring functions, parts of their teams, teams or, in some cases, entire companies to other locations in Asia."
A survey by the US Chamber of Commerce earlier this year found that more than 40% of its members were considering leaving Hong Kong, but its president, Tara Joseph, said the government was not responding to their concerns. "We're at a point where it feels like we're talking to a wall," Joseph said. told Bloomberg. "So we have stopped writing letters at this point."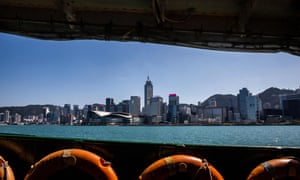 www.theguardian.com
George is Digismak's reported cum editor with 13 years of experience in Journalism