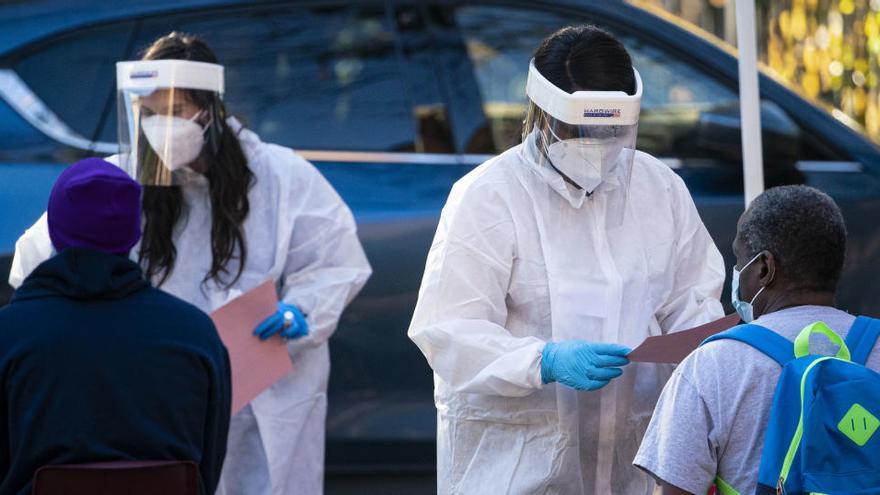 The new coronavirus pandemic accumulates more than 57.5 million cases worldwide after adding more than 665,000 infections in the last 24 hours, which marks, for the second consecutive day, a new record in the daily count of those affected, according to the global balance of Johns Hopkins University updated to this Saturday.
Specifically, all over the world they have been registered in the last day 665,668 new cases – well above 650,000 on Friday, the previous record – while the global death toll stands at 1,372,274. More than 36.8 million people have managed to overcome the disease worldwide.
The United States has registered in recent days the worst case data of the entire pandemic and this Saturday has not been the exception when registering a new daily record of infections with more than 195,000 positives, with which it raises the total number of infections to 11, 9 million. The fatalities from COVID-19 on US soil amount to 254,424.
IndiaOn the other hand, the downward trend in the infection rate in recent weeks continues, although it already exceeds 9 million cases and accumulates 132,726 deaths. The Asian country is the one that has registered the most recoveries to date, more than 8.47 million.
Brazil it remains in third position of this classification that is configured from the data of 190 countries and territories with coronavirus cases. The South American giant has registered more than 6 million cases and 168,613 deaths.
In the fourth position, France accounts for 2.16 million cases with 48,341 fatalities, while Russia has exceeded two million infected people and 34,980 deaths.
Spain It is listed below, with more than 1.55 million cases and 42,619 fatalities, ahead of the United Kingdom, which has 1.47 million people with coronavirus and 54,381 deaths. Argentina is the second country with the most cases in Latin America, with 1.35 million infected, and accumulates 36,790 deaths from the disease.
Italy is also over one million positives, with 1.3 million infections and 48,569 deaths; Colombia, with 1.24 million positives and 34,929 fatalities; and Mexico, which recorded 1.02 million positives and exceeded 100,000 deaths (100,823).
Below a million
Next, Peru registers 943,917 infected people and 35,446 fatalities, ahead of the 914,118 infected that are counted in Germany. Iran registers 828,377 cases and 43,896 deaths, Poland has 819,262 people with coronavirus and 12,714 deaths and South Africa, the most affected country in Africa, accounts for 762,763 infected and 20,759 deaths.
Ukraine accumulates 614,986 cases of COVID-19 with 10,929 deaths, while Belgium -553,680 positives and 15,352 deaths-, Chile -537,585 infections and 15,003 deaths- and Iraq -531,769 positives and 11,883 deaths- also figure above the threshold of half a million.
With more than 400,000 positives are Indonesia, with 488,310 positives and 15,678 fatalities; Czech Republic, with 487,563 cases and 7,021 deaths; The Netherlands, with 480,649 infections and 8,898 deaths; Bangladesh, with 443,434 cases and 6,322 deaths; Turkey, with 435,273 positives and 12,084 deaths; The Philippines, with 415,067 infected and 8,025 fatalities; and finally Romania, the latest addition in recent hours, with 403,123 cases and 9,756 deaths.
Already in the range of 300,000 infections are Pakistan (371,508), Saudi Arabia (354,813), Israel (327,748), Canada (324,152) and Morocco (316,260), while in the range of 200,000 to 300,000 infections are Switzerland ( 290,601), Portugal (249,498), Austria (235,351), Nepal (216,965) and Sweden (208,295).
Over 100,000 positives They are Ecuador (183,840); Jordan (174,335); Hungary (165,901); United Arab Emirates (156,523); Panama (152,289); Bolivia (143,854); Kuwait (139,308); Qatar (136,888); Dominican Republic (136,784); Costa Rica (129,418); Japan (128,901); Armenia (124,839); Kazakhstan (124,710); Oman (121,360) Belarus (120,847); Bulgaria (118,418); Guatemala (117,757); Lebanon (113,655) Egypt (112,318); Serbia (110,351); Ethiopia (104,879), Honduras (103,551) and Georgia (100,684).
China, the country where the pandemic originated, has 91,977 infected and 4,742 fatalities.

www.informacion.es
Digsmak is a news publisher with over 12 years of reporting experiance; and have published in many industry leading publications and news sites.