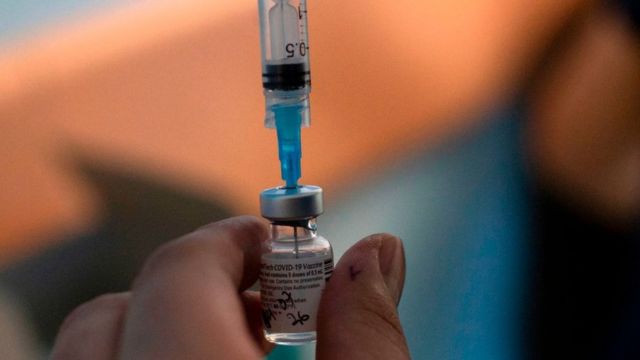 The richest countries in the world accumulate millions of vaccines against covid-19 and continue to close contracts with pharmaceutical companies, while some of the poorest countries have not yet vaccinated 2% of their population.
The statistics are conclusive: the surplus amounts to 1.2 billion dosesaccording to a report by Airfinity, a scientific data analysis company that investigates global supply.
One fifth of those doses –241 million vaccines– could be wasted if rich countries don't donate them.
They are vaccines that the United States, the European Union, the United Kingdom, Canada and Japan will not need even if they start giving a third booster dose, but that the poorest countries cannot accept unless they have a minimum of two months left. of expiration.
Meanwhile, just over half of the world's population has not received even a dose of the vaccine.
In Latin America, only one in four people She is fully vaccinated against covid-19, according to data from the Pan American Health Organization (PAHO) in a report published on September 1.
"More than a third of the countries in our region have not yet vaccinated 20% of their population. And in some places, the coverage is much lower," explained PAHO Director Carissa F. Etienne.
"Vaccination rates continue to be below 20% in several Caribbean and South American countries, and coverage remains in the single digits in Central American nations such as Guatemala, Honduras, and Nicaragua. […] Unfortunately, countries with high coverage are the exception in our Region, "he remarked.
As for the global figures, according to Human Rights Watch, 75% of vaccines against the covid have been sent to 10 countries.
The Economist Intelligence Unit estimated that half of all vaccines manufactured so far have only reached 15% of the world's population; the richest countries in the world administer 100 times more vaccines than the poorest.
Agathe Demarais, lead author of the study on the vaccines of The Economist, says that the promises made in this regard were not taken seriously: "We have seen it a lot and we know that it will never happen," he says.
How many vaccines were promised and how many were delivered?
The difference between doses that were promised to be delivered and those that were actually delivered is abysmal.
In June, the G7 members (Canada, France, Germany, Italy, Japan, the United Kingdom and the United States) pledged to donate 1 billion doses to poor countries during the following year.
The UK pledged 100 million to that promise; so far, he has donated just under nine million.
US President Joe Biden pledged $ 580 million, of which the United States has provided $ 140 million so far.
The European Union promised 250 million doses by the end of the year; has sent about 8% of them.
The Covax failures
Several middle-income countries purchased vaccines through Covax, the global plan backed by the World Health Organization (WHO) to ensure that doses are distributed equitably among all nations.
Through the alliance they are bought and then vaccines are sold at low cost to middle-income countries, and are donated to poor countries.
But the Covax has faced a major supply problem.
They planned to distribute 2 billion doses in 2021. Most of them came from a facility in IndiaBut when a second wave of infections paralyzed the Asian country in May, the government issued an export ban.
Since then, Covax has relied on doses donated by rich countries and the supply has been very slow.
"Currently, doses tend to be shared in low volumes, on short notice, and with shorter-than-ideal expiration dates, which makes it a great effort logistic allocate them and deliver them to countries capable of absorbing them, "Aurélia Nguyen, executive director of the Covax program, told the BBC.
Why is there a surplus?
The surplus is not due at all to a global supply problem.
According to the Airfinity study, vaccine manufacturers are currently producing about 1.5 billion doses each month. Will have produced 11 billion dose for the endal of year.
"They are producing a lot of doses. It has increased tremendously in the last three or four months," says Dr. Matt Linley, principal investigator for Airfinity.
"I don't think rich countries were necessarily greedy, it's more than they did not know what vaccines they were going to workso they had to buy several types of them, "adds Linley.
With its recent research, Airfinity hopes to show governments that there is a healthy supply of vaccines and that they do not need to maintain surpluses.
Instead, they can donate what they don't need now and be confident that more doses will be produced in the coming months.
"They don't want [una posible falta de dosis] catch them off guard, "Agathe Demarais tells the BBC." It's also about internal political pressure because part of the electorate would probably be very unhappy to see vaccines being donated, if there is a feeling that they are still needed at 'home'. "
The British government says it does not have a vaccine stockpile and has reached an agreement with Australia to share four million doses which will be returned from the Australian allocation at the end of the year.
"The supply and delivery of vaccines have been carefully managed in the UK to give all who qualify the opportunity to get vaccinated as soon as possible," says a spokesman for the Department of Health and Social Care.
Next week the high-level segment of the UN General Assembly will be held in New York, USA. Its president, Maldivian Ambassador Abdullah Shahid, said he plans to convene a meeting with leaders and experts to discuss how to close the gap in access to vaccines.
Eyes are also on a summit announced by US President Joe Biden, next Wednesday to ask world leaders to commit to vaccinating 70% of the world's population for September of next year.
Lack of compromise
Aurélia Nguyen believes that governments are not the only ones who must act.
"We also need manufacturers meet their public commitments with Covax and give us priority over bilateral agreements with nations that already have enough doses. "
"If global vaccine manufacturers are producing 1.5 billion doses every month, the question to ask is: Why so littleas reach poor countries?"
"Where the need for Covax is greatest, governments should change their place in the queue so that we can get the doses that we have previously ordered."
Remember that you can receive notifications from BBC Mundo. Download the new version of our app and activate them so you don't miss out on our best content.

www.bbc.com
Eddie is an Australian news reporter with over 9 years in the industry and has published on Forbes and tech crunch.