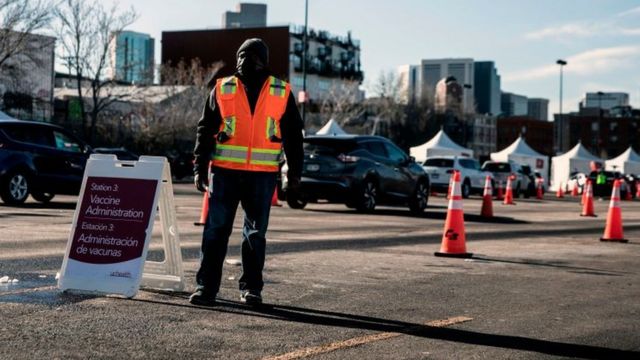 Vaccination for covid-19 has generated a phenomenon that several US states have seen as a threat: "vaccine tourism."
Florida, California, New York and Texas are some of the states that have begun to take measures to prevent travelers, whether from other parts of the country or foreigners, from getting the limited doses of immunization.
In cities like Miami, the popular South Florida city, there have been media cases.
One is that of the television host Juan José Origel, 73, who shared a photo of the moment he received a vaccine against covid-19 in that city.
"How sad that my country did not provide me with that security," he wrote on his Twitter account, referring to the fact that in Mexico the offer of vaccination for the general population has been limited.
Instead, Florida expanded the age range of older adults who can receive the dose to people 65 and older.
Similar to Origel, a couple of Argentine television personalities, Yanina Latorre and Ana Rosenfeld, shared on social media their vaccination experience in Florida, where they were as tourists.
"I always wanted to give myself the vaccine. If I had had the opportunity to do it in Argentina, I would have done it, but the first ones came for essential personnel and this opportunity arose because I am here," Rosenfeld told the Argentine program Teleshow in early January .
"They do not require you to be a resident, they vaccinate for free anyone who is over 65 years old," he added.
Following cases of foreigners obtaining vaccines, which angered many Floridians who have not been able to obtain them due to lack of doses, the Florida government announced new requirements to obtain a vaccine, such as proof of residency.
"Vaccine tourism is not allowed. It is abominable, people should not come here to get a vaccine and fly away," Florida Emergency Director Jared Moskowitz said in a statement this week.
Similar measures have been taken in California, New York and Texas.
Against "vaccine tourism"
The Florida Department of Health informed BBC Mundo that as of January 27, just over 52,000 vaccinated people were registered as people living "out of state."
This means they are temporary residents from other US states – a common sight in Florida, which attracts many retirees in winter – and they received a dose or two of the vaccine, a spokesperson explained.
But foreigners who have come to the state to get vaccinated also fall into this category.
At the same time, thousands of Florida seniors have suffered from a lack of appointments to go to vaccination centers, as the state has struggled to obtain and distribute doses from the federal government.
Shirley Hicks, a 70-year-old retired teacher, says she spent three weeks glued to the computer to find a date for her husband Michael, 80.
"It saddens me, it makes me angry," Hicks told Reuters about the arrival of tourists seeking vaccination.
And it is that not only foreigners have traveled to Florida to receive the vaccine, but also inhabitants of other US states.
One notorious case was that of former Time Warner company president Richard Parsons, who admitted in an interview with CNBC that he flew in from New York after he got an appointment to get vaccinated in Florida.
Following cases like these, Gov. Ron DeSantis announced that the state would require proof of residency for vaccine appointment applicants, such as state identification.
But the Department of Health told BBC Mundo that there are exceptions.
As Florida is a state with temporary residents, mainly older adults, authorities say they "cannot limit" the vaccination of people who do not live there all year round, so a proof of payment for services is enough to get vaccinated.
DeSantis, however, sees this as different from "vaccine tourism."
"What we do not want are tourists, foreigners. We want to put older people first, but obviously we want to put people who live here first," he said at a press conference.
Border states
The distribution of vaccines against covid-19 is in charge of the federal government and each US state has implemented its own application schemes.
The first phase has been similar in almost all of them: they prioritize healthcare personnel, older adults and frontline workers. In the case of the elderly, a population very vulnerable to covid-19, some governments offer the vaccine for those over 75 years old, while others have lowered the minimum to 65.
But in recent days, some authorities have begun to apply locks.
In New York, another state with reports of Canadians seeking the vaccine, controls have increased: older adults must have proof of residency and frontline workers must show proof of valid employment in that state.
Elsewhere, however, they have opted for less stringent controls.
California, the most populous state in the country, also requires proof of employment for healthcare workers, but for an adult over 65 there is no proof of residency requirement.
"Vaccine distribution is based on eligibility regardless of residency or immigration status," states the California Department of Health.
While this has been applauded by immigration activists, since the undocumented will be able to protect themselves with the vaccine, it has opened space for people who are not residents of the state to line up there to receive immunization.
This has prompted some counties to take action of their own: "We are requiring people to prove they live or work in San Diego County and will continue to do so in the future," said campaign supervisor Nathan Fletcher in that city this week. .
Faced with complaints that there are people from other counties or from Mexico, he acknowledged that verifying the validity of the documents is not possible due to the limited number of employees and the time it would take.
The city borders the Mexican state of Baja California, home to thousands of retired Americans who have been crossing into their country to get the vaccine.
But the passage between San Diego and Tijuana has been part of a phenomenon of "medical tourism" between the two countries, from which Mexicans also benefit.
"The morally correct"
Another border state, Texas, is also registering cases of foreigners, "with good economic position and contacts," denounce authorities, who travel there to get vaccinated.
The local press has published investigations that indicate that hospitals that have "vaccinated a few dozen" of Mexicans who claim that they "live or have been in Houston" for a long time, as reported by the local radio station KPRC.
"Those vaccines are meant for Texans," Gov. Greg Abbott said. "You must be a resident of Texas to receive a vaccine in Texas," he added, because although the initial plan is not to request an identification, the situation is being evaluated.
However, the state Department of Health says they must follow the guidelines of the federal Centers for Disease Control that indicate that no one should be discriminated against: "It is FREE and does not require proof of residency, citizenship or insurance."
The fact that the authorities put requirements to prevent "vaccine tourism" like these has worried organizations that defend undocumented migrants, but it is something that can also affect people with economic deprivation.
Thomas Kennedy, Florida coordinator for United We Dream, said that restrictions like those in his state create "a cruel and deliberate barrier for many Florida residents, including undocumented immigrants, but also for many people without access to housing" they are usually essential workers at high risk of contagion and who do not have health insurance.
"Access to the vaccine must be available to everyone, regardless of where they live or their immigration status," Kennedy told AFP.
The situation has already begun to be addressed in the White House, where spokeswoman Jen Psaki said Thursday that the Joe Biden administration believes that "we must ensure" that everyone receives the vaccine, "undocumented immigrants too, of course."
"It is not only morally correct, but it also guarantees the safety of the people in the country."
Now you can receive notifications from BBC News Mundo. Download our app and activate them so you don't miss our best content.

www.bbc.com
Eddie is an Australian news reporter with over 9 years in the industry and has published on Forbes and tech crunch.