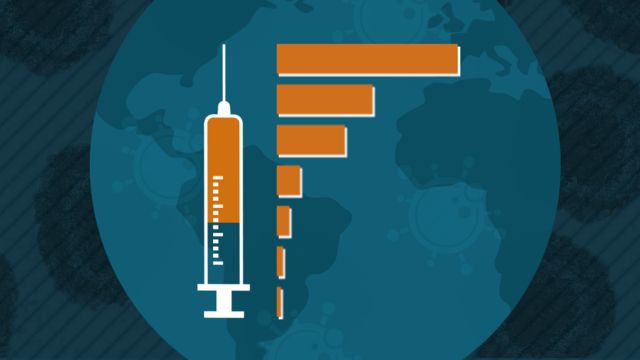 When talking about the Covid-19 vaccine, perhaps the most important question each of us asks is: when will I be able to get vaccinated?
After all, getting the world immunized against this disease is a matter of life and death.
A handful of countries have set very clear targets for their vaccination campaigns, but in the rest of the world the picture is much less clear.
And it is that scientific procedures, multinational corporations, conflicting government promises and a large dose of bureaucracy and regulations are involved.
It is not a simple process.
When can I get vaccinated?
In Latin America, the advance of inoculation against this disease has been quite slow.
The country that is leading is Chile, where by the first week of March more than four million people had already received their dose.
In the rest of the region, although most of the countries have already started with the campaigns, they are not yet massive.
But let's take a look at how the vaccination plan is developing around the world.
How many doses have applied?
So far more than 300 million doses have been administered in about 100 countries. It is the largest vaccination program in history.
The first doses were applied just under a year after the first cases were detected in Wuhan, China.
But the global vaccine spread has been a bit uneven.
Some countries have secured and delivered doses to much of their population, but many more are still waiting for the first shipment of vaccines to arrive.
In the early phases of the campaigns, most countries have prioritized:
People over 60 years old.
Essential workers, especially those caring for the pandemic.
People most vulnerable to the virus (due to pre-existing conditions, for example).
And in countries like Israel and the United Kingdom, there is promising evidence that vaccines are reducing COVID-19 hospital occupancy, community transmission and deaths.
But while about half of the European and American countries have already started their vaccination plans, only a few countries in Africa have.
Agathe Demarais, Director of Global Forecasting at the Economist Intelligence Unit, Economist Intelligence Unit (EIU), conducted one of the most comprehensive investigations on the subject.
The EIU looked at the global production capacity and healthcare infrastructure needed for these vaccines to be delivered, the size of each country's population, and of course what each nation can afford.
Much of the research results appear to fall within predictable rich versus poor parameters.
A) Yes, UK and US are well supplied with vaccines at the moment, because they were able to invest a lot of money in the development of vaccines.
Other rich countries like Canada and the European Union (EU) bloc lag a little further behind.
Most low-income countries have yet to start vaccinating, but there are some surprises in this group, especially in the middle.
Canada faced criticism late last year for buy five times the supply the country needs to cover its population. But it still doesn't seem to be well positioned on priority deliveries.
And this is because Canada decided to invest in European-made vaccines, fearing that the United States under Donald Trump would issue export bans. It was not a good bet.
European factories have had supply problems and recently it was the EU, not the US, that threatened to ban exports.
In fact, Italy has blocked the export of some vaccines to Australia.
"As long as the European market does not have enough vaccines, I believe that the large imports from Canada will not materialize," said Demarais.
Apart from this, some countries have done better than expected.
Serbia has outperformed any other country in the European Union when it comes to the proportion of the population already vaccinated.
This is partly due to an efficient rollout of the plans, but it has also benefited from vaccine diplomacy.
Serbia has received Russian Sputnik V vaccine, SinoPharm from China, Pfizer from Germany / USA. and the Oxford AstraZeneca in the UK.
So far, the majority of the vaccinated Serbian population has received the Chinese SinoPharm.
How is vaccine diplomacy going?
The influence that China is exerting in this regard appears to be long-term.
Countries using a first and second dose of SinoPharm may also seek booster doses from China, if they are needed in the future.
United Arab Emirates (UAE) also rely heavily on the SinoPharm vaccine, which accounts for 80% of the doses administered in this country so far.
And they are also building a SinoPharm production plant.
"China comes with production facilities and skilled workers, so its influence is likely to be long-term," Demarais said.
"It will be very difficult for recipient governments to say no to China in the future".
However, being a global vaccine superpower does not mean that the population in these nations will be inoculated first.
EIU research predicts that two of the world's vaccine-producing powerhouses, China and India may not have vaccinated their entire population until late 2022.
This is because both countries have to deal with a huge population and a shortage of healthcare workers.
The Economist Intelligence Unit's research also took into account the supply of vaccines, the availability of healthcare workers, logistics and funding.
What are the challenges?
India's success as a producer of vaccines to combat COVID-19 is due in part to one man, Adar Poonawalla.
His company, the Serum Institute of India, is the world's largest vaccine manufacturer..
But in the middle of last year his family began to doubt his entrepreneurial instincts.
Poonawalla was gambling hundreds of millions of dollars of his own money on vaccines without knowing if they would ever be effective.
In January, the first of those vaccines, developed by Oxford and AstraZeneca, was made available to India. Poonawalla's company currently produces 2.4 million doses of Oxford vaccine per day.
His company is one of the two main suppliers in India and also supplies vaccines to Brazil, Morocco, Bangladesh and South Africa.
"I thought that all the madness around the vaccine supply would end when we started the production stage," he said.
"I was calculating that there would be many other manufacturers to meet global demand. But sadly, in the first quarter, and perhaps even in the second quarter of 2021, we are not going to see a substantial increase in supply."
One of the big problems according to Poonawalla is that the production cannot be increased overnight.
"It takes time," he said. "People think the Serum Institute can do anything. Yeah, we're good at what we do, but we don't have a magic wand."
The Serum Institute has an advantage, because it began to build facilities in March last year and to store inputs such as chemicals in August.
The amount of vaccine that is made can vary greatly during the production process and there are several stages where things can go wrong.
"Producing vaccines is both an art and a science"Agathe Demarais noted.
Manufacturers starting the entire process now will take months to produce vaccines.
And the same applies to reinforcements that might be required to combat new variants.
Will Covax speed up distribution?
Poonawalla said he is committed to supplying India first and then Africa via Covax, an initiative led by the World Health Organization (WHO), Gavi (the Vaccine Alliance) and CEPI, the Coalition for Innovations in Epidemic Preparedness.
Its objective is that all the countries of the world have access to vaccines.
Nations that cannot afford vaccines will get them for free through a special fund. The rest will pay, but the theory is that they will get a better price trading through the Covax block than if they did it on their own.
Ghana became the first to receive vaccines through this program, on February 24, and it is planned to deliver around 2 billion doses of vaccines worldwide by the end of the year, also in Latin America.
But the plan has been undermined because many countries involved are also negotiating their own deals.
Adar Poonawalla noted that almost every African leader on the continent has contacted him to access vaccines independently.
Agathe Demarais and the EIU are also not overly optimistic about what Covax can achieve. Even if things go according to plan, the program only aims to cover 20-27% of a country's population this year.
"It's going to make a marginal difference, but it's not going to change the game completely," says Demarais.
In your forecast, some countries may not have their entire population vaccinated by 2023, or even never reach that goal. And that vaccination is not a priority for all countries, especially for those with a young population and are not registering a large number of cases and deaths.
The problem with that scenario is that as long as the virus can thrive somewhere, it can mutate and migrate. Vaccine resistant variants will continue to evolve.
But it is not all bad news.
Vaccines are being developed and manufactured faster than ever, although the task – inoculating 7.7 billion people – is enormous and has never been attempted before.
Demarais believes that governments should be honest with their people about what is possible and what is not: "It is very difficult for a government to say 'No, we are not going to achieve widespread immunization coverage for several years.' Nobody wants to say that ".
Data journalism from Becky Dale and Nassos Stylianou.
Now you can receive notifications from BBC News Mundo. Download our app and activate them so you don't miss our best content.

www.bbc.com
Eddie is an Australian news reporter with over 9 years in the industry and has published on Forbes and tech crunch.