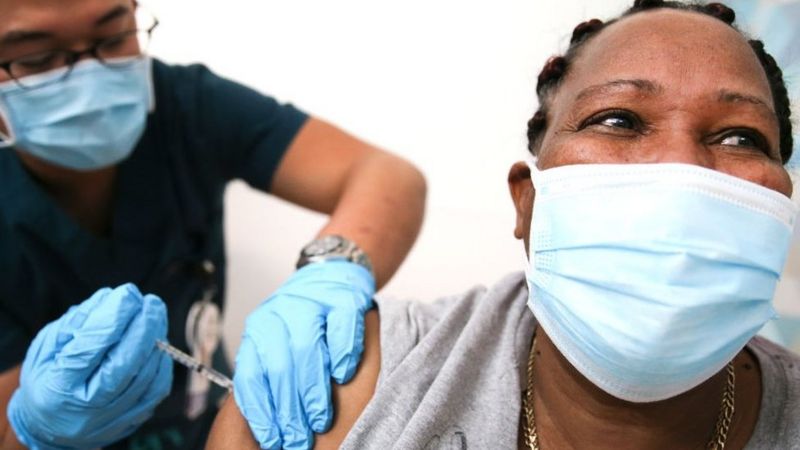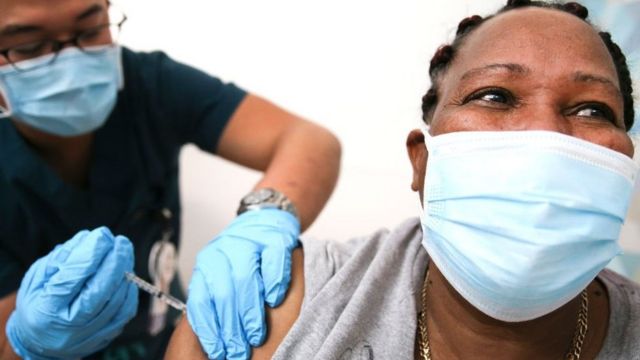 As vaccination advances in many countries, many people also wonder how their lives can change after receiving immunizations.
And it is that since the coronavirus began to spread throughout the world, the authorities and the scientific community emphasize that the vaccine is one of the main roads to end the pandemic.
Now that millions of people are dosed every day, governments, universities and public health agencies have also started publishing their recommendations of what those who have been vaccinated can and cannot do.
These recommendations, however, may change as more becomes known about vaccines or current variants of the coronavirus.
They can also change from one place to another. In fact, they may not yet apply in your country, given the restrictions that each nation has imposed to control the pandemic due to the specific circumstances of each place.
Also, in many places, flexibility after vaccination has been limited for the moment, either because the number of population that has been immunized is very small or because of fears that giving more freedom to vaccinated people may lead to discrimination against those who have been immunized. they have not been able to be immunized.
Experts also point out that, beyond general recommendations, each person should evaluate your individual risks and make a thoughtful analysis of what is safe to do not only for yourself, but also for those around you.
Remember that we are still discovering how the virus and vaccines work, so we recommend that, when in doubt, you also consult your doctor and visit the official pages on the subject of your country.
When can a person be considered fully vaccinated?
According to the U.S. Centers for Disease Control (CDC), people are considered fully vaccinated:
two weeks after the last injection of vaccines that are given in a two-dose series, such as Pfizer or Moderna;
two weeks after receiving a single-dose vaccine, such as the one from Johnson & Johnson.
"If it has been less than two weeks since your first dose, or if you still need to receive your second dose of a two-dose vaccine, NO it is completely protected, "warns the CDC.
Can I visit friends or meet other people in groups?
Although it depends on the regulations in force in your country, scientists agree that it is not a risk to meet other people in small groups if they are already vaccinated.
A meeting with a small group of vaccinated people, according to Harvard University, is considered to be low risk, either in open or closed spaces, and the use of masks is not necessary.
The situation is different if you visit someone who has not been vaccinated, since there is a possibility that, even if you have the vaccine, you can still carry the virus and pass it on someone who does not yet have immunity.
However, the CDC assures that it is possible to visit unvaccinated people who have a low risk of contracting a serious disease due to COVID-19 if you take protective measures, such as the use of masks and physical distance of at least two meters.
Harvard University points out that the risks are greater if a vaccinated person visits another over 60 years of age who has not yet received the vaccine, since covid-19 is usually more serious in advanced ages.
"If possible, visit outdoors or in a well-ventilated space to reduce the risk of contagion ", indicates the university in the latter case.
Something similar should be done, he indicates, in the event of a meeting with people who come from different homes or different places.
Can I travel for pleasure or go on vacation?
This Friday, the CDC assured that it was safe for people who were vaccinated to travel, as long as they kept the mask on public transportation, including airplanes.
According to the CDC, recent research suggests that vaccinated people can travel without the need to quarantine or present evidence of covid-19, since for them the risk is low.
This only applies to the United States and it may not be possible in your country yet.
With the exception of the CDC, most recommendations state that it is not wise to travel for now, even if you have been vaccinated.
"Traveling by plane, bus or train puts you in contact with many people and increases the risk of transmission," indicates Harvard University.
Harvard University experts explain that this is because vaccines do not offer 100% protection and point to the threat of new strains.
"We must remain cautious, especially as we learn more about the variants that concern us and how much the vaccine protects against them," they say.
Can I go to restaurants or concerts?
Again, it will always depend on what your country has regulated in its strategy to contain the coronavirus.
However, what science has found so far is that the risk of infection during public social activities, such as dining inside a restaurant or going to the gym, it is less for fully vaccinated people.
"Nevertheless, precautions still need to be taken as the risk of transmission in these settings is higher and likely increases with the number of unvaccinated people present, "the CDC indicates.
Therefore, they point out that fully vaccinated individuals who participate in social activities in public settings should continue to follow all protection guidelines, including wearing well-fitting masks, maintaining physical distance, avoiding crowds or poorly ventilated spaces, and washing their hands. frequently.
According to the CDC, if you have already been vaccinated and have been around someone who has COVID-19, you do not need to quarantine or get tested unless you have symptoms.
However, the situation is different if you live with other people who are not vaccinated.
In that case it is recommended to stay away from others for 14 days and get tested, even if you do not have symptoms.
What else should I not do?
Each country may have different recommendations based on your own measures to contain the virus.
The different recommendations published to date suggest that vaccinated people should continue to avoid crowds, whether they are medium or large, and also visit closed spaces where there are many people.
If the above situations are unavoidable, it is recommended to use a mask and maintain physical distance if possible.
The CDC recommends that distancing measures be maintained in workplaces as well, even if staff are vaccinated.
Also that vaccinated people are attentive to any symptoms of coronavirus and avoid contact with others if they present any.
What should I keep in mind after being vaccinated?
Experts insist that each person must carry out a thorough risk assessment and take into account that:
no vaccine is totally effective;
we do not yet know how long their protection lasts;
We do not know at all how they respond to the new variants either;
Personal risk factors that may put you or others around you at greater risk should be addressed;
we do not know how well vaccines protect against spreading the virus to other people, even if it does not affect us;
and, therefore, other prevention measures that help stop the spread of the coronavirus should be maintained even if we are vaccinated.
Remember that you can receive notifications from BBC Mundo. Download the new version of our app and activate them so you don't miss out on our best content.

www.bbc.com
Eddie is an Australian news reporter with over 9 years in the industry and has published on Forbes and tech crunch.