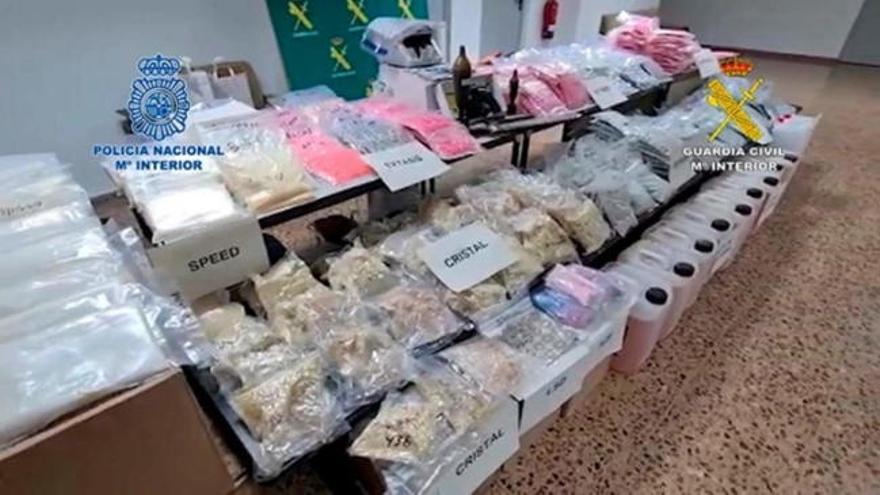 Agents of the Civil Guard and the National Police have developed the operation "Latrans-Girasol-Muhlberg", in which they have dismantled the main international criminal organization in charge of developing and supplying most of the synthetic drugs that are consumed in Spain, established in Catalonia, Andalusia and Ibiza. The investigation has concluded with the largest seizure of synthetic drugs in the history of Spain and has allowed the dismantling of two clandestine laboratories where drugs were manufactured for their subsequent trafficking and distribution, both nationally and internationally, reports the Ministry of the Interior. in a press release.
In total, they have intervened 827,000 MDMA pills (200 kilograms), 76 kilograms of amphetamine sulfate, 39.5 kilograms of glass, 217 liters of liquid amphetamine – with a production capacity of 738 kilograms of amphetamine sulfate -, 310 kilograms of hashish, 89 kilograms of marijuana, 2,000 doses of LSD and 1.65 kilograms of pink cocaine. 126 liters of sulfuric acid, six liters of hydrochloric acid, three liters of acetone, 20 kilograms of cutting substance and 25 liters of various precursor liquids for the manufacture of various synthetic drugs have also been seized.
Modus operandi
The criminal organization was established in Barcelona, ​​where it had its headquarters and the two drug manufacturing laboratories. From the city of Barcelona They stored the drug that arrived from Holland and it was also the starting point of its distribution in Spain.
To finance or pay for the synthetic drug that came from the Netherlands -both in the form of MDMA pills and liquid amphetamine for its manufacture in the clandestine laboratories of Barcelona- they sent large quantities of hashish and marijuana, from Malaga and Barcelona, for later sale in Holland and the United Kingdom.
The hashish and marijuana were transported in manipulated three-phase electrical transformers, which were shipped under the guise of licit merchandise with classic cars. These transformers had inside a double bottom with the capacity to transport hundreds of kilograms of drugs per trip and were equipped with a sophisticated electric-hydraulic opening system designed to make it impossible to discover and ensure the concealment of the drug.
Once the hashish bales or vacuum-packed bags with marijuana were delivered in Holland, they took advantage of the ride back from those same transformers to transport the synthetic drug to Spain.
The next step, once the synthetic drug reached our country, was to process it, an activity for which they used "cooks" – experts in the manufacture of the different chemical components to obtain the final drug. amphetamine sulfate "speed", methamphetamine or MDMA-, a process that took place in the two laboratories that this criminal structure had installed in Barcelona.
The network in Ibiza
Its main networks for the trafficking of different substances were located in Ibiza, Malaga and Barcelona, where the organization had logistical homes from which they distributed the drug throughout Spain using rental cars and double-bottomed vehicles for this purpose, with which they could move the synthetic narcotic substance without being detected.
The organization used mobile encrypted messaging terminals to communicate, with phone lock / erase / encryption devices and provided with a panic button in the face of adversity that would suppose that their mobile terminals were intervened.
1st phase
It occurred last October, resulting in the arrest of three people and the dismantling of two laboratories for the production of synthetic drugs. (amphetamine, methamphetamine and MDMA).
One of the laboratories provided the organization with great capacity in the manufacture of narcotic substances; the second, although less productive than the previous one, also served to store drugs. In this phase of the operation, 174,000 MDMA pills, 40 kilograms of amphetamine sulfate (speed), 10 liters of Benzyl Methyl Ketone (production substance, also to make speed), 25 liters of liquid amphetamine mixed with precursor, 18 kg. of cutting substance (lidocaine, caffeine, levamisole), different acids for its preparation (hydrochloric and sulfuric acid), as well as material for the preparation, packaging and weighing of the drug, cash and mobile terminals together with its encryption device and a motorcycle.
2nd phase
This second phase took place in mid-November 2020. Then one person was arrested and the transportation system for marijuana and hashish to the Netherlands was dismantled. As a result of the dismantling of the laboratories, the researchers found out that the top of the organization was going to move to the province of Malaga, a city where they had infrastructure in order to avoid detection. After the investigation team was transferred to Malaga, a possible consignment of a narcotic substance from Malaga province to the Netherlands was discovered, transported in a truck as possible legal merchandise and with a CMR consignment note.
The agents decided to monitor the truck's route to the Irún border with France, where a vehicle inspection device was established and through which it is discovered that it was carrying two classic cars plus two three-phase electrical transformers. These transformers had a double bottom with an electric-hydraulic opening system that concealed 310 kg inside. of hashish bales and 89 kg. of marijuana vacuum packed.
3rd phase
At the end of last November, ten registrations (five of them simultaneous) were made in the provinces of Malaga, Barcelona and Ibiza. Nine people were arrested in these cities, the entire intermediate echelon of the organization, as well as the head of the organization, a Dutch citizen.
In this last phase, the organization's main warehouse, located in Barcelona, ​​was also dismantled, where 651,000 MDMA (ecstasy) pills, 35,242 kg, were intervened. of amphetamine sulfate (speed), 2000 doses of LSD (Lysergic Acid Diethylamide), 39.5 kg. crystal (methamphetamine), 180 liters of high purity liquid amphetamine, 1.3 kg. cutting substance (lidocaine, caffeine, levamisole), 1'650 kg. of 2C-B (known as nexus, erox, pink panther, tussi, tucibí, etc.).
Two firearms – a revolver and a semiautomatic pistol – were seized in the searches at the organization's homes and logistical locations. two mortar shells, a machete, computers, phones encrypted with their messaging encryption devices, five vehicles and three pleasure boats – two jet skis and a boat. In addition, investigators have blocked 23 bank accounts – around 100,000 – linked to all members of the organization arrested.
Operation result
Operation "Latrans-Girasol-Muhlberg" has led to the complete dismantling of the most important criminal organization dedicated to the manufacture and trafficking of synthetic drugs that has operated in the history of drug trafficking in Spain, being also considered one of the most active in Europe.
Eleven people of Dutch, Spanish, Romanian, Colombian and Italian nationalities have been arrested for the alleged commission of drug trafficking offenses, membership in a criminal organization and illegal possession of weapons; eight of them have entered prison.
The figures of the final result of the different narcotic substances intervened as well as weapons, vehicles and other effects seized in the 13 domiciliary searches carried out in Barcelona, ​​Seville, Ibiza and Malaga, are as follows:
– 827,000 MDMA (ecstasy) pills.
— 76 kgm de sulfato de anfetamina (speed).
– 39.5 kgm of crystal (methamphetamine).
– 217 liters of high purity liquid Amphetamine (which would be equivalent to a production capacity of 738.5 kilograms of amphetamine sulfate (speed).
– 2,000 doses of LSD (Lysergic Acid Diethylamide).
– 1'650 kilograms of 2C-B (known as nexus, erox, pink panther, tussi, tucibí, etc)
– 310 kilograms of hashish.
– 89 kilograms of marijuana vacuum packed.
– Different cutting and / or adulterant substance (lidocaine, caffeine, levamisole) and acids for the production of the synthetic drug (hydrochloric and sulfuric).
– Two pistols (a revolver and a semiautomatic pistol), two mortar grenades and a machete.
– Three pleasure boats, nine vehicles and 267,000 euros (between the money blocked from the accounts and the money taken over in cash).
Of all the material, it is worth highlighting the importance of the 217 liters of liquid amphetamine intervened, an amount that If it had been processed in the laboratories that the organization had in Barcelona, ​​it would have produced about 738 kilograms of amphetamine sulfate (speed), constituting the largest amphetamine seizure that has ever occurred in Spain.

www.informacion.es
Eddie is an Australian news reporter with over 9 years in the industry and has published on Forbes and tech crunch.