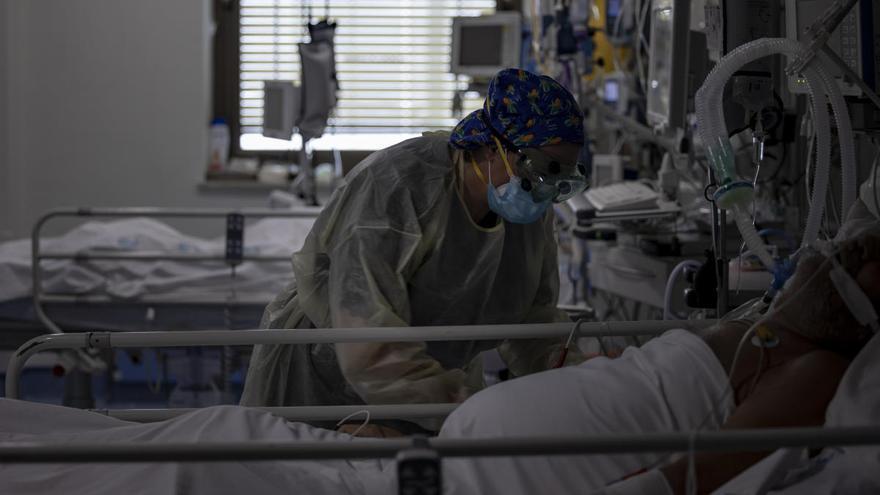 A study by the Spanish Society of Internal Medicine (SEMI) has identified four types of sick from coronavirus with different symptoms and prognoses, and points out that the majority (58.5%) of those who contract the disease are mens, in addition to place the mean age of the patients at 67 years.
According to this study, made about 12,066 hospitalized patients, the mean time to admission was 6.7 days.
SEMI internists have just published the results of this research that, after analyzing the 12,066 patients hospitalized for SARSCoV-2 infection, identifies, establishes and characterizes four large phenotypic groups of patients.
The first of them is the most numerous (8,737 patients, 72.4% of the study) and also the one with the highest rate of admission to the ICU and mortality, and groups patients with the classic symptoms of fever, cough and dyspnea (difficulty in breathing).
The patients used to be older men with other pathologies. One in ten patients in this group required admission to the ICU and of these, a quarter died.
The second group, 9.9% of the patients (1,196) presented ageusia -difficulty detecting taste- and anosmia-loss of smell- accompanied by the three classic symptoms, in this case fever, cough and / or dyspnea.
This was the group with lower percentage of ICU admissions and with a lower mortality rate (4.3 percent of those hospitalized).
The the third group was made up of 880 patients, 7.3 percent, and it was the one that linked to the classic symptoms pain in joints, muscles, head and throat. In this case, 10.8% of the patients required ICU.
Y the fourth, composed by 1,243 patients, groups those who also had diarrhea, vomiting and abdominal pain accompanying the classic symptoms. 8.5% were admitted to the ICU and 18.6% of them died.
According to this study, the three classic symptoms were the most common. Thus, 10,346 patients (85.7%) had fever, 9,142 (75.8%) cough and 7,205 (59.7%) dyspnea.
The following symptoms from highest to lowest were arthromyalgia or joint pain (3,794, 31.4%), diarrhea (2,943, 24.4%), headache (1,402, 11.6%), sore throat (1,191 , 9.9%), ageusia (992, 8.2%), vomiting (891, 7.4%), anosmia (879, 7.3%) and abdominal pain (738, 6.1%).
Of the total 12,066 patients included in the study, the majority were male (58.5%) and Caucasian (89.5%), with a mean age at diagnosis of 67 years.
The main comorbidities -other pathologies- prior to admission were arterial hypertension (50%), hyperlipidemia (39.4%) and Mellitus diabetes (19,2%).
The average number of days from the onset of covid-19 symptoms to hospital admission was 6.7.

www.informacion.es

Digsmak is a news publisher with over 12 years of reporting experiance; and have published in many industry leading publications and news sites.