Jose Carlos Cueto
BBC World News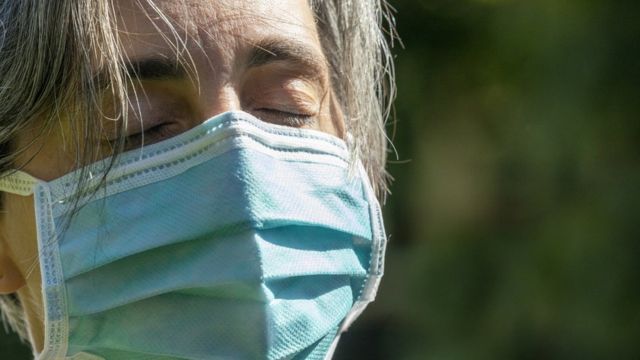 Experiencing a mild side effect after getting vaccinated against the coronavirus is normal and may even be a sign that the vaccine is working.
After immunization, some fever, malaise, pain, or tiredness may appear. Each individual may experience one of these symptoms, a combination thereof, or none.
But these side effects disappearsn generally alas littleas hours o days.
"The disease is far worse than the vast majority of vaccine side effects. Vaccines save lives with a high degree of protection, "virologist Julian Tang, from the University of Leicester, in the United Kingdom, tells BBC Mundo.
Experts recommend being alert after receiving the vaccine since, in the event of a severe allergic reaction, it occurs within minutes and hours of inoculation.
The latter, however, is proving to be quite unlikely.
According to a study led by specialists from the Massachusetts General Hospital, in Boston, United States, the prevalence of an anaphylactic reaction is between 2.5 and 11.1 cases per million doses of Pfizer vaccine, for example.
And most of those cases occur in patients with a history of allergies.
This statistic may vary slightly depending on the type of population or vaccine, but it gives a measure of how unlikely it is to develop an allergic reaction.
How common is it to develop side effects, and why do experts consider it normal that you shouldn't worry about?
Natural reaction of the organism
"It is difficult to give concrete numbers on how likely it is to develop a mild side effect because each population or individual responds differently," clarifies Julian Tang.
In the United Kingdom, one of the most advanced countries in the vaccination campaign, one in 10 people experiences some mild adverse effect.
But this, experts insist, is something "completely normal."
"The vaccine, like a virus, does not cease to be a foreign agent that causes the body to react and produce antibodies"Dr. Josefina López, who participates in the vaccination campaign in Madrid, Spain, explains to BBC Mundo.
"To protect itself, the body generates an inflammatory response. And that can make the temperature rise and aches and pains appear. a normal process that can happen with any vaccine, not only with those of the coronavirus ", adds the specialist.
To get an idea, an inflammatory response can also appear to something as common as a blow or injury.
"Inflammation is something that the body also experiences during a severe impact on the knee after falling. Then you feel pain, redness and swelling in the area," Professor Wilbur Chen, from the University School of Medicine, explains to BBC Mundo of Maryland, in the United States.
In that sense, it is normal "to expect that there are possible adverse effects not only to a vaccine, but also to a medicine or even food. We must think that these reactions the common indication that the vaccine is working. Any symptoms will generally resolve within 2 to 3 days, "Chen says.
When can side effects develop?
We have been vaccinated for a few months and that means that the studies are constantly updated.
"LAdverse effects in young people may be more noticeable, which does not imply gravity, "says López.
This is because "older people usually experience a deterioration of the immune response that is normal with age," says Wilbur Chen.
In vaccines that require two doses, such as Pfizer, Moderna, or Sputnik V, there seems to be some inclination to experience any side effects after receiving the second dose.
"The first dose generates a medium immune response and the second reinforces it. That is why the second generates a more robust response and is more associated with experiencing some side effect," explains Dr. Andrew Badley, from the Mayo Clinic to BBC Mundo. , in United States.
Jualian Tang also warns that the type of symptoms can be magnified by the perception of patients.
"Many patients, nervous or anxious to get vaccinated, may experience some mild pain and then report it greater than it is. The psyche also plays a role," says the expert.
What to do then if you experience any symptoms?
"In my case, when I was vaccinated with the AstraZeneca / Oxford compound, it gave me a little fever and malaise and I just took acetaminophen," reveals Julian Tang.
Anti-inflammatories such as acetaminophen or ibuprofen may help relieve effects secondary of vaccines, although it is recommended to consult a doctor before taking them.
It is not recommended to take these medications before getting vaccinated as a preventive measure.
The Centers for Disease Control and Prevention (CDC) in the US advises applying a clean, damp towel and moving and exercising the vaccinated arm to alleviate any possible discomfort.
In the case of having a fever, it helps to drink plenty of fluids and dress lightly.
Now you can receive notifications from BBC Mundo. Download the new version of our app and activate them so you don't miss out on our best content.

www.bbc.com
Eddie is an Australian news reporter with over 9 years in the industry and has published on Forbes and tech crunch.