Fraser Macdonald
The Conversation*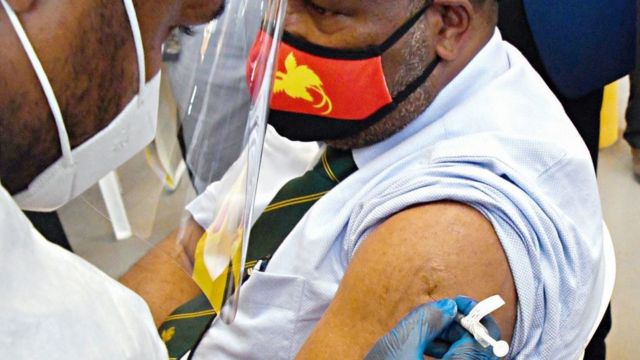 Only 1.7% of the inhabitants of Papua New Guinea have been vaccinated with the complete schedule against covid-19. This is of concern to the international community, which sees the virus spread through a highly exposed population with high rates of comorbidity and very low levels of access to medical care.
The mood in the country, however, is very different. There is no doubt that there is a lot of fear, yes. But the cause is the vaccine itself.
Many Papua New Guineans could be vaccinated, even in the most remote corners of the country. We are talking about people who are not at all strangers to injected drugs or vaccines, which are administered there against diseases such as polio and measles.
But millions of Papuans are not getting vaccinated against covid-19 because they are terrified of this particular vaccine. It is not about vaccine reluctance, but about a frontal opposition. Of a radical antipathy.
Some local people responsible for vaccinations have been threatened with death and attacked by angry mobs, who see them as part of a "campaign of terror".
In addition, the new law that obliges to be vaccinated to be able to work has received in response judicial proceedings, resignations en bloc and marketing of false vaccination certificates. All this to avoid the dreaded vaccine.
Why is there such fierce resistance to the covid-19 vaccine in Papua New Guinea? The key difference, and any good anthropologist would confirm it, is the cultural context.
Sickness of the spirit
Any attempt to understand these local views on the coronavirus vaccine must first take into account that in Melanesian societies the physical is closely related to the moral and spiritual. This explains why, in many cases, biomedical explanations of diseases occupy a secondary place compared to other explanations. Or that they are irrelevant.
This in turn is explained by the little or no effort that the Government has devoted to educating the people of Papua New Guinea. Especially for those who live in rural settings, which account for 80% of the total.
For example, when a person who should be healthy contracts a disease or dies, They attribute it to the effect of a spell or witchcraft practices. These beliefs, which are closely linked to envy and interpersonal conflicts, are what, from this point of view, would have caused the mysterious attack.
These kinds of interpretations are often applied to personal misfortunes, but not so much to major events such as a global pandemic. It is here that Christianity takes on vital importance and helps explain collective problems like this.
The role of Christianity
Almost all of the inhabitants of Papua New Guinea (99.2%) are Christians. Evangelical and Pentecostalist churches exert great social influence in the country.
In Papua New Guinea, Christianity not only offers the promise of eternal salvation, but also the Bible and certain prophetic ideas play a determining role in explaining how people live and perceive the world.
Many Christians, especially from the aforementioned Pentecostalist and Evangelical branches, they believe the end of the world is near and it will be preceded by the second coming of Jesus Christ.
From this point of view, it is key to explain that the imminent return of Jesus Christ will be preceded by the accelerated moral decline of the world and by the imposition of the mark of the beast on all humanity, a process sponsored by Satan. Many Papuan Christians, therefore, do not cease to scan the world continually and fearfully for this definitive sign.
A few years ago some Papuans claimed that this mark was bar codes, and more recently they pointed to the national identity card that the Government wanted to implement. Now, even if it is something of a very different magnitude and virulence, the beast's signal would be the covid-19 vaccine.
Proof of this are the slogans that a group of anti-vaccine protesters recently chanted: "Chips 666 out" or "Satanic microchips out of here."
From this belief, the vaccine would be the instrument of the great powers of a universal cosmic tyranny. How quickly the vaccine was made, the fact that it is administered throughout the world, the constraints with which it is supposedly inoculated would be clear indications of its diabolical origin.
However, Christianity is not the only factor that favors anti-vaccine sentiment. The powerful instrument of disinformation posed by social networks it has also been important, as rumors show that vaccines contain microchips or that in many cases they cause death.
On the other hand, the inhabitants of Papua New Guinea have great distrust towards foreigners, which makes both the vaccine and the virus itself perceived as a threat to the sovereignty of their country.
These types of theories have flourished in the absence of Western biomedical knowledge (or lack of confidence in it). Papuans closest to Western culture often try in vain to convince their compatriots against such ideas.
Alternative treatments
But while defiantly resisting vaccination, Papuans know full well that COVID-19 is real and that it makes people sick.
At a time when infection rates, hospital admissions and deaths are increasing, this reality is hard to ignore. The increase in deaths from covid-19 throughout the country has made many people fearful and decide to get vaccinated. But iEven these more open-minded people are easily scared when they hear rumors that the vaccine can cause death.
With vaccines discarded, Papuans opt for three fundamental types of treatment: prayers and healings, natural remedies, and reliance on a supposedly strong natural immunity against disease.
Insofar as religious beliefs in the country are heavily influenced by the Evangelical and Pentecostalist traditions, many people pray to God, Jesus and the Holy Spirit not only to mitigate, but also to eradicate the devilish disease.
In addition, many are turning to traditional organic remedies to protect against the coronavirus. This basically translates into the consumption of various spices and leaves.
Finally, in Papua New Guinea there is a deep-rooted belief that the people there innately possesses a powerful immune system which, favored by a diet based on products from their gardens, makes them more resistant to the onslaught of the coronavirus.
What can the authorities do?
For most Westerners, vaccines are an intrinsically and obvious good thing. But for many Papuans lvaccines are a dangerous threat, sinister and unknown. This is due, as we have said, to a combination of factors, including the inability of the Government, strong religiosity and a justified distrust of foreigners.
It is a position that needs to be understood and respected with sensitivity, and not despised and criticized.
At the same time, deaths can be avoided and the thick layer of uncertainty surrounding vaccines can be dispelled. But the question is: how to do it?
Detailed information about the vaccine (including details on its creation, contents, efficacy, and possible side effects) should be provided so that people are fully aware of the vaccine before they are asked to be vaccinated. Insistently asking people to do so when they have minimal information about the vaccine is neither fair nor ethical.
Probably in response to widespread apocalyptic interpretations of the vaccine, the Papua New Guinea Council of Churches is actively proclaiming both its benefits and its safe nature. The Government must also increase its efforts and carry out a health education campaign if you really want the vaccination rate to increase significantly.
The success of this effort to steer Papua New Guinea away from a health catastrophe would include making ordinary citizens understand that the vaccine is a divine blessing, not a diabolical curse.
*Fraser Macdonald is Professor of Anthropology at the University of Waikato, New Zealand. His article was originally published in English on The Conversation, whose version you can read here
Now you can receive notifications from BBC Mundo. Download the new version of our app and activate them so you don't miss out on our best content.

www.bbc.com
Eddie is an Australian news reporter with over 9 years in the industry and has published on Forbes and tech crunch.