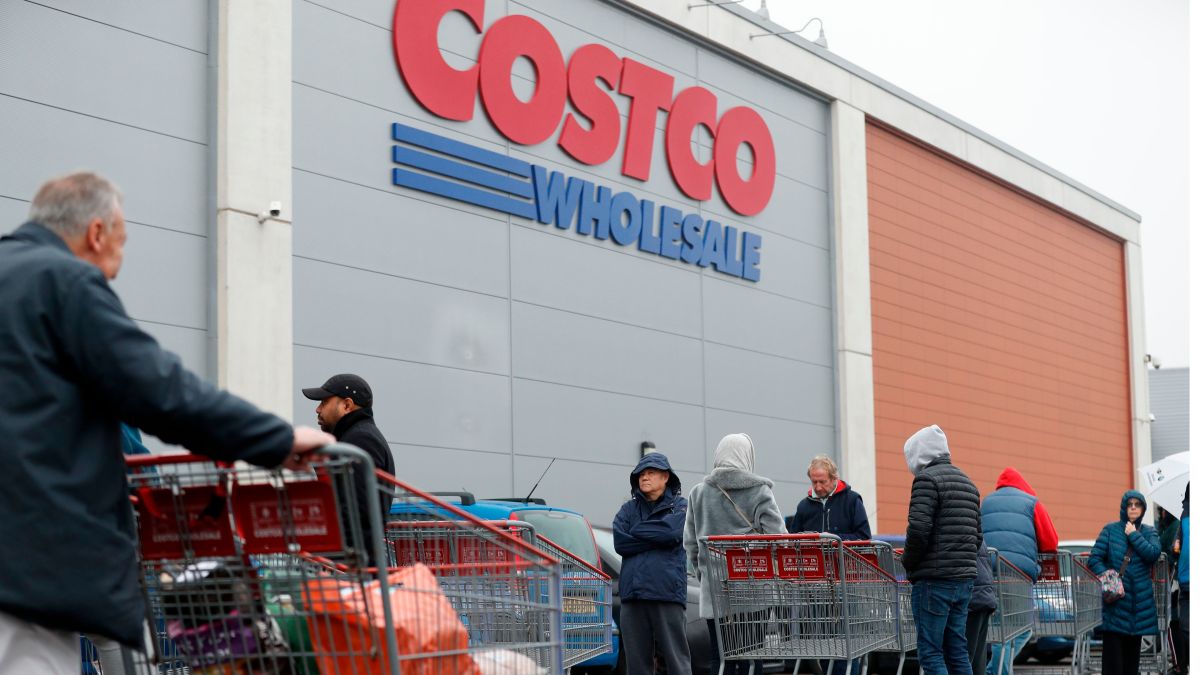 Photo: Adrian DENNIS / AFP / Getty Images
Some Costco customers are taking to social media to report that several stores are running out of toilet paper and water. All this seems to indicate that more and more consumers are stocking up on essential items due to the increase in infections from the delta variant of COVID-19.
Customers have posted on Twitter about product shortages and restrictions on the number of items you can buy that the department store chain has imposed. This was done by Costco to prevent people from panicking and running out of stock.
"Didn't we learn anything from last year? I stopped at Costco and they have no toilet paper or water. These people never learnSaid a customer of the Nevada store on Twitter.
What is wrong with people? Did we not learn from last year at all? I pulled up to Costco and they are out of toilet paper and water. These people never learn. #toxictuesday

— Counselor Lewis 👨🏽‍🏫 (@ahmadtlewis3) August 18, 2021
Other people have said that this shortage could only be a sign of the times ahead, in addition to other consumers making it known that Costco has already put limits on the number of packages of toilet paper that each person can buy.
There wasn't any bottle water packs or toilet paper at Costco today….sign of the times to come 🤷🏽‍♂️

– Eric Arrambide 🎲🎱 (@MagicFalcon) August 17, 2021
There is already evidence that shoppers are beginning to stock products again as COVID-19 infections increase in the U.S. It should be remembered that, at the start of the pandemic in March last year, many people went to the Costco stores to buy products in bulk.
In tweets published in July this year, it is already possible to find people who said that they were planning to store products like toilet paper as they were preparing for a possible new business closure.
"I stopped by Costco today to pick up toilet paper! I'm ready for another shutdown, "wrote a client on Twitter in July.
I swung by Costco today to pick up toilet paper! I'm Ready for another lockdown (the economy, not so much)

— Valley Bulldog (@ValleyBulldog18) July 30, 2021
According to Business Insider, another person wrote: "I went to Costco and I'm buying all the damn toilet paper."
Headed to Costco and I'm buying all the damn toilet paper.

– Brad MFW (@bbwhit) July 28, 2021
A recent survey by analytics firm Inmar Intelligence found that 69.4% of the 1,000 adults surveyed said they would consider filling their cupboards with groceries and essential items as the delta variant of COVID-19 spreads.
If consumers start stockpiling products, it could create even more serious problems for stores, as they are struggling with supply chains for items, as well as not having the necessary workers for their operations due to a shortage of manpower. construction site.
These delays are causing delays and shortages of consumer goods, which in turn forces stores to raise prices..
Because of this, supermarket chains are also stocking products to protect themselves from price increases and take care of margins.
–You may also be interested in: Pet food Midwestern Pet Foods possible cause of the death of more than 130 dogs due to contamination



eldiariony.com
Eddie is an Australian news reporter with over 9 years in the industry and has published on Forbes and tech crunch.