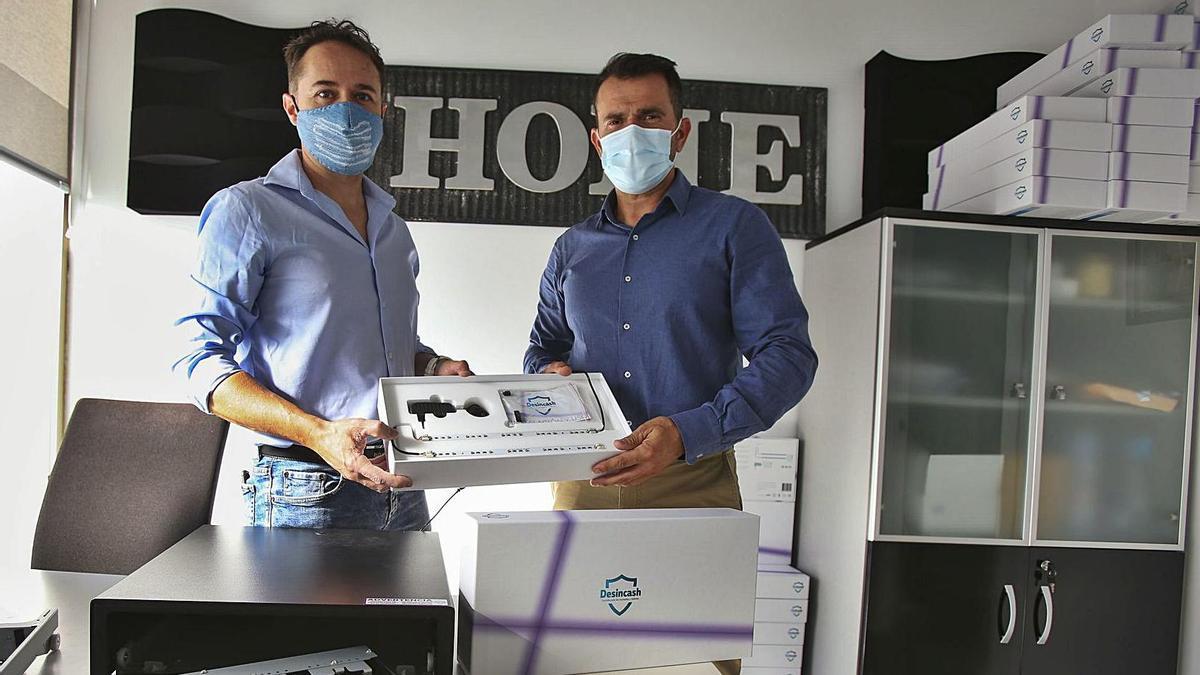 They go from hand to hand and pass quickly from one person to another in a short space of time. And there are those who even give them kisses. And that makes the bills and coins one clear source of microbes. One of the recommendations to avoid getting coronavirus is to try to pay with card to avoid the use of paper and metal of money, as far as possible. But on a routine basis, cash continues to circulate normally.
With the premise that money is an easy source of contact with invisible viruses and bacteria that are harmful to humans, two businessmen from San Vicente del Raspeig have devised a system of disinfection of bills and coins that is installed in the cash registers of shops and that are based on the disinfecting power of ultraviolet light. Every time the box is closed, the system "cleans of viruses" what's inside it in two or three minutes, according to the authors of the system.
They are not scientists, Guillermo Grau it's electronic and Juan Antonio Ruiz has a real estate. But they are very restless and for years they cherished the idea of ​​patenting a system for the disinfection of money that circulates from hand to hand. That was before the covid-19 appeared that has revolutionized everything and that has been the catalyst that has made his idea finally put into practice.
"Although we were thinking of making our prototype a reality one day, with our businesses and our families we were 90% of the day busy; but March and the coronavirus arrived, and that's when we decided to put our idea into motion ", summarizes Guillermo Grau. The objective they pursue is to commercialize their invention and have it used to kill any type of virus and bacteria, including the SARS-coV-2 coronavirus that is still rampant.
The system is simple, two strips of luz UV-C bactericidal that are installed with a magnet on top of the inside of the cash register. The light beams hit all the bills and coins, leaving them free of viruses and bacteria in an interval of two and three minutes, according to the inventors of the system called "Desincash". And they warn that it is a light that is not very perceptible to the human eye. "In microorganisms such as viruses, UV-C rays alter the DNA chains, preventing their normal reproduction, which stops the viral expansion of these microorganisms", they explain.
They have registered their idea using the "utility model" figure. They warn that the use of ultraviolet light is well known and there are many studies that support its effectiveness and point out that what they have done is novel is to apply it for money. "Right now there is nothing similar to our system to disinfect banknotes," Grau warns.
For his part, Juan Antonio Ruiz explains that his system "is the way to be able to have money again in commerce. Even if you use the credit card, the cash still has many years left.
They believe that businesses have invested since the pandemic broke out in material such as carpets or gels that will pass when the covid disappears, "but our system is profitable because it is still useful." They consider that their invention has a long journey that will not end when the vaccine normalizes the situation due to the bacterial diversity that can be found in money. "Banknotes are one of the objects that has the most viruses and bacteria," explains Grau, adding that "they have been disinfected for more than 40 years with ultraviolet light that cleans and disinfects viruses and bacteria."

www.informacion.es
Digsmak is a news publisher with over 12 years of reporting experiance; and have published in many industry leading publications and news sites.