01:26
Australia's Covid-19 hospital admissions fall to lowest in weeks
The Covid hospitalization rate in Australia fell to its lowest in nearly three weeks on Wednesday, Reuters reports, while a steady rate of daily infections raised hopes the worst of an outbreak fueled by the Omicron variant may have passed.
Hospital cases fell to about 4,600 on Wednesday, with all states seeing a dip in admission numbers, after a peak of nearly 5,400 a week ago.
"We've seen the peaks of Omicron, I think, come through in (New South Wales and Victoria)," Prime Minister Scott Morrison, who is under pressure over his handling of the Omicron wave, told a media briefing.
01:11
More cases in Winter Olympics 'closed loop' bubble as torch relay begins
Thirty new Covid-19 infections were detected among Olympic Games-related personnel on 1 February, the organizing committee of the Beijing 2022 Winter Olympics said on Wednesday. Fifteen were among new airport arrivals, it said on the Games' official website, with 17 in the "closed loop" bubble that separates all event personnel from the public.
It comes as a Covid-shortened Olympic torch relay began on Wednesday. Chinese basketball great and Olympian Yao Ming was among the first to carry the flame on a journey that will last just three days due to Covid-19 curbs, Reuters reported.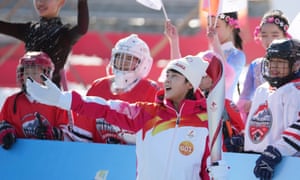 The relay will be far more modest than the globe-spanning event ahead of Beijing's 2008 Summer Games. Because of Covid, only selected members of the public will witness the torch relay.
Wednesday's event began under clear blue skies in Beijing when Chinese vice premier Jan Zheng lit a torch from a cauldron in the shape of traditional ritual vessel known as a zun, then handed it to 80-year-old Luo Zhihuan, who as a speed skater was China's first winter sports world champion.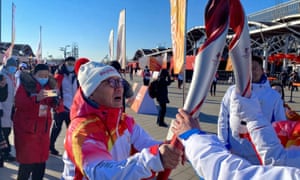 00:58
China reports slight rise in Covid cases
China reported 63 confirmed coronavirus cases for 1 February, down slightly from 66 a day earlier, the country's health authority said on Wednesday. There were no new fatalities, leaving the death toll unchanged at 4,636.
00:43
Tsunami-hit Tonga goes into lockdown
Tonga has gone into lockdown after recording two Covid-19 cases among port workers helping distribute international aid in the wake of the volcanic eruption and tsunami that devastated the Pacific country last month.
The cases seem to confirm fears among Tongan officials that the arrival of aid could bring an outbreak of the virus, which could represent a bigger danger to Tonga than the tsunami.
The prime minister, Siaosi Sovaleni, said the lockdown, which began at 6pm on Wednesday, will be open-ended, but will last for at least 48 hours, at which point it will be reviewed.
Tonga is still reeling from the eruption of the undersea Hunga Tonga-Hunga Ha'apai volcano on 15 January, which sent gas 20km into the air, prompted a tsunami, with waves reaching 15 meters (49ft), and blanketed the country in ash.
Read the full story from our Pacific editor Kate Lyons here.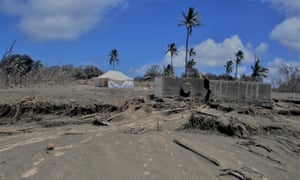 00:25
France eases Covid curbs, including outdoor mask-wearing
France will begin to lift some Covid-19 restrictions on Wednesday, including mandatory outdoor mask-wearing, Agence France-Presse reports.
Audience capacity limits for concert halls, sporting matches and other events will also be removed, and although homeworking will no longer be mandated it will still be recommended.
The move begins a two-part relaxation of curbs announced at the end of January – despite the country hitting record levels of daily cases last month – and comes as England and Denmark also eased their restrictions.
France "will be able to lift most of the restrictions taken to curb the epidemic in February" thanks to the new vaccination pass, which replaced the health pass, Prime Minister Jean Castex said in January.
The second stage of the curb-lifting will see nightclubs, shut since December, reopen on 16 February and standing areas will again be allowed at concerts, sporting events and bars.
Paris has not made the easing of restrictions conditional on the progress of the health situation. Authorities view the threat of the Omicron variant as limited and less dangerous than previous strains of the virus, even though it is more contagious.
An average of 322,256 cases were recorded over the previous seven days, according to latest figures, compared with 366,179 a week ago.
00:17
Welcome and summary of key developments
Hello and welcome to the Guardian's live coverage of the coronavirus pandemic with me, Virginia Harrison.
France will begin lifting coronavirus restrictions including mandatory outdoor mask-wearing on Wednesday in a bid to ease citizens' daily lives, dividing opinion as the country only last month reported record Covid-19 infections.
Tonga has entered a lockdown after recording two Covid-19 cases among port workers helping distribute international aid in the wake of the volcanic eruption and tsunami that devastated the Pacific country last month.
Here's what else has been happening over the past 24 hours:
the QUIEN has said the BA.2 sub-variant of Omicron, sometimes known as a "stealth" subvariant, is starting to outcompete BA.1. The BA.2 sub-variant has now been detected in 57 countries and accounted for more than half of all sequenced Omicron cases, the UN agency said.
the UK Prime Minister Boris Johnson attended a leaving do for a No 10 aid during the strict post-Christmas lockdown, which is now under police investigation, the Guardian has learned. Prosecco is alleged to have been drunk by some staff, with Johnson understood to have given a speech thanking the official for their work and staying for around five minutes.
in the US children under five, the last group of Americans still ineligible for vaccines against Covid-19, may soon receive emergency authorization for the shots, but getting all children vaccinated remains a serious challenge.
The Covid pandemic has "destroyed morale" among school leaders in Englandwho feel they have been escaped for government failures during the crisis instead of being hailed as heroes for their role on the frontline, MPs will be told in a briefing on Wednedsay.
China reported 63 confirmed coronavirus cases for 1 February, down slightly from 66 a day earlier, the country's health authority said on Wednesday.
Meantime, at the Winter Olympics in Beijing, 32 new Covid infections were detected among Games-related personnel on 1 February. Seventeen were in the "closed loop" bubble that separates all event workers from the public.
Health workers on the frontline of the Covid vaccination program in India say people are being officially registered as double vaccinated without receiving both doses because of pressure to meet government targets.
Australia recorded 69 Covid deaths as the country continued to battle the spread of the Omicron variant with worrying outbreaks in some remote communities.
Two years into the pandemic Japanesesome residents in former tourist hotspot Kyoto admit that they have learned to embrace life without foreign visitors

www.theguardian.com
George is Digismak's reported cum editor with 13 years of experience in Journalism