II'd like to tell you about a man named Chris. In his 40s, Chris has spent years in low-paying jobs while caring for his elderly mother. Chris has autism, a mild learning disability, and a stutter. And, as is the case with many people in your situation, employers tend not to want to give it a try. During the past year, you have been laid off from your part-time cleaning job; They give you a few hundred pounds a month to somehow pay the bills. Disability benefits helped keep his head above water. That was until a new evaluation last year removed them.
Last month, Chris appealed the decision in "phone calls" court. The lockdown has halted in-person court appointments, but benefit cuts continue. Sitting at his mother's house, with a lot of paperwork, he was rejected again. Now Chris relies on food packages from local support groups; pasta and vegetables in a cardboard box. "Having to receive packages of food is the most humbling experience of your life," he says. "You don't forget it." Chris adores Star Trek and likes to draw pictures of the stars and space, his crayons draw the possibility of a kinder world. Above all, he says, he just wants a hug.
This is not a remarkable story. A kind of normalized neglect occurs every day, in every corner of this country, which is quietly spread. The pandemic is said to have focused attention on Britain's social security system, but the truth is that millions of people like Chris still live in obscurity. A decade of austerity has removed £ 37bn from benefit support, as a combination of lowered rates and Kafkaesque tests built a system more interested in punishment than aid.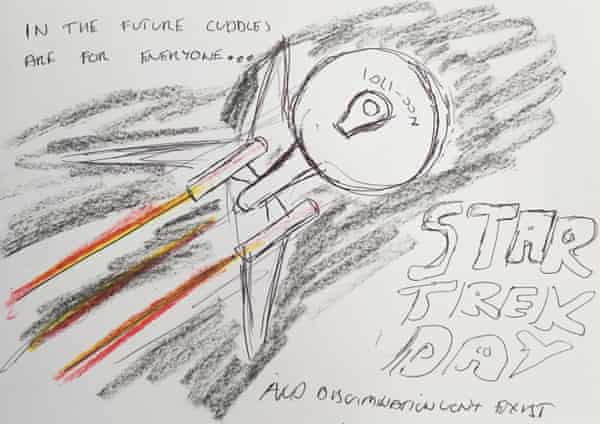 Coronavirus it has only served to weaken a society already infected by poverty. Research by the Turn2Us charity shows one in five people now they are struggling to pay the bills, and one in six to buy food. Ministers seem to have neither the ability nor the will to meet the demands of our time. His idea of ​​a "generous" benefit system is to give some of the poorest people in society a bonus. £ 20 for a few months. For seriously ill and disabled people receiving inherited benefits, April will see an increase of the grand sum of a 37p per week. That's barely half a loaf of bread to cope with a global pandemic.
The paradox of the narrative that Britain's inflated profit bill is out of control is that, by any definition, it is singularly miserable. The UK has the lower unemployment benefit as a percentage of previous income in the OECD. The majority of disabled people who cannot work say I can't afford to live of what the state gives them. Even with the £ 20 increase, many universal credit applicants still have to skip meals.
This month, Britain's leading expert on health inequalities, Sir Michael Marmot, warned that the welfare system should be overhauled after the pandemic, and few who look at the evidence would disagree. And yet it is surely devastating that it took a pandemic to cause such concern. There is no reason to expect decency, no compassionate future held hostage to the right conditions. The time is now, and the truth is that it has been for many years.
The destruction of Britain's safety net has been a public policy crisis for decades, yet we are still upholding the most basic goals: that social security should be sufficient for people to eat regularly, maintain electricity turned on and pay the money. rent.
It is not "generous" to prevent people from starving. It is the absolute minimum that we should do as a society. The fact that we've convinced ourselves otherwise speaks volumes about attitudes that require a challenge, just as the fact that an emergency surge was needed during the pandemic reveals how little we expected people to live on benefits.
Similarly, the idea that no one should work all day and still live in poverty dominates progressive arguments. It is completely true, but it is a frame that in itself capitulates to the terms of the right. No one should live in poverty completely; getting the job done shouldn't be a precursor for a society to treat someone like a human being. The unpaid caregivers who have propped up the care system during the pandemic should surely teach us that.
It would be natural to feel discouraged by the way things are. The scale of suffering is steep, and the political class appears to be especially ill-equipped to scale it. But going ahead blindly is not an option. As the end of the confinement brings the so-called return to normalcy, we may realize that what many people need is a change. Where society puts its resources is a symbol of what it believes matters, and we can choose to invest in social housing, a real living wage, higher benefits, or basic income. There will be many obstacles that we will face in the coming months, but the scale of our ambition should not be one of them.
Look at the stars and imagine a better world. Then go back to earth and fight for it.

www.theguardian.com
George is Digismak's reported cum editor with 13 years of experience in Journalism