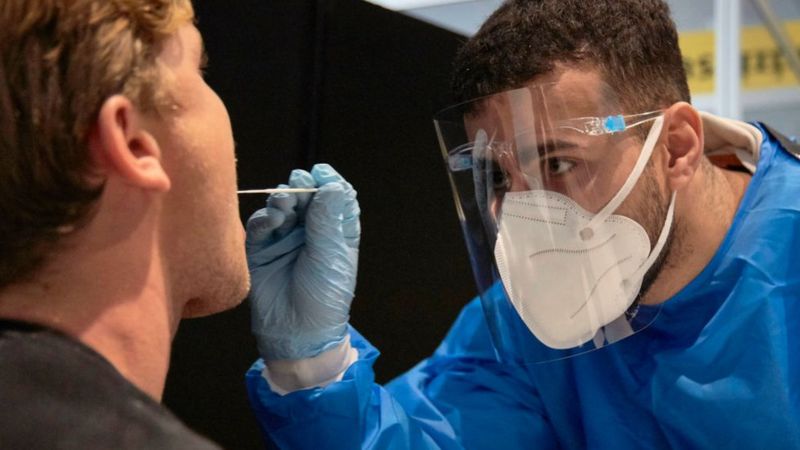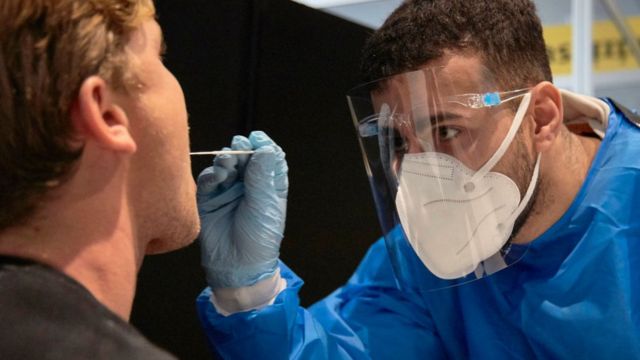 Ómicron appears to be causing less severe disease than other variants of the coronavirus despite showing greater resistance to the Pfizer-BioNTech vaccine, according to preliminary data from the largest study yet on this strain.
The study itself, which was published on Tuesday, was conducted by Discovery Health, South Africa's largest private insurer, where the omicron variant was detected for the first time.
And in it it specifies that the risk of hospital admissions among adults who were infected with this variant was a 29% lower than in the initial pandemic wave that emerged in March 2020.
Until now it was unknown if omicron could cause a more serious infection compared to other variants, such as delta or beta.
The study casts a preliminary look at the possible future behavior of omicron, although Discovery Health was emphatic in saying that the results should be considered preliminary.
Epidemiologists have warned that more weeks of study to draw firmer conclusions.
This is because the study was conducted based on just three weeks of data, in part because the variant has not yet spread widely, and because only a small percentage of infected people get sick enough to be hospitalized.
The study also found that the vaccine from the pharmaceutical company Pfizer and the German partner BioNTech provides only 33% protection against infection, much less than the level of other variants detected in the country.
However, the vaccine would be offering 70% protection against hospitalizationaccording to the study, which describes that level of protection as "very good."
In total: 38 hospital admissions per 1,000 infections compared to 101 per 1,000 during the delta-driven surge and 131 per 1,000 when the beta variant was dominant.
Protection was maintained across all age groups, Ryan Noach, executive director of Discovery Health, told a news conference.
The South African Study was based on more than 211,000 positive results of the test to detect covid-19, of which 78,000 were attributed to omicron
The fourth wave
The study occurs in full increase of cases in the African country, with ómicron What dominant variant.
The World Health Organization (WHO) warned on Monday that omicron, already detected in more than 60 countries, represents a "very high" global risk.
WHO Director for Africa Matshidiso Moeti said the continent is now traversing the fourth wave of the pandemic, mainly driven by omicron, with an 83% increase in new cases this week compared to the previous week.
"This is the fastest increase since May last year," Moeti said.
South Africa alerted the world to omicron in November, raising the alarm of a possible spike in global infections.
Cautious optimism
"The fourth wave powered by omicron has a significantly steeper trajectory of new infections than previous waves," Discovery Health's Noach said in a statement.
"National data show an exponential increase in both new infections and test positivity rates during the first three weeks of this wave, pointing to a highly transmissible variant with rapid spread of infection in the community." .
However, he added that it is encouraging to see that the trajectory of hospitalizations is flat, indicating "probably a lesser severity of this wave."
Most infections shown how lights, with recoveries generally in three days. Most of the patients who required oxygen were not vaccinated and only 16% of ICU admissions were vaccinated.
The most common symptoms have been sore throat, nasal congestion, dry cough, and myalgia.
Still, epidemiologists do not claim an outright victory. The low hospital rate could also be due to the fact that part of the population already had some immunity to covid-19 having been exposed to previous infections or immunizations.
Data from Discovery Health further indicated that children under 18 years of age had a 20% higher risk of hospital admission for complications from being infected with omicron than with the other variants.
"We are cautiously optimistic as we are seeing fewer deaths during the first weeks of this current wave compared to previous waves," Moeti said.
Now you can receive notifications from BBC Mundo. Download the new version of our app and activate them so you don't miss out on our best content.

www.bbc.com
Eddie is an Australian news reporter with over 9 years in the industry and has published on Forbes and tech crunch.