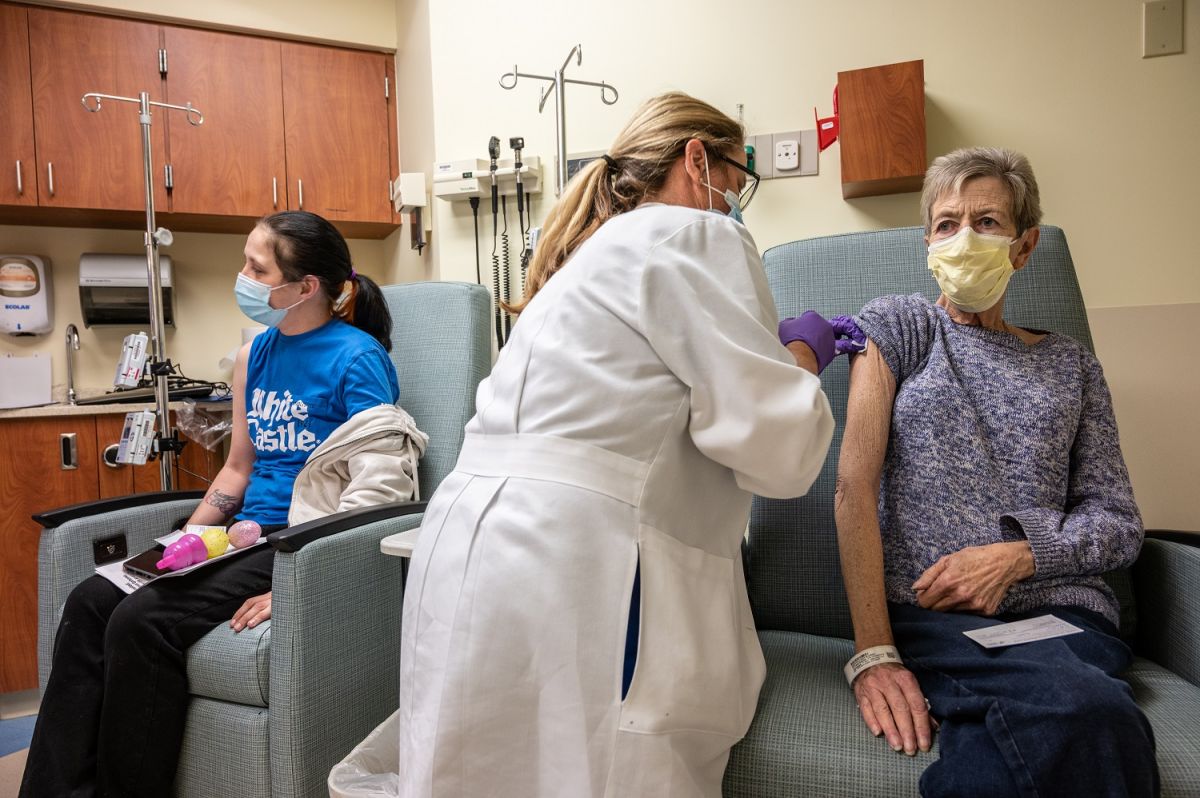 Those who suffer from diseases that compromise the body's immune response, such as cancer, HIV or who have received an organ transplant, do not respond as well to the COVID-19 vaccines as a healthy person, so the United States Centers for Disease Control and Prevention (CDC) has recommended a fourth dose for people with weak immune systems. Such was the case for Colin Powell, the former secretary of state who suffered from blood cancer and died of complications from COVID.
The updated CDC guidelines for COVID-19 vaccines available in the United States consider that moderately and severely immunocompromised people over 18 years of age who have already completed a first series of some mRNA vaccine, such as Pfizer or Moderna, they can receive an additional dose to the booster, that is, a fourth dose.
Immunosuppressed patients are 485 times more likely to be hospitalized or die because of COVID-19, according to research from Johns Hopkins University, so the CDC believes that four doses of an mRNA vaccine could provide greater protection.
In accordance with the CDC guide, the scheme for this population group would work like this:
– Moderately and severely immunocompromised individuals over 18 years of age who completed a primary series of any of the COVID-19 mRNA vaccines may receive an additional (third) dose at least 28 days after completing the immunization.
– This sector can receive a single booster dose of COVID-19 (Pfizer-BioNTech, Moderna or Janssen) at least 6 months after completing their third dose of mRNA vaccine. In such situations, people with moderate and severe immunosuppression can receive a total of four doses of the COVID-19 vaccine.
What can people who received the Janssen single dose do?
The CDC specifies: "Moderately and severely immunocompromised individuals over the age of 18 who received a single dose of Janssen's primary series of COVID-19 vaccine must receive a one-time COVID-19 booster vaccine (Pfizer-BioNTech, Moderna, or Janssen) at least 2 months (8 weeks) after receiving your initial primary dose of Janssen. If Moderna vaccine is used in this circumstance, the booster dose and dose volume (50 µg in 0.25 ml) should be used. A patient's clinical team is in the best position to determine the appropriate time for vaccination. A person who received one dose of the primary Janssen COVID-19 vaccine should not receive more than two COVID-19 doses of vaccine. "
---
Read more:
+ FDA Authorizes Third Dose of COVID Vaccine for People with Weak Immune Systems
+ COVID: Should I get the third dose of the vaccine already?
+ Fully vaccinated COVID survivors have "impressive" immunity even against new variants of the virus
+ Eating too much salt weakens the immune system

eldiariony.com
Eddie is an Australian news reporter with over 9 years in the industry and has published on Forbes and tech crunch.