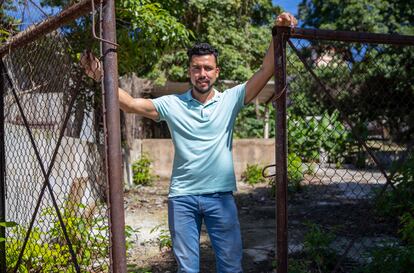 Oliesky has a tangled name, as it has been so far (and still is) to undertake any private business in Cuba. When he was born, in the mid-eighties, there were no margins in his country outside the socialist state economy to carry out an entrepreneurial activity. At that time, Russian names were fashionable on the island and his parents were revolutionaries, so Oliesky's name "touched him on the notebook," jokes this 38-year-old architect, one of the hundreds of Cubans who has decided to bet on Create your own company taking advantage of the most recent government reform.
The measure, which allows the constitution of micro-companies (up to 10 workers), small (from 11 to 35) and medium-sized private companies (from 36 to 100 employees), was demanded by society for years and finally came into force last 20 of September. Oliesky Fabre del Castillo was one of the first to present the documents of his undertaking, Enparalelo, which has to do with the production of micro-vegetables in urban spaces, both indoors and outdoors, with the purpose of contributing to "feed the city from the city ​​in a sustainable way ".
Olo (that's what his friends call him, so as not to complicate things) he opens his computer and shows the plans and the presentation of the project, in which modern indoor growing areas and vertical agriculture towers are seen where he plans to produce not only micro-vegetables, but also edible mushrooms, flowers and algae destined for the consumption of the population and private restaurants and tourism, and later for export. In parallel, it is at the same time a local development project and a municipal entity has just given him a small vacant lot in the impoverished Havana neighborhood of La Timba, which he is now beginning to prepare while carrying out the procedures in the commercial register to register his micro-business (of two partners and eight workers). The first tests carried out, he says, were a success: "We managed to produce food of great nutritional value, in very small spaces and with high margins of productivity and profitability".
The Ministry of Economy and Planning (MEP) approved their undertaking on September 29 along with 31 other MSMEs, and on October 7 they authorized 66 more and two non-agricultural cooperatives. They will be the first private companies with legal personality that will operate on the island since 1968, when Fidel Castro decreed the confiscation of the last 55,000 private businesses that had survived the revolutionary triumph of 1959. "This is a new moment, it is something historical, it changes the rules of the game: now we will have the legal possibility to do much more ", says Oliesky, who emphasizes the lights of the reform without hiding its shadows, such as the limits imposed on professional activities. Accountants, lawyers, engineers and architects like him (among others) cannot associate and establish companies to provide their services. "As an architect, I always dreamed of having an architecture studio in Cuba and I hope to be able to do so. I hope that this professional activity will soon become legal because the city needs it ", he assures.
This is not the only limitation for new SMEs, which must be established as limited liability companies. They will have the capacity to receive credits and conduct business with state, mixed and foreign companies, but their import and export activities must be carried out through the intermediation of a state company. Neither can a foreign investor be a partner, although it is not excluded that the Cuban owner of a constituted business may do a joint venture with a foreign company, although for this he must go through the cumbersome official process of approval by the State. There is, in addition, the prohibition of the exercise of more than 100 activities that the State reserves (in areas such as telecommunications, tourism, health, press, etc.), and the impossibility that a Cuban can be a partner of two SMEs at the same time, or that these can become large companies if they are successful, since it is in the spirit of the law to "avoid the concentration of property and wealth."
Cuban economists such as Ricardo Torres point out that the approval of SMEs in Cuba is born with impediments that can weigh down its positive effect: "One has the feeling that we are always behind what the new times require." His colleague Pedro Monreal estimates that some 14,000 private MSMEs could emerge in a short time on the island, where today there are 1,800 state-owned companies and 250 mixed mercantile companies. "How would a centralized planning scheme that is not effective to operate some 2,000 companies have the capacity to assimilate a business fabric seven or eight times larger than the current one, in a relatively short term?", This economist recently asked himself.
However, one thing is objective restrictions and macroeconomic assessments, and another is how new entrepreneurs see it, many of whom come from the field of self-employment – more than 600,000 people, 13% of the workforce, are covered by this. autonomous work modality in Cuba—. "For a long time we have been frowned upon or considered the poor people who are looking for life. Now, for the first time, what we are is recognized: entrepreneurs ", says Marta Deus, co-founder of Mandao, a courier business that has grown exponentially since its creation two years ago —more 100,000 deliveries since then—.
Until now, Mandao has functioned as best it could, taking advantage of the existing legal loopholes, but the MEP has already approved its constitution as a medium-sized company. There are six partners and may have up to 100 workers. "Now we will have legal personality, we will be able to sign contracts, have state and foreign clients, import, open offices in other provinces … Although from the outside it may seem little, anyone who knows a little about doing business in Cuba can understand how much we have advanced. ", Says this 33-year-old entrepreneur who also carries out two other projects that have operated so far within the limits of this legal nebula: Deus Expertos Contables, specialized in accounting, auditing, taxation and financial and business advice, and Negolution, a bimonthly magazine on entrepreneurship, created to inform about the business world in Cuba.
Both Marta and Oliesky are aware that there is still a long way to go for private initiative in Cuba to consolidate. But they believe that the step taken is great, compared to what there was. "Now we have to focus on taking advantage of the opportunity to grow and wait for the obstacles to be resolved," says Deus. In his opinion, the best guarantee that there will be no "backtracking" this time and that "things are going forward" is the current situation in the country, which is critical and imposes changes on the authorities. He admits that there are many entrepreneurs who, waiting and waiting for this reform, have thrown in the towel and left. Those who are still here and now will constitute an SME, such as Oliesky or Marta, are optimistic "by obligation". "We have no choice if we have opted for this," says Deus, and at that, a Mandao motorcycle passes by on the street bringing food to the home for a client in Havana.
Subscribe here to the EL PAÍS América newsletter and receive all the informative keys of the current situation in the region.

elpais.com
Eddie is an Australian news reporter with over 9 years in the industry and has published on Forbes and tech crunch.