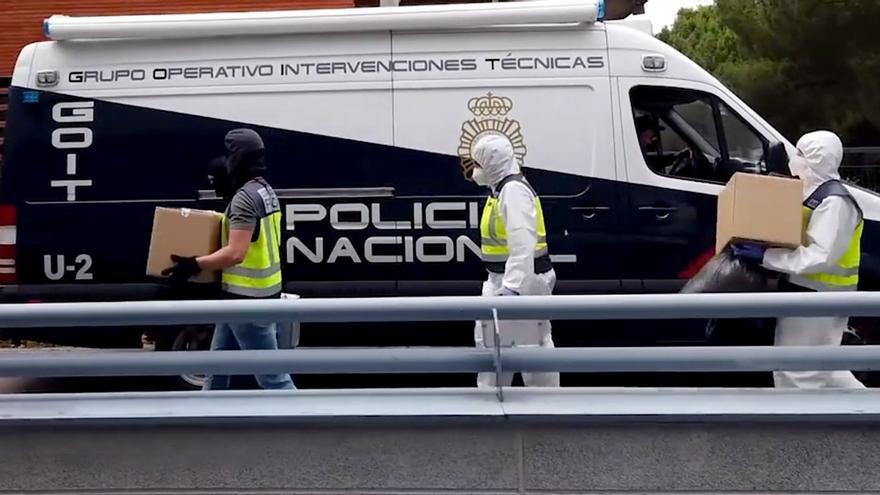 ETA and the IRA had piggy banks in bars; jihad has virtual piggy banks. A flow of small donations, a crowfunding called by Daesh in closed social networks, tries to pay for the extraction of combatants from war zones.
The money is donated in Europe and received in Syria and Iraq through a trust circuit, the hawala, with centuries of existence: it was born on the camel routes to avoid carrying money that could be stolen by bandits, and now it serves to avoid police action. Your tool is the small delivery; there are no checking accounts; jihad does not need banks, but people who give themselves money each other until reaching the destination point. "That movement hardly leaves a trace," says an expert, chief inspector of the General Information Commissariat of the National Police. They are small donations, never millionaires, but that does not mean that there is not an organization behind it ".
In fact, no source consulted considers it to be exhausted Awda, the main police operation of the recent ones – this is from June 11, 2020 – undertaken against the financing of the terrorist jihad in Spain. Three of his arrests show that "there is a remittance office in Spain," says the inspector. Other times they are geographically dispersed coups, but the Police see connections between the detainees.
Without a trace
It is not possible to guess how many remitters there are in the network. Daesh does not act as Al Qaeda used to do. To the band of Bin Laden, in 2002 the arrest of an Algerian financier led to the intervention of a account in Luxembourg with three million euros. Eighteen years later, the investigation into another jihadist -this member of Daesh- shows another more discreet way of acting; and also more austere.
Coming from the front in Syria, Abdel-Majed Abdel Bary – who was a rapper in London before taking up arms – arrived in Almería by boat. It had been introduced from Algeria by a paterista. The pandemic trapped him in a rental apartment on Cádiz street in the capital of Almería. Only his two assistants, one of them his bodyguard, were seen on essential exits during confinement. At the end of April, some orders for food delivery ended up giving him away.
The payment to the owner of the patera, his hideout in Almería, the rent for him and his assistants … even the pizzas were paid with a fund that Daesh had given him when he left Syria. Like many other travel pockets, it had drawn on the hawala.
The clandestine cable
The system requires a donor at the source. Daesh asks him for an amount, and he gives it, but there is no bank transfer to the East. The donor gives it to a trusted person, who subtracts his commission, and this asks another trusted person at another point to give an equal amount to another remitter. In each transmission there is a password that is sent by whatsapp or other messages. A similar password will give the jihadist to the final or target hacker. They do not have to know or have never seen each other. If the password is good, the hacker drops the money.
Hawala means "cable" in Arabic, and following it can be profitable for those who take risks. The profit motive is a more frequent strand in that cable than religious faith. With this system "They earn more than putting money in the bank, even more than selling a house ", says the police expert. In the remittance of funds "there are never large quantities -bill-. They are always small deliveries, but many ".
The trail often does not exist, vanishes or consists of a pedestrian handwritten notation in some booklet: "Ahmed, five; Abdelilah, twelve… "Other times they are invoices for non-existent services between small import or export companies with headquarters in different countries. Micro-donation remains the most effective method for jihad, once the traffic of Syrian and Iraqi works of art and archaeological goods has been suffocated, and after the simulation of claims has not been sufficiently credited to collect compensation from insurance and send them to the caliphate.
The nationality of the hackers caught in Spain varies in police coups. They are often Moroccan by origin (such as those who trafficked from Girona with cultural property plundered in the Syrian war in 2016), but an Egyptian remittance sender (Segovia, 2017), another Bangladeshi (Mérida, 2017) and one Danish (Melilla, 2017) in points of Spanish origin of the shipments, in addition to Syrians and Iraqis (Madrid 2018 and 2020, and Barcelona 2019).
Pay for trips
Jihadism tries to transfer its combat back to Europe, and this time with people who have already had military training in a war zone. The repatriation of what Daesh calls "foreign fighters" would overwhelm a travel agency. Only from Spain, according to sources from the CITCO (Intelligence Center against Terrorism and Organized Crime), between 2014 and 2018, 254 caliphate volunteers left.
Of that contingent, the majority issued from Ceuta, Melilla, Catalonia and Campo de Gibraltar, the authorities have proof of the death in combat of 73 and of the imprisonment in Syria or Kurdistan of ten. Another ten are in prison in Spain and 25 move through this country, with access to others in Europe.
According to the accounts of the antiterrorist intelligence, between 100 and 130 who left Spain are candidates to return. There can be no reliability in the figure: they are still supposed to be in a war zone if the CITCO does not have proof of their death or location in Spain. But they may have already arrived, traveling on the back of the clandestine Daesh crowfunding.

www.informacion.es
Eddie is an Australian news reporter with over 9 years in the industry and has published on Forbes and tech crunch.