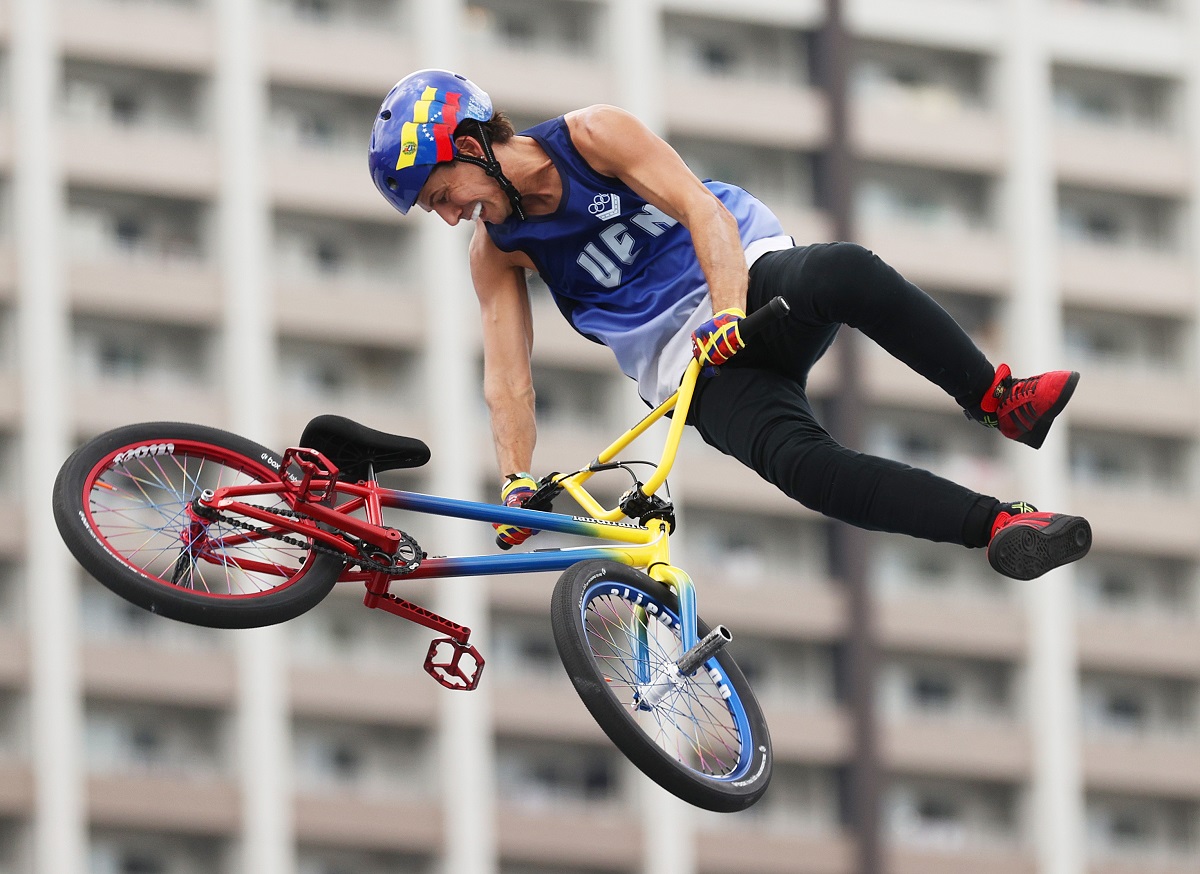 Venezuela has four medals in the Tokyo 2020 Olympics, one of gold and three of silver. Among those who hung the silver metal is a BMX legend as he is Daniel Dhers, who could represent the United States and preferred to opt for the South American country.
With 36 years of age this 'rider' of the BMX Freestyle made history in the Olympic Games by hanging a silver medal, only surpassed by Logan Martin (Australia) in the first appearance of this discipline in an Olympic event.
He has lived in the United States since he was 21 years old and has already been in North America for 15 years. He represented the Stars and Stripes in some international competitions, but his love for Venezuela remained intact until in 2017 the International Olympic Committee decided to include freestyle BMX in the Olympic cycle.
"They ask me why reject the United States for Venezuela. I do not reject the United States, he lived here, I have American citizenship. I was nationalized several years ago and that is why at some point the conversation of representing the United States instead of Venezuela opens. But I identify myself as Venezuelan, I was born there and, as you will see, I never lost my accent. I didn't want to lose my identity. Something they taught me since I was little is that you should never forget where you come from, "he explained in an Instagram live.
#Tokyo2020 In his envivo @Danieldhers account why I represent Venezuela

"I identify myself as Venezuelan, I have never lost my speech, I have never lost my identity, one should never forget where it comes from" 🇻🇪❤️#Olympic Games pic.twitter.com/orU9hWf4Ya

– John Jairo González González 🇻😇🐶⚡👫🏀⚽⚾🏈🎮 📷 (@JOHNHATE) August 4, 2021
His score in the final was 92.05 and was surpassed by very little, the 93:20 of the Australian Logan Martin, who came as number one in the world and ratified it.
"The medal that I acquired I feel that it is as Venezuelan as it is from the United States, because I have been in this country for 15 years. But that does not mean that he is Venezuelan. I really identify a lot with my country and as you have seen it, I am always looking to represent Venezuela more than the United States, "said the athlete, who had previously moved with his parents to Buenos Aires when he was 16 years old.
Daniel Dhers 🇻🇪🥈🚴🏻‍♂️

🗣️ "I told them I was going to leave all my ♥ ️ on the track"

🗣️ "I'm very happy, I can't believe it. I'm the oldest runner here for about 10 years and I was on the Olympic podium."

🗣️ "I did not think in my career that I was going to come to an Olympic Games"pic.twitter.com/obeIBuCVRg

– Raúl Zambrano Cabello (@ RaulZambrano7) August 1, 2021
He wants to be in Paris 2024
Now he will focus on competing to reach the Paris 2024 Olympics, his motivation remains intact. "I need to finish my season, rest a little and then we are going to devise the plan for 2024 because I want to experience the Olympic Games with all the public," he warned.
In three years those games will be played and Dhers will be 39 years old, something that will not stop him. He is convinced of living a new Olympic experience.
Daniel Dhers career:
🥉X Games 2006
🥇X Games 2007
🥇X Games 2008
🥇X Games 2010
🥇X Games 2011
🥇X Games 2013
🥇 Lima 2019 Pan American Games
🥈 Tokyo 2020 Olympic Games pic.twitter.com/nuipgNkNMN

– Arnaldo Espinoza (@Naldoxx) August 1, 2021
"Tokyo renewed the feeling of being Venezuelan (…) My country has been in conflict for 20 years. This practically gave a moment of silence in Venezuela and of healing ", he declared in relation to the situation in his country, which was the reason for the growing migration of his countrymen all over the world.
In North Carolina he has a BMX track where he trains every week to prepare for his competitions. Dhers, who grew up in the Chacao municipality, indicated that he will soon travel to Venezuela to carry out social activities.
Read also: Justice was not served: the CAS dismissed an appeal presented by the Colombian Olympic Committee in the fight of Yuberjén Martínez



eldiariony.com
Eddie is an Australian news reporter with over 9 years in the industry and has published on Forbes and tech crunch.