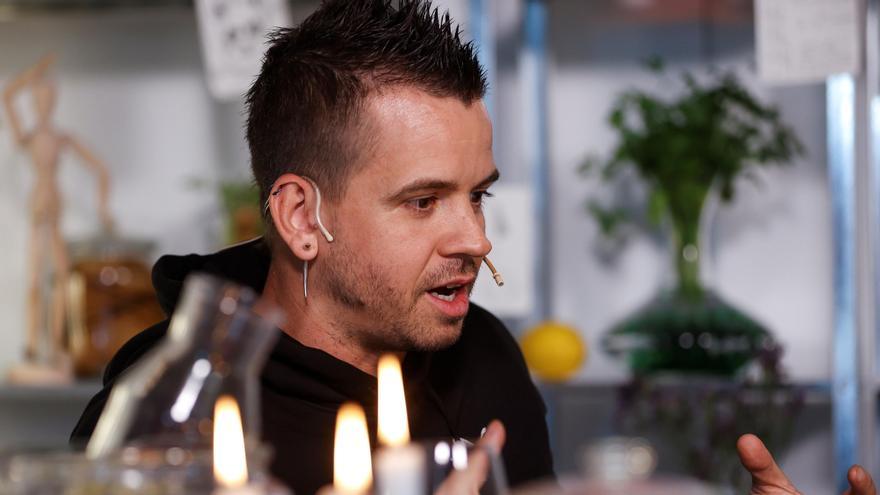 The Cook David Muñoz, chef at DiverXo with three Michelin stars, has reviewed this Friday in San Sebastián the accumulation of incidents that he has managed to overcome in a "disruptive" way since the coronavirus pandemic was declared and that have now led him "renew your vows" with your Madrid restaurant.
"I had been thinking about what the last year of DiverXo would be for years and now I'm thinking that you have at least ten years left", said Muñoz, during the fifth session of the" Kitchen Dialogues "congress, organized by the Basque Culinary Center (BCC) and Eurotoques, whose president, Andoni Luis Aduriz, also participated in the session.
"Now I feel that a new cycle has opened for my team and me and I think that this cycle has to do with having started to do different things that we had not considered before, "explained the chef, who reopened DiverXo last November after being closed due to restrictions caused by covid-19.
Months before, in August, the place had suffered a small fire that also forced it to close for a few days and, although it resumed its activity in September, it had to close it again due to some positive cases of covid in its staff. A situation that, as he has admitted, led him to have "doubts" about whether he really I would again be able to "fill in so far in advance" as it did before, but which have now been resolved after verifying that the restaurant completes its reservations "even faster than before the lockdown."
"This means that we have been doing our homework for a long time and well done. We have done it for the last fourteen years, but I think that in the last year we have done even more homework and we have managed to broaden our sights, the way we have to reach people and we have achieved something that I had never considered before: we have begun to reach a type of audience that we did not reach before and this seems absolutely wonderful, "he stressed.
"You told me a year ago that I was going to make a brand like GoXo to make food at home and it was something that I did not even considerI neither felt like it nor had it on the horizon and, nevertheless, to this day, it fascinates and amuses me a lot, "he assured.
"All the things we are doing this year have made me grasp the world that has to do with DiverXo more eagerly," said Muñoz, who is committed to "diversify, cook more things, reach more people"and take off" a little the corset of a three-star that tries to surprise the world. "" That is still there, but the rest has made me face it with more enthusiasm, "he commented.
He has affirmed, in this sense, that the success of a cook depends on "making people want to buy and eat what they do because they like what they do", although it is also necessary to be "persistent". "It is true that there are always moments of restlessness in which it seems that it is impossible to continue moving forward. In May I saw myself with no alternative and no way out and, almost a year later, suddenly I feel more entrepreneurial than ever, freer than ever, better cook than ever and with renewed dreams, "he proclaimed.
A feeling for which I know need "attitude and mental power" to see how to "approach" problems and "how are you able to overcome circumstances", has remarked a Muñoz who currently feels "much more reinforced and doing many more things than a year before." "My daily solution is to try to break down barriers, imagine and reimagine what no one has ever imagined. This is the way I understand cooking and the way I understand my life," he concluded.

www.informacion.es
Eddie is an Australian news reporter with over 9 years in the industry and has published on Forbes and tech crunch.