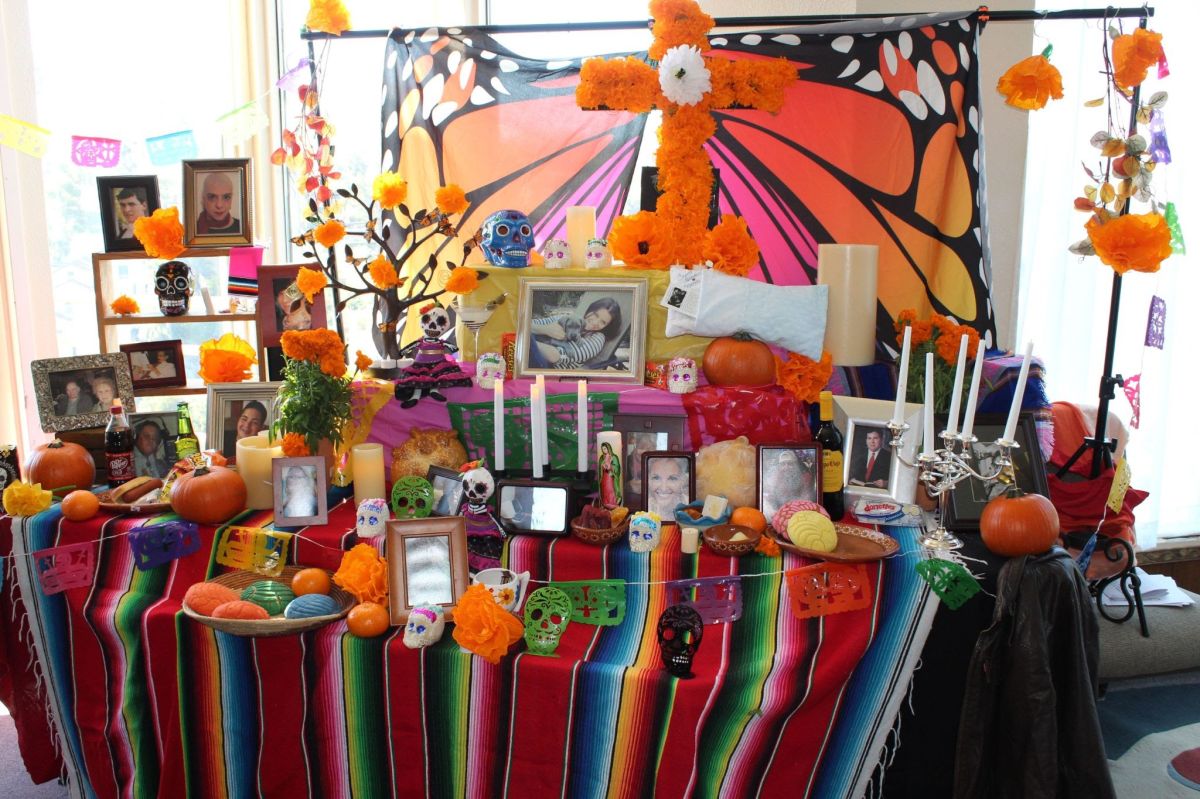 Dia de los Muertos and Halloween look and sound like similar celebrations.
Both include costumes, skeletons, and the culture of death.
However, there are big differences.
The Day of the Dead It is a Mexican tradition that is celebrated on November 1 and 2 to honor the memory of your deceased loved ones. It is celebrated with visits to the cemetery where there are dances, altars decorated with photos, food and favorite drinks of the deceased. They are used during processions, for "help" the deceased to find their homes. These festivities coincide at the same time that millions of Monarch butterflies return to their sanctuaries in the Mexican state of Michoacán. The Aztecs believed that monarchs carried the spirits of their deceased ancestors.
However the Day of the Dead It has nothing to do with Halloween traditions, like dressing up as Dracula and knocking on doors at houses to trick or treating.
I was born and raised on the border of South Texas and Mexico and I deeply appreciate both cultures. However, I never liked the idea of ​​celebrating the Day of the Dead. I had no place in my head to clean that of cleaning graves in the cemetery or creating an altar in my house with photos of my deceased grandparents. Much less, surrounding an altar with mole, enchiladas and tequila.
Why did I feel like this?
Over the years I understood that it was my terror to talk about death.
It wasn't until my parents reached old age that I was able to do it.
Talking about end-of-life care is not a preferred topic among our Latino people. Ironically, Hispanics are the community with the highest rates of life-threatening diseases, such as diabetes and high blood pressure. We are also the least likely to complete advance directives, or to discuss with our loved ones under what circumstances, if any, we wish to receive medical interventions to prolong life or the dying process.
These disparities in the use of end-of-life health care planning disproportionately impact our people. However, what Yes we can control, it is talking with our loved ones and doctors, if we wish or noto keep us alive with aggressive treatments in case we find ourselves too ill to speak for ourselves.
Almost 15 years have passed since the death of my brother and my parents. Although it still pains me to remember these consecutive losses over a four-year period, I am pleased to say the following:
Thanks to the previous end-of-life talks that we had with my brother and my parents, they were not connected to tubes, catheters and devices that would only have prolonged their suffering. They weren't revived when his heart stopped beating. We even had white roses at the funeral of me arm and my loveá, instead of the carnations that my amá.
As I prepare to end another year without the patriarchs of the González family, it fills me with satisfaction to know that my brothers and I honor his last wishes, especially as I prepare an altar in his memory, for him. Day of the Dead.
Patricia A. González-Portillo is a former journalist from The Brownsville [Texas] Herald, The opinion [Los Ángeles] y The [Riverside, CA] Press-Enterprise. Currently, she is the national director of Latino media for Compassion & Choices, the nonprofit organization that offers free bilingual consultations and online tools to educate people about end-of-life health care options. Visit: CompassionAndChoices.org.

eldiariony.com
Eddie is an Australian news reporter with over 9 years in the industry and has published on Forbes and tech crunch.