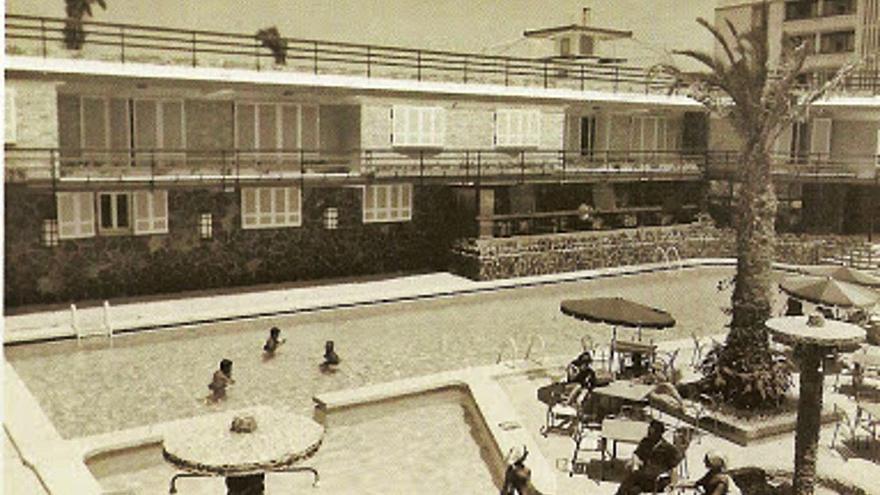 Enrique knew that Trinidad Blasco, 83 years old, suffered from senile dementia and that, in his mental delirium, he was obsessed with the search for his 8-year-old granddaughter Eugenia, who had died in a traffic accident a few months before, but that he believed that she had been kidnapped by the erinias, by order of the younger sister of Death.
On the night of November 1, Trinidad had been stabbed on a street in the San Antón neighborhood, and on December 6, Enrique found out, thanks to the transvestite Elizabet, that he had been attacked when he was in the company of Lauri, a prostitute who, according to a oracle, it would help him find his granddaughter. The attackers, a pimp named Aquilino and his buddy Rodolfo, were in turn attacked by members of one of the most dangerous gangs in the province of Alicante, led by Chief Simón. Rodolfo died, Aquilino managed to flee and Lauri, according to Elizabet, had worked for Chief Simon ever since.
Although Elizabet did not know where Trinidad might have gone when she escaped from the hospital, Enrique assumed that she had gone looking for Lauri. But, to find her, would he dare to go see the dreaded Chief Simon? In his madness, it was very likely that he did, Enrique answered himself. So he tried to confirm his suspicion, although he had to wait quite a few days to do so.
Through his many years of service in the Alicante police, Enrique knew roughly the story of Chief Simón: an old-shirted Falangist, a fighter in the Blue Division, who in the postwar period had become a successful smuggler and later the head of a criminal organization dedicated to illegal games, prostitution and illegal drug trafficking. Although he had no contact with his former comrades from the Falange, some of whom ruled or had ruled in the province of Alicante, such as José Abad Gosálvez, who had been mayor of the capital from October 11, 1966 to September 8 From that year of 1970, it was known that he enjoyed very good contacts with other political, military and judicial leaders.
Faced with the impossibility of meeting with Chief Simón himself, Enrique chose to meet with one of his most trusted men until recently, the lawyer José Cascante. It wasn't easy, but she finally managed to convince him after Christmas.
Cascante's law firm worked for prestigious companies and clients; he was a director of the Caja de Ahorros del Sureste and enjoyed a great reputation in Alicante's high society, but for many years he had also secretly been advising Chief Simón, with whom a close friendship united him. Enrique was one of the few people who knew this secret, which he swore to respect, after a glorious night of revelry and drunkenness that both brothers-in-law shared a few years ago; as it happened by coincidence that Cascante was married to the younger sister of Enrique's wife.
Cascante was never the official lawyer of the gang led by Chief Simón, nor was he his individual. And much less could it be now, despite the difficulties that the criminal leader was experiencing, after his arrest on Christmas Eve. And it is that Cascante had been elected on Tuesday, December 1 of that year, 1970, councilor of the Alicante City Council by a third of economic, cultural and professional entities. He had obtained the position thanks to political recommendations, some of them promoted by Chief Simón, but this did not prevent him from ignoring the requests for legal aid that he received from prison. In no way would he risk being involved in a judicial process that promised to be as long as it was attractive to the media.
Cascante immediately admitted that he had met Trinidad Blasco at Jefe Simón's house, but it was difficult for Enrique to convince him to talk to him about him. After much pleading, Cascante accepted, but on the condition that he did not ask him about any possible illegality committed by Chief Simon or matters that could harm him personally.
Both brothers-in-law met for dinner at the Babieca restaurant, located on San Juan beach, on Wednesday, December 30, 1970. Enrique, 65, plump and dressed in his old gray tergal suit, black bow tie over white shirt and Shoes of indefinite color, he had to wait for more than half an hour for his 58-year-old brother-in-law to arrive, who wore an elegant black suit under a trench coat of the same color, who greeted him with skeptical eyes hidden behind pasta-rimmed glasses. Gray.
It was not until the desserts that Enrique addressed the matter that interested him. He placed the portable tape recorder on the table, took a small notebook and a pen from his jacket pocket, and was about to ask the first question, when his brother-in-law again insisted on the terms of the agreement they had reached.
–Yes, yes, don't worry, I'm not going to compromise you in any way… We will stick to the old Trinidad Blasco, who is the one who interests me. When did you meet him?
"I don't remember the day." I think it was on the tenth or eleventh of last month when he showed up at Simon's house. I wanted to know where the Redoma was …
-What?
Cascante hesitated and his eyebrows furrowed as he looked at the tape recorder.
– Are you already recording?
Enrique shook his head.
–Okay… The old man came asking for a whore, a certain Lauri, that Simon and his people know as the Redoma.
"Why that nickname?"
"I think it was put on by a pied-noir who opened a nightclub in Albufereta last year where that girl was working for a few weeks." Apparently, in Arabic, phial means narrow of vulva – Cascante explained smiling -. Simon was amused by the nickname.
"I understand that Chief Simon's men took her away at dawn on November 2, after Aquilino attacked her." Did they put her to work in a brothel?
Cascante pursed his lips before answering.
-Suppose.
"And Chief Simon told the old man where he was?"
Cascante's small brown eyes smiled behind the thick lenses of his glasses.
"I think so, but certainly not at first." The old man ended up liking Simon. He treated him well, like a guest. He looked comfortable in her company. It did not seem to me that it prevented him from leaving, but I suspect that he held him back with the promise of one day telling him where he might find the Redoma.
-But he left.
"Yes, he finally let him go." I guess then he kept his word by telling her where he could find her.
– And when was that?
"The day before Simon was arrested, along with most of his men."
-If you think. Let's start at the beginning, "Enrique suggested, turning on the tape recorder.
Speaks Cascante
A few minutes after arriving at Simón's house, the old man you are interested in had an accident. He fell into the fireplace and burned his left arm and part of his thigh. I assure you it was not Simon's fault. I was there. Simón had him cured… No, they didn't take him to the hospital or to the Socorro House. Simón made a doctor friend of his come to his house, and right there he cured him and gave him the necessary medication so that the wounds would not become infected and they would hurt as little as possible. It took him more than two weeks to recover. But she was still at Simon's house for another month. He made them buy him clothes and treat him well, but he did not let him go out until, I suppose, the old man promised that he would not tell anything about what he saw or heard in that house. In return, Simon would tell him how to find the person he was looking for.
Simon was interested in the old man because, as he said, he was the only one who saw the same things he saw … How? Yes, yes, I know that it is not understood very well, but that is what Simón claimed: that old Trinidad saw things that until then only he saw. It seems to me that it had something to do with an esbi…, with a collaborator of Simón who had died a few years ago, known as Lefty. On a certain occasion, Simon told the old man that he had always thought that the living dog is worth more than the dead lion, a phrase that I think is taken from Ecclesiastes, but that he had changed his mind because of Lefty, since, according to He was still more useful to her dead than most of his men alive.
Simon was very fond of talking to the old man. They had long after-hours in which they spent hours talking. There was a moment when I was afraid that the old man might take away my job as a … friend, but I soon realized that their talks were more philosophical than practical. I participated in some of them and I have to admit that they were very interesting and entertaining.
I was surprised to see how Simon enjoyed those talks by opening up to old Trinidad with total sincerity; especially because he had repeated to me many times that he did not like to dive into his soul for fear of finding things that could permanently disturb him.
Simon was confident in his statements, without hesitation or regret. He said: «I have freed myself from ideology, from moral restrictions, a long time ago. I act with total freedom and without distinguishing between upright and criminals; for me they are all the same. Simón's words reminded me of my admired Gracián, who in his manual Oracle and the art of prudence says: "He who wins does not need to give explanations." Simon was used to winning; and yet he would dwell on explanations before an old man who most of the time remained silent, listening respectfully and attentively to him. When he finally spoke up and tried to contradict him, Simon reaffirmed himself without remorse: "I know they hate me, but I don't care because that means they fear me. Also, I always know how to treat others. There is no dog so unhappy that it doesn't wag its tail when you give it a bone.
However, there were moments when I saw Simon hesitate, when his eyes watched the old man with frank admiration. And it is that Trinidad's arguments enveloped him and infiltrated his conscience with the softness and softness of water, a water that is also capable of gnawing and ending the hardest and most resistant. «Bad opinion is the one that cannot be changed. The mind of the sensible is flexible, "he said in his deep, warm voice.
Only once did I see Simon get upset at the old man, to the point of screaming, jumping up from his seat. It was one night when he spoke to Trinidad for the first time about his worst enemy. Simón had recognized that some enemies were more useful to him than most of his friends, a phrase that I recognized because I had said it to him several times before, borrowed from Gracián. As well as that other one that the worst enemies come out of offended friends. And the fact is that Simón's worst enemy is an old friend of his, a partner in his times as a Falangist … How? No, I will not tell you who he is, I will not tell you his name. I'm just telling you that in his youth he was known by the nickname of El Rubio. For years he has been maneuvering in the shadows and his power is even greater than Simon's. The hatred she feels towards him is immense.
Simón was ranting against El Rubio when Trinidad asked him if he did not realize that he was being visited by Ptonus, who had come down from his gloomy and filthy dwelling, located in the most hidden part of the depth of a valley, inaccessible to the winds. and to the sun's rays, where he devoured the flesh of the viper, the food of his anger, to come to see him leaning on his cane, totally covered with ribbons of thorns. When Simon realized that the old man was referring to Envy, he became enraged and stopped talking to him until the next day.
The day came when fortune got tired of carrying Simon around for so long. The police obtained as a confidant one of the men who had worked for him, a certain Chrysostom. He denounced all the crimes that, he swore, Simon had committed. His wife and a young man who served as his assistant, Gabino, were also arrested. They both gave him away; her, in exchange for getting out of jail.
A week ago, on the night of the 23rd, the day before his arrest, perhaps because he suspected what was about to happen, Simón allowed Trinidad to leave in the company of a guy nicknamed Gori, who came to pick him up.

www.informacion.es
Eddie is an Australian news reporter with over 9 years in the industry and has published on Forbes and tech crunch.