In a house of your own, the third installment of his autobiography under construction, the writer and playwright Deborah Levy (Johannesburg, 61 years old) includes in the inventory of her possessions three wooden horses from Afghanistan: "Somehow they symbolize freedom and also beauty for me; each one of those carved beasts had its own defiant attitude". Those same pieces, which she bought when she worked writing plays for the Royal Shakespeare Company, her daughters were small and the idea of ​​making some memoirs was still remote, appear on the windowsills of the London room from where this author, whose series of autobiographical books has brought her closer to a new audience and has made her a singular feminist icon.
The beauty, freedom and defiant attitude that he perceives in those wooden horses are themes that run through these books, including the most recent one, with which he ends the series. In a house of your own (Random House Literature) she is about to turn 60 and her young daughter, ready to go to college. Levy thus begins to imagine the perfect property where he would like to retire, and that is the thread that weaves together reflections, almost like in a conversation, about the role of female characters in novels written by men or the power that striking green shoes can give those who wear them the passion for sleeping on turmeric-colored silk sheets, the pleasure of swimming in the sea, meeting friends or trips from Paris to New York passing through Bombay or the Greek island of Hydra that have filled and fill your life. "I find it important to put the world into my writing. These books are a vivid autobiography, not a chronological account. The narrator inside abroad," he explains. That character, Levy likes to say, is her and she isn't. "That me in the book wants to engage in intimate conversation with readers, not trying to show them what is right, but to ask what is the meaning of life and living. That is why the autobiography is full of different people, points of view, landscapes and languages".
Among those people he invites are his daughters and friends who come and go in these pages, often without their own names. "Writing always consists of revealing and hiding because that helps emotions," he says. "Human relationships are very important not only when recounting a life, but always, all the time, at the moment that existence is being lived. The narrator is porous, she is not someone loaded with fixed ideas, but rather tries to find the value of life in difficult moments and bets on a new story that helps her think. She walks through her thoughts at 40, at 50 and now at 60, a period of women's lives that, on the other hand, is practically undocumented.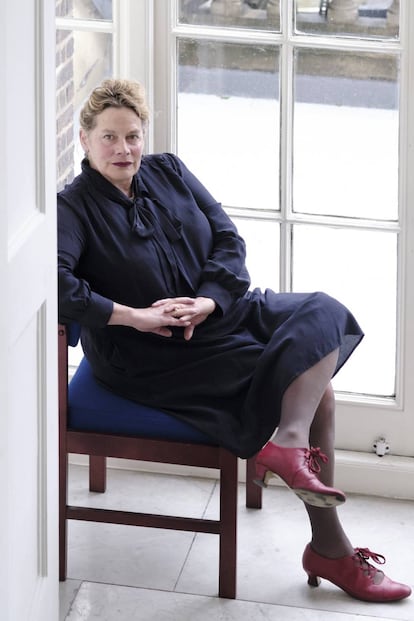 The absence of female characters with full lives of their own is something Levy wonders about in a house of your own, also about the secondary role that women writers have mostly played. "I am interested in this issue of how women have been erased by dint of serving the needs of the whole world. The patriarchy is like the main mansion and we, the tenants, make a small hole with each book", she smiles, and ends by recalling that Sigmund Freud said that after 30 years as a therapist he still could not understand what women wanted. "He and many others don't know, because they don't ask them. I'm not trying to give advice, but rather to pose the question of how we can build a life and narrate it in another way, something that is more comfortable, closer to us".
Among the many writers and writers with whom Levy dialogues, Simone de Beauvoir occupies a special place. "She was my muse, but I clearly wouldn't be hers. I got married and had children and I have always been very interested in the house, the home, what she called a life in miniature: we both bought a ticket to get on the freedom train, but we got off at different stations", she argues. And he adds: "I admire the ability to create a home, something that many have mocked. Making a home is being an architect of happiness, but I understand that the house is a space of contradiction for women, because many have been trapped there, so I respect those who think otherwise. Look, the truth is that nobody knows what freedom looks like until they experience it."
All the culture that goes with you awaits you here.
subscribe
Levy says that at the age of 13 she already knew that she wanted to be a writer and she looked at those literary magazines of her mother in which women did not write. Muriel Spark and Iris Murdoch were there, but they weren't leading the conversation, and yet, Levy says, they are part of his "real estate." The author defends the right of women to be arrogant and assume a position of power, but also understands that sometimes it is difficult to accept that place. "Society has focused on women's bodies, but their minds are very, very valuable." Many today criticize the firm binary definition of gender, what do you think? "The less binary everything is, the better. It is a question of language, basically", he replies succinctly.
The ideal house, for Levy, must be near the sea; still looking for her. "Perhaps when I find her I will write a new book in this series, but in the meantime I have returned to work on a novel with a female protagonist in London, Paris and Vienna. It is fantastic to return to fiction", he sighs. She says goodbye, the feminist homebody, announcing that the Irish soda bread she left in the oven is ready.
Exclusive content for subscribers
read without limits

elpais.com
Eddie is an Australian news reporter with over 9 years in the industry and has published on Forbes and tech crunch.