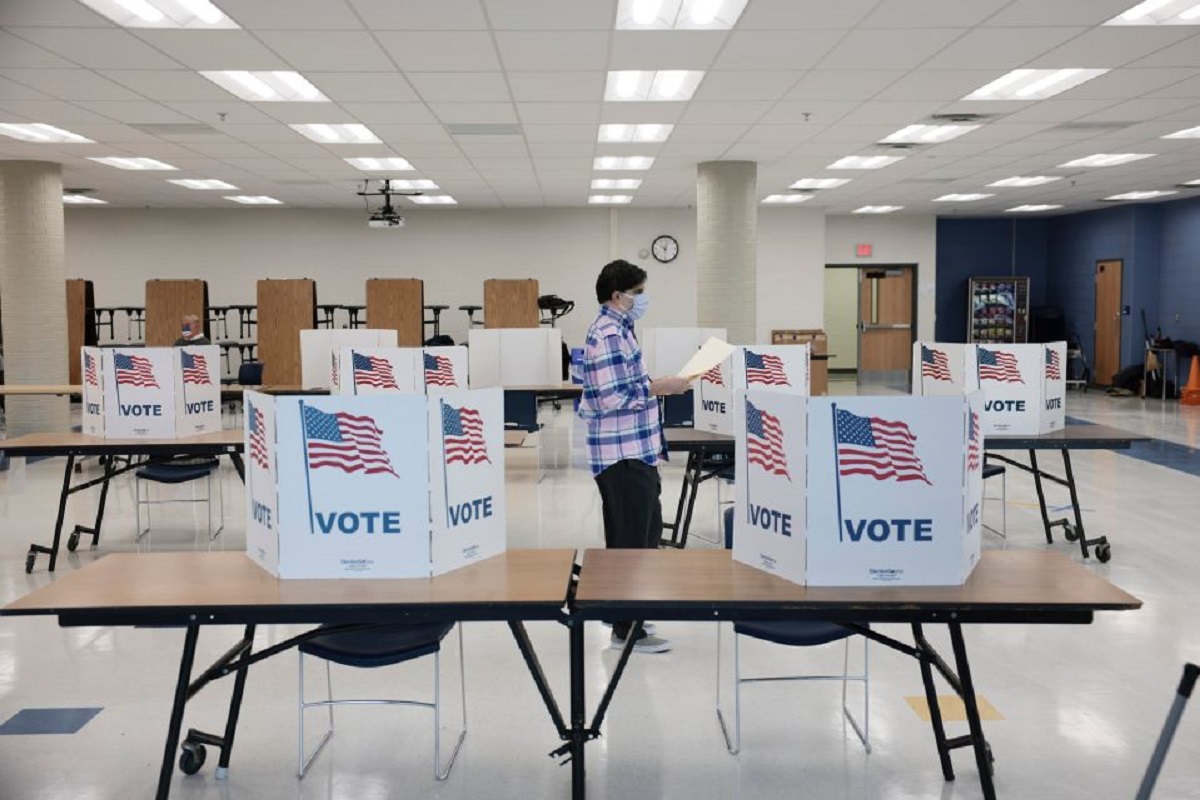 Democrats recognize as a challenge to face the disinformation directed at the Latino community, especially with the midterm elections so close and before a possible risk of losing the majority in Congress.
In December, the Politico portal published that suspicious phone calls on Spanish-language radio stations in Florida against Vice President Kamala Harris had triggered alerts among Democrats, even news anchors acknowledging that there is something "unusual" in messages that seem coordinated.
All the callers to the radio stations in Spanish gave a similar message: qualify as "disappointing" and "inefficient" to the vice president, for what seemed like a black campaign.
"Republicans have gone to great lengths to target our community and spread lies", Said in an interview Victoria McGroary, Executive Director of the BOLD PAC of the Congressional Hispanic Caucus. "We saw it a lot in the elections that just happened in 2020. And we continue to see that … in particular through the use of media in Spanish."
He added that the group recognizes the risk that these campaigns achieve their objective and affect the decision of the voters.
"I think Republicans think that, you know, Latino voters might be susceptible to some of these things in the end, that they might infiltrate the normal places where Latino voters get their information," he noted.
The interview took place on the occasion of the launch of the digital spot for the 2022 electoral cycle, entitled "Attack", presented by the president of BOLD PAC, Ruben Gallego, where they talk about the "great lie" in reference to the statement of the former president Donald Trump on electoral fraud – which he has not been able to prove in court – and on which the president also Joe Biden He spoke on the anniversary of the invasion of the Capitol in 2021 by the followers of the former Republican president.
"Republicans in Congress helped spread the 'Big Lie' and have consistently denied the true scale of violence on Capitol Hill, likening the mob storming of the building to a 'normal tourist visit,'" Gallego said. "The best way to fight the Republican disinformation campaign is to find out the truth about what they knew, how they were involved, and hold them accountable for their actions."
McGroary considered that this campaign will help expose Republicans and hold them accountable "for their role in inciting."
"We know that several Republicans, I think seven, participated in planning meetings before the insurrection," he said. "But we are also concerned that many Republicans, even those who were unaware of this … have turned their backs (on the facts) and are trying to remain silent."
He added that part of the campaign is to keep in the public imagination, among voters, that the insurrection was real and a "great threat."
"It is very important for us to continue to make sure that people know that this happened, that it was a great threat, it was a great attack on America and our democracy, and that the Republicans have been complicit. And they keep spreading lies, "he said.
A diverse community
To an express question about whether the focus of messages towards Latinos will depend on their origin, that is, if they are Puerto Ricans, Cubans, Mexicans or Venezuelans, McGroary acknowledged that the diversity of this community compels Democrats to send an appropriate message for each group..
"I think something we hear a lot more in the conversation is that our community is not a monolith, is it? That our community is very diverse, "he said. "We know that if we're talking to, you know, a Puerto Rican, a Puerto Rican voter in New York, the issues that resonate with them are going to be very different than a Mexican-American voter in Texas."
He added that although there are cultural aspects that unite the Latino community, it is important to differentiate the message, to address specific concerns.
"We have many things that unite us as a community, butor we have a rich diversity", He indicated. "This year we will take even more steps to make sure we get that message home."
Diana Castañeda, Communications Director for BOLD PAC, noted that Democrats are aware that the vote of Latinos should not be taken for granted.
"They are a priority … that Latinos are not treated as a sure vote, Latinos have to be convinced and that is why they should be treated that way," he said.
Content in Spanish
McGroary and Castañeda highlighted the importance of creating content in Spanish directly, thinking of the final recipient, not taking up the content in English and translating it.
The information will be disseminated on social networksMainly, which is where most of the disinformation messages about COVID-19 and the political processes directed at Latinos prevail.
"One thing we've really focused on is putting together a set of social media tools that we send out to various Latino (Democratic) organizations and members to help publish it," McGroary said.
Castañeda said that Democrats also seek to stop Republicans from appropriating the achievements of the Government of President Joe Biden and congressmen in favor of the Latino community.
"They work on disinformation about the insurrection, about jobs, about inflation," he said. "Another issue is that many Republicans are taking credit for what the Democrats are achieving for Latinos, such as job growth or the benefits they have been delivering."

eldiariony.com
Eddie is an Australian news reporter with over 9 years in the industry and has published on Forbes and tech crunch.