Denis Taradin was proclaimed winner of the Cutty Sark FKSS 2021 Mallorca. The Russian did not give any option to his rivals in the waters of the CN Arenal after winning fourteen of the fifteen races disputed. Valencian Alejandro Climent finished second in the general classification and was also the winner of the Spanish Formula Kite Cup event. Julia Damasiewicz was the winner in the women's category with Gisela Pulido in fourth position and winner of the specialty Spanish Cup event. The Cutty Sark FKSS 2021 now travels to Palamós where the second round of the season will be held next weekend.
The premiere in Mallorca has been a complete success in terms of participation and organization. For the memory will remain the impressive day of Saturday in which the organization's water team and the effort of the sailors led them to complete nine races in a single day. An impressive record that joined the increase in participants compared to last season in the same regatta. A spectacular start to the season for the 2021 Cutty Sark FKSS.
Denis Taradin arrived in Mallorca with many doubts. He had broken his right hand while training in Tarifa two months ago and he had arrived without training in all this time. But the athlete living in Tarifa has started the season in the same way that the previous one ended: winning. The current defending champion of the FKSS has not given any margin to his rivals in the waters of CN Arenal. His dominance has been overwhelming with fourteen victories that have taken him to the top of the podium and lead the general of the circuit ahead of the second test next week in Palamós where the Frenchman Theo de Ramecourt has confirmed his participation.
The Valencian Alejandro Climent was second in the general classification and was proclaimed the winner of the Spanish Cup event. And he did it with the same authority that Taradin used to achieve victory. He accumulated ten second places which shows his regularity that is worth to him to establish himself both in the Cutty Sark FKSS and in the Spanish Cup, which is important for him due to the advantages offered by this competition sponsored by the Spanish Federation. In addition, Climent was greatly favored by the collision between Simón Burner and Carlos Puig in the second race today. The two had to leave the competition, which paved the way for good in the Spanish Cup. "It has been a tough weekend, but I am happy with what I have done. Winning the Spanish Cup is very important to me and I see that the winter has been fruitful because I maintain a certain advantage over the Spanish rivals. Denis is very strong, he has more speed, but I will work very hard to reduce this gap for the next matches ", Climent said.
In the master category the winner was Marius Pavel while in the Grand Master the winner was Rui Lages.
In women, the winner was the great favorite, the young reality of the Polish sailor Julia Damasiewicz. Julia has four consecutive victories in the Cutty Sark FKSS. He arrived in Mallorca last season and since then has chained triumphs in Formentera, Tarifa and again in Mallorca. Damasiewicz's victory shows her great champion wood as she had physical problems this week, but she did not want to give up. It was not even erased in the fifteenth round when he had already assured the triumph with the discard. And not only did he finish, but he made a seventh in that test, his best partial result of the week competing with the boys. Nothing could do to fight with the Polish phenomenon neither the Russians Sofia Kotliar and Valeria Garrashchenko nor Gisela Pulido. The woman from Tarragona was fourth in the final position of the Cutty Sark FKSS 2021 Mallorca, but was proclaimed winner of the Spanish Cup event followed by Marta Sánchez and Adelaida Marquenie.
Julia Damasiewicz explained after the race: "The truth is that this victory is very important to me, because it has been a week in which I was not very well physically. But he wanted to fight to the end for victory in Mallorca. I have four victories in a row on this circuit and for me it is a pride because it seems to me a great competition and because here I feel like in my second home. Now we are going to Palamós and I hope to be fully recovered to continue improving as a sailor ".
Regarding the F-One FKSS Amateur, the winner of the competition was the local sailor Joan Bibiloni. In second position Margot Folgado qualified and third was Paco Peiró. It was the sailors' first experience with the new boards and foils that F-One Spain has made available to sailors for this season.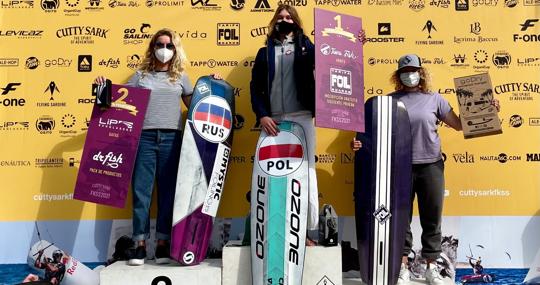 Classifications
Cutty Sark FKSS 2021 Mallorca
1. Denis Taradin (RUS) ((1), (3), 1,1,1,1,1,1,1,1,1,1,1,1,1) 13 points.
2. Alejandro Climent (ESP) ((3), 1, (4), 2,2,2,2,2,2,2,2,3,3,2,2) 27 p.
3. Jakub Jurkowski (POL) ((8),5,3,8,(11),4,3,6,5,3,3,4,4,3,4) 52 p.
4. Zohar Haruvi (ISR) ((36DNC),4,5,3,7,3,11,11,4,(21),6,2,2,4,5) 67p.
5. Carlos Puig (ESP) (4,6,6,4,6,(8),6,7,8,6, (RDG,6.1), (RDG,6.1),(RDG,6.1),(RDG,6.1),(RDG,6.1)) 75.5 p.
6. Mikhail Novikov (RUS) (2,2,2,11,3,(36DNC),9,3,7,7,(12),8,8,6,8) 76 p.
7 Kiko Peiró (ESP) (9.8, (10), 6,5,7,7,10, (11), 4,10,5,6,5,3) 85 p.
8. Sebastián Ducos (ESP) (7,9,8,9, (15), 10, (13), 9,9,5,4,6,5,8,6), 95 p.
9. Julia Damasiewicz (POL) ((36DNF),10,11,12,8,9,(15),8,13,12,7,9,7,15,7) 128 p.
12. Sofía Kotliar (RUS) ((17), 17,15,14,16,12,14,14,17, (18), 15,12,13,10,11) 180 p.
15. Gisela Pulido (ESP) ((36DNF), 12,14,(36DNF),17,11,10,13,12,20,13,16,9,(DSQ36),13) 196 p.
F-One FKSS Amateur
1. Joan Bibiloni (ESP) (2,1,1,1, (3)) 5 points.
2. Margot Folgado (SUI) (1, (3), 3,2,1) 7 p.
3. Paco Peiró (ESP) ((3), 2,2,3,2) 9 p.
4. Victoria Espí ((DNC5), DNC5, DNC5, DNC5, DNC5) 20 p.
Spanish Cup
Men
1. Alejandro Climent.
2. Carlos Puig.
3. Kiko Peiró.
Women
1. Gisela Pulido.
2. Marta Sánchez.
3. Adelaida Marquenie.

www.abc.es
George is Digismak's reported cum editor with 13 years of experience in Journalism