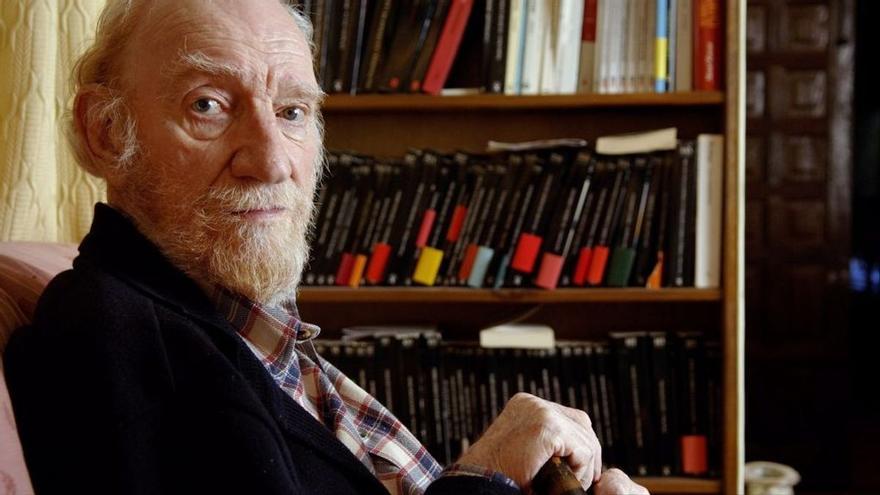 'Anacoreta, El'
One of his great 'tours de force' as an actor. Directed by Juan Estelrich and written by Rafael Azcona, 'The anchorite' (1976) was inspired by Flaubert's 'The Temptation of Saint Anthony'. The wealthy and misanthropic character played by Fernán Gómez turns the bathroom of his house into a mini-apartment and locks himself in it for life, although he is an anchorite more vain than virtuous. He accepts regular visits from friends and sends tubes of aspirin down the toilet with messages inside. It earned him the Silver Bear for best actor at the Berlin festival.
Bardem and Berlanga
In the 50s and part of the 60s he formed with Juan Antonio Bardem and Luis García Berlanga the trio of Spanish directors who, making films within the system, most opposed the Franco doctrinal doctrine. The three of them only worked together once, 'That Happy Couple' (1951), Bardem and Berlanga's four-handed directing debut, with Fernán Gómez and Elvira Quintilla playing a movie electrician and a housewife who win a contest sponsored by a soap brand. Later, each one went to his own thing: Bardem with social dramas, Berlanga with corrosive comedies and Fernán Gómez alternating acting with the direction of surly or more complacent films.
Cohen
In Emma Cohen (1946-2016) the filmmaker found his most stable partner. Representative as director of a certain 'underground' cinema, she starred in Jaime de Armiñán's series 'Tres son tres' in 1972-1973, with remembered Vainica Doble tune. It was then that they met and began a relationship that would last until the actor's death in 2007, with the occasional separation. In 2000 they got married. She directed in one of his films most deeply rooted in the grotesque tradition, 'Witch more than witch!' (1977), and in the series 'Juan Soldado' (1973) and 'El picaro' (1974).
Don Mendo
Pedro Muñoz Seca wrote the play "Don Mendo's Revenge" in 1918. The success was immediate. Fernán Gómez sank his teeth into him in 1961, as a director and actor, with an expensive production – his first film in color – and respecting the dialogues in verse and the jubilant tone of astracanada and constant word games: "Nail your steel in my flesh, satisfy your revenge on me. If you don't have to love me now, it hurts, Mendo, by Allah! ".
Erice
After years starring in consumer films to survive, and pay for his own as a director, Fernán Gómez began the 70s as an actor combining these by-products – such as 'Las Ibericas FC' (1970), where the infuriated football fan jelly at the members of the women's soccer team for their physical attributes rather than for their dribbling, spouts and left-footing – with works of great specific weight in Spanish cinema. One of them is 'The spirit of the beehive' (1973), debut in the feature film by Víctor Erice. It is both a portrait of postwar Spain from the perspective of the defeated as a beautiful work on the fascination of cinema.
'Phenomenon, He'
Before appearing in 'Las Ibericas FC', Fernán Gómez already made his paintings as a soccer player on the screen with 'The phenomenon' (1956). The argument is unspeakable: a professor from the University of Frankfurt arrives in Madrid and is mistaken for a renowned Russian footballer; as he is lost, they force the teacher to replace him.
Look
For the actress Analía Gadé (1931-2019), Fernán Gómez was the great love of her life. For him, she was a good co-star in films and plays and very active against Franco's censorship, but in her memoirs she says little about her sentimental experience with Gadé; it seems that an infidelity was the cause of that 'forgetfulness'. They began their relationship in 1957, shortly after she settled in Spain from her native Argentina, and they performed comedies such as 'Las chicas de azul' (1957) together. But the highlight of their collaboration was forming a couple in two films directed by him, 'Life ahead' (1958) and 'Life around' (1959) '.
Jardiel Poncela
Between the picaresque, the fantasy and the absurd, the prose of Enrique Jardiel Poncela came in handy for Fernán Gómez when he was carving out a career as an actor. First with 'The Inhabitants of the Uninhabited House' (1946), a tale of haunted mansions. Later with 'A husband back and forth' (1957), in which he played a man dressed as a bullfighter for a costume party who dies of a heart attack and reappears on the scene as a humorous specter.
Damned
For decades there was no more cursed film in Spanish cinema than the splendid 'The strange journey' (1964). Not only the censors took advantage of it: no one wanted to show it, premiering in a neighborhood cinema five years after it was made. The censorship was loaded with the expected title, 'The Mazarrón crime', alluding to a real case that occurred in a Murcian town, which could be generously discussed in the pages of 'The case' but not dealt with in the cinema. Between sordid and grotesque, not exempt from sainete, it is a portrait of the Spanish rural reality. The plot was devised by Berlanga, the script was signed by Pedro Beltrán and the cast is priceless: Carlos Larrañaga, Lina Canalejas, Tota Alba, Rafaela Aparicio and a surprising Jesús Franco. Another of his most important films, the fierce melodrama 'The world continues' (1963), had had the same problems with censorship and was not released, undercover, until 1965.
North America
Fernán Gómez admired North American culture. This he wrote in an article on 'ABC' in August 1992: "My love for the American was born in my childhood and its first vehicle was the cinema. This love was later increased by jazz music and the writers of the lost generation. Saroyan's dazzling , Sherwood Anderson discovery, Steinbeck emotion, Dos Passos, Hemingway, Faulkner, Nathan Asch, Sinclair Lewis… ¡What pride, in those youthful years, when one was surrounded by German-philofascists, who proclaimed their filia with threatening impudence, to feel like a philoamerican! ".
Prairie, Maria Dolores
Although she did film and theater, María Dolores Pradera (1924-2018) was a great lady of song in Spain, Mexico and other Latin American countries. He married Fernán Gómez in the summer of 1945 and they separated in 1957. "We were very authentic and very young," Pradera would say. Crush and spontaneous combustion. They had two children and worked together on three films, 'The inhabitants of the uninhabited house', 'Life in shades' (1948) and 'Happy times' (1950).
Quixote, Don
On paper, the project looked good: a version of Cervantes's work with Fernán Gómez as the hidalgo from La Mancha and 'Cantinflas' in the role of Sancho Panza. But the Spanish actor did not get along with the Mexican director Roberto Gavaldón and things did not end well. Emilio Gutiérrez Caba recently told in the prologue of a book about Fernán Gómez the anecdote that closed the filming of this film, 'Don Quijote rides again' (1973). In the background, the actor, dressed in a large shirt and tights, was walking away into a grove of trees. At the end of the shot, the director said, "Cut it out! It was good." But Fernán Gómez, who did not feel like saying goodbye to anyone, kept walking until he was out of sight. They say that he returned to Madrid in a taxi dressed as Don Quixote. In 1981 he voiced the knight of the sad figure in the animated series made by Cruz Delgado.
Replicas
Another dictionary could be made with just his phrases, incisive retorts, and angry outbursts. If they told him they admired him a lot, he would reply: "Well, don't admire me so much, man! Fuck it!" A man asks for an autograph at the wrong time. He gets indignant, enraged and says: "If you think I have a bad character, you are right, I am. Unfortunately I am a badly educated person. Fuck off! Fuck off!" It wasn't always so gross. Sometimes he pulled irony. To one of the reporters of 'Caiga que caiga' (Pablo Carbonell) he said: "You are very witty, and funny, but tell your mother and let her give you two kisses." That is the most 'media' part. There is, of course, the lucid one: "The politician's job is to praise his own work, praise himself, put his ideas, achievements and projects through the roof, and censor the work of his colleagues with forced oblivion of the rules of urbanity "he wrote in his 1987 book 'The Actor and the Others'.
Life
There are three very important 'lives' in his filmography. The first, 'Life in Shadows', shot in Barcelona by Llorenç Llobet-Gràcia, a film within the cinema set at the beginning of the Spanish civil war and filmed almost clandestinely in the post-war period. The other two are the magnificent neorealist diptych formed by 'Life ahead' and 'Life around', in which Fernán Gómez follows the costumbristas evolutions of a newly married couple. Popular auteur cinema.

www.informacion.es
Eddie is an Australian news reporter with over 9 years in the industry and has published on Forbes and tech crunch.