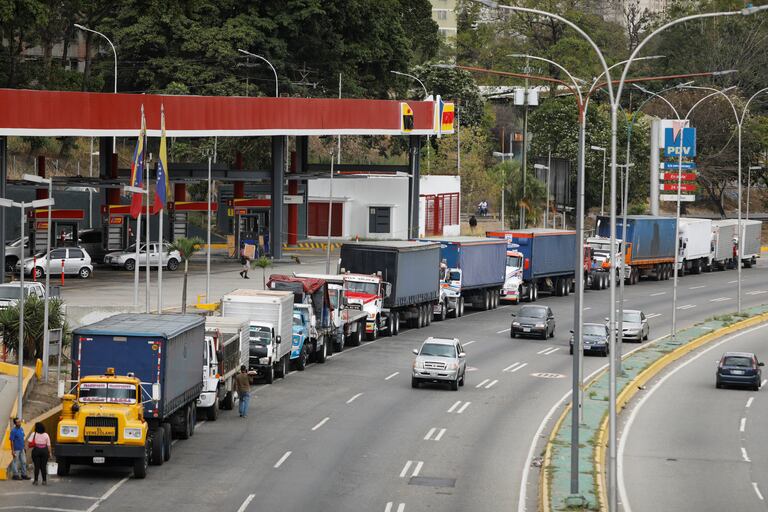 Venezuela is, once again, on the verge of a standstill. The shortage of diesel or diesel has forced to restrict its sale, with a direct impact on industry and public transport, users of this type of fuel. The shortages have caused lines of several days at the pumps, have triggered protests by drivers and have complicated the restocking of factories.
This new lean period brings back bad memories. Venezuela, an oil country, experienced a period of serious gasoline shortage last year. In full confinement by COVID-19, the country was forced into severe rationing, which was partially offset by the importation of barrels from Iran, on which it still depends. The government of Nicolás Maduro used the crisis to gradually dismantle the huge subsidies that fuel has had for decades. However, the collapse of the Venezuelan oil industry had barely caught up with diesel, a derivative of oil that the country produces on a larger scale than gasoline, in part because it is easier to refine. But its production, now, is also scarce.
In one of the most important service stations in Maracay, an industrial city in the center of the country, 120 kilometers from Caracas, there has been no diesel for 15 days. The main highway in the country, the Regional del Centro, is in several sections a parking lot for trucks, gandolas and buses waiting with empty tanks. "Less than 5% of the public transport units are working," says José Luis Trocel, a union leader with a 20-year career as a transporter. "Last year the gasoline situation affected us, but not as much as now with the diesel used by most buses. We spent two, three, four days in line to load a ration ". Daniel Rodríguez, owner of a truck and a bus in Bolívar, says that in the south of the country there are waiting lists to fill. Transportation is practically paralyzed in 10 states of Venezuela.
In the stations, militarized since last year, they apply different types of rationing, and give priority to vehicles that transport food. But the chain that is supplied with diesel is greater. For Adán Celis, president of the Venezuelan Confederation of Industrialists, an organization that brings together the affected sector, Venezuela is approaching a dangerous spiral. "Diesel is used in all industry processes: to mobilize forklifts, light furnaces and boilers, transport raw materials and finished products from factories to consumption centers, in the agricultural sector that supplies food industries", he points out. businessman. "Most of our members have reservations for a week or week and a half."
Venezuela had 13,000 companies 20 years ago, and even before the pandemic there were fewer than 2,600 left. This explains, in part, the reduction in just seven years of the country's GDP to a third and the generalized poverty of Venezuelans. Even so, the fuel is not enough for the small Venezuelan industrial park. "It is absolutely inadmissible that an oil country, which was a power in fuel production, is in this situation," says Celis. "It has never been like this before, diesel was superfluous in this country."
Until the end of last year, Caracas had alleviated the diesel deficit by triangulating crude imports for refined fuel, with companies such as Eni, Repsol and Reliance. The Donald Trump Administration had warned these companies about possible sanctions for trading fuel with Nicolás Maduro and this paralyzed operations with Venezuela, leaving vulnerable a country that was for decades one of the largest oil producers in the world.
The shortage of a neuralgic fuel has also raised the alarms of human rights groups and NGOs in Venezuela, fearful that the transport of food and medicine will collapse and the serious humanitarian crisis, to which the pandemic has been added, will deepen. Some of these organizations press the Joe Biden Administration in Washington to desist from sanctions and allow the arrival of fuel to Venezuela.
Orlando Ochoa, an economist specializing in macroeconomics and oil, recommends caution in the face of the signals that the White House may send. "The diesel that the country is producing is mainly to power industrial plants, there is a deficit with automotive fuel. Biden would just have to allow these operations [de compra y venta] occur ".
Venezuela consumed 65,000 barrels of diesel a day before the pandemic and imported about half before the United States sanctions, explains economist Francisco Monaldi. Diesel has a strategic criterion for Maduro, since it is the fuel that also moves the country's military units. "In these months, Venezuela accumulated a significant inventory of diesel. The pandemic was a good time to save due to the drop in consumption with the quarantine. The Maduro government may be implementing a preventive rationing of diesel and diesel ", affirms the academic and consultant. But it is also possible that there is an interest in creating a crisis to pressure the Biden government to authorize the swap with Eni, Reliance and Repsol. Maduro even, in an extreme case, can import diesel from Iran, as he did with gasoline and has not done so. "
Subscribe here to newsletter from EL PAÍS América and receive all the informative keys of the current situation of the region.

elpais.com
Eddie is an Australian news reporter with over 9 years in the industry and has published on Forbes and tech crunch.