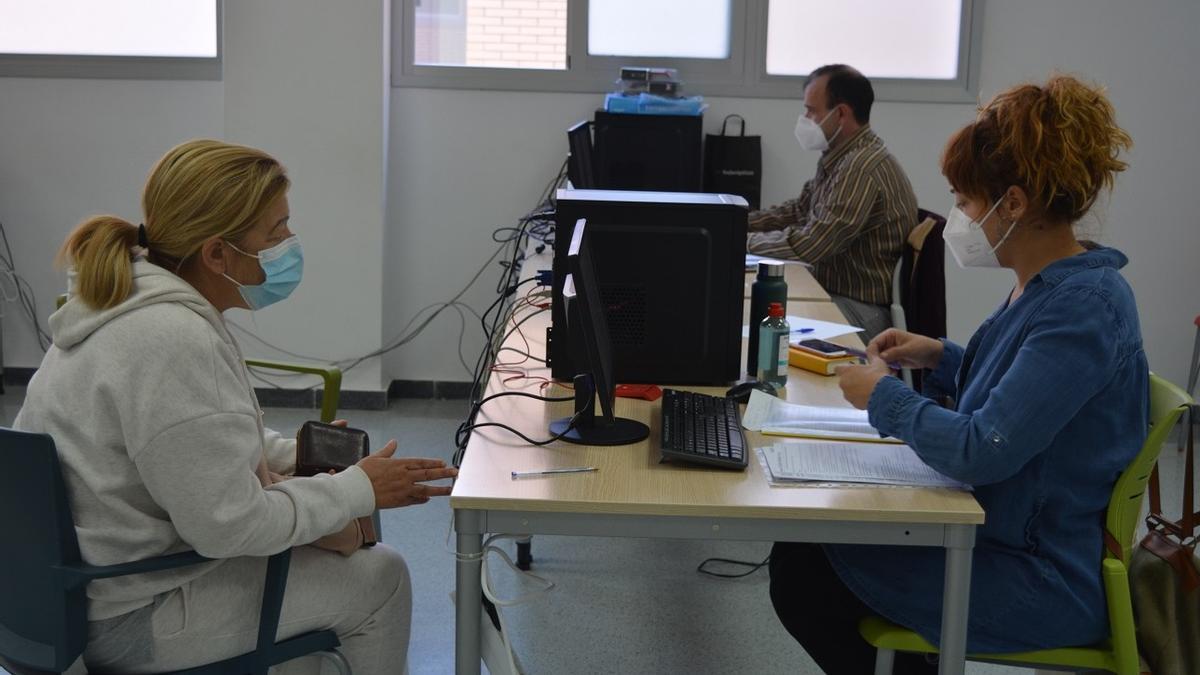 The Department of Social Action, directed by Julia Llopis, has launched the service "Go digital"In five municipal centers to help people from Alicante who need it to solve your paperwork online. A team of technicians – tutors and 15 computers make up this new support to citizens who do not have access to new technologies or with a low level of literacy, as reported by the consistory.
Councilor Julia Llopis has stated that her department works with the claim that this new service against The existing digital gap between some citizens and others remains permanently as one more aid than those provided by the City Council to Alicante.
Llopis explained that he will meet with the Councilor for Project Coordination and New Technologies, Antonio Peral, to see the possibilities of extend this service to new municipal areas.
The new "Digitize" service, according to the Alicante City Council in a statement, began to be provided on Thursday, April 1. This support to citizens was tested as a test during the last quarter of 2020 in the social centers of Gastón Castelló and Felicidad Sánchez. The experience yielded positive results, they report. Between the two digital classrooms, which had computers and monitors to attend to the neighbors and carry out their business over the internet, 899 people from Alicante were helped.
From this experience, the Department of Social Action concluded that there are many neighbors who do not have computers at home or have knowledge about their operation. The council saw that not only regular users of social services needed this support. Many young people and adults also require this bra due to their low level of literacy, which makes it difficult for them to understand and fill out official forms through electronic devices.
Preferential procedures: request for aid
Request the minimum living income, request the Valencian inclusion income, make appointments to be attended in official bodies or health centers, renewals of documents such as ID or driver's license, procedures before the employment offices or the Population Register, etc., are some of the tasks for which residents come to ask for help from the new service, according to data from Acción Social.
Five offices
The offices that the Department of Social Action has been implemented to help neighbors in their management through the computer or mobile are located in:
Isla de Cuba community center, in the Los Angeles – Campoamor area. The service will be held on Mondays and Wednesdays, from 10 am to 2 pm, with three computers and two help people – monitors.

Municipal Center of Barcelona street, number 12, in the Garbinet. The office will work on Tuesdays and Thursdays, from 10 am to 2 pm, with the same arrangement as the previous one: two monitors and three computers.

Municipal Educational Resources Center (CREM), calle Padre Mariana, 19, next to the Plaza de España and the bullring. It will be operational on Fridays, from 10 am to 2 pm.

Gastón Castelló Community Center, Avenida del Pino Santo, 1, between Lo Morant Park and the Virgen del Carmen and Virgen del Remedio neighborhoods. It will run on Mondays, Wednesdays and Fridays, from 10 am to 2 pm.

Felicidad Sánchez Community Center, Avenida Alcalde Lorenzo Carbonell, 58, between Florida Baja and Polígono Babel. Tuesday and Thursday from 10 a.m. to 2 p.m. They all have technical support – computer technicians.
By appointment
From the Department of Social Action they explain that people interested in making use of this new service must request it previously by phone, from where they will set the day and time for their appointment.
The new municipal offices against the digital divide are scheduled to operate from April 1 to June 30 and from September 1 to October 29.

www.informacion.es
Eddie is an Australian news reporter with over 9 years in the industry and has published on Forbes and tech crunch.