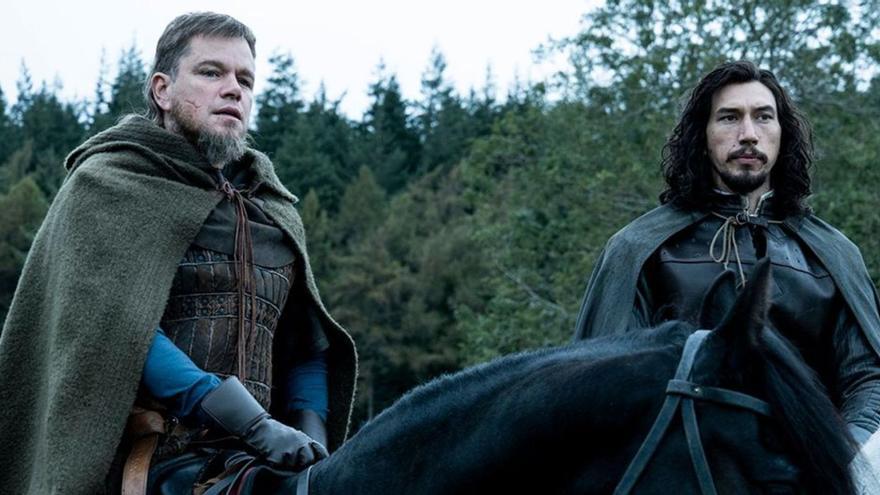 United States, 2021. Direction: Ridley Scott. Screenplay: Ben Affleck, Matt Damon, Nicole Holofcener, based on the book by Eric Jager. Music: Harry Gregson-Williams. Photography: Dariusz Wolski. Performers: Matt Damon, Adam Driver, Ben Affleck, Jodie Comer, Harriet Walter, Nathaniel Parker, Marton Csokas, Sam Hazeldine .. Duration: 152 minutes.
Adam Driver and Matt Damon duel over Ridley Scott
The Last Duel is a period drama directed by Ridley Scott starring Matt Damon and Adam Driver who face off in a fight to the death. The film tells from three points of view the story of a rape in 14th century France and of the woman (Jodie Comer) who dared to speak out. The script, based on a book by Eric Jagger, has been co-written by Damon and Ben Affleck -who also reserves a role of capricious and powerful sovereign-, with the help of Nicole Holofcener and tells what was the last trial by combat held. in Paris in 1386. Precisely, Ridley Scott's debut was a film entitled The Duelists, made in the seventies.
Ricardo Gómez confronts the Nazis hiding on the coast
The Carlitos Alcántara of the series Cuéntame for 19 consecutive seasons, Ricardo Gómez, undertakes his first leading role in the film El substitute, a thriller based on real events that has led its screenwriter and director, Óscar Aibar, to dedicate fifteen years of his life to document this story of Nazis in Spain.
Set in 1982, the film accompanies the investigations of a young policeman who is transferred to Dénia -where the production was filmed last summer- to investigate the death of the previous inspector; He quickly realizes that something strange is happening in a paradisiacal place at the edge of the sea where only Germans live.
The Cold War returns with Benedict Cumberbatch
The English spy is an engineer, a businessman named Greville Wynne who, in the midst of the Cold War, is recruited by the British and American secret services to gather information to help prevent a nuclear war and stabilize the Cuban missile crisis. The English Spy is directed by writer and playwright Dominic Cooke (On Chesil Beach) and starring actor Benedict Cumberbatch.
Celine Sciama bucea en la infancia with Petit Maman
French director Celine Sciamma, responsible for feature films such as Portrait of a Woman on Fire or Tomboy, plunges into the magical world of childhood with her sixth feature film, Petite Maman. The protagonist of the story is 8-year-old Nelly, who has just lost her grandmother; As she helps her parents empty the house her mother grew up in, she intriguedly explores the forest around her, where her mother used to play as a child. There Nelly meets another girl her age with whom she becomes an immediate friendship.
Monster banter to celebrate Halloween
German director Holger Tappe has signed A Happy Family 2, a film for children over seven years of horror and fake monsters, in line with other proposals for Halloween, a sequel to Monster Family of 2018. To rescue Baba Yaga and Renfield From the clutches of monster slayer Mila Starr, the Wishbone family transforms back into a vampire, Frankenstein, the mummy and the werewolf to travel the world and try to save their friends.
Among roses, a story of generational learning
French actress Catherine Frot plays Eve, a flower grower specialized in rose cultivation who lives low hours and who to avoid bankruptcy finds herself with the help of three people in a social reintegration program. Directed by Pierre Pinaud, the film appeals to the good feelings of the viewer with the unexpected friendship that arises between this woman accustomed to isolation and one of the boys she hires and who has a special gift.
Spain 2021. Dir: Óscar Aibar. Screenplay: O. Aibar and María Luisa Calderón. Music: Manuel Roland. Photography: Álex de Pablo. Performers: Ricardo Gómez, Vicky Luengo, Pere Ponce, Pol López, Joaquín Climent, Nuria Herrero, Bruna Cusí, Susi Sánchez, Guillermo Montesinos. Pep Cortés. Duration: 117 minutes.
France, 2021. Direction and script: Céline Sciamma. Music: For One. Photography: Claire Mathon. Performers: Nina Meurisse, Stephane Varupenne, Margot Abascal, Joséphine Sanz, Gabrielle Sanz. Duration: 72 minutes.

www.informacion.es
Eddie is an Australian news reporter with over 9 years in the industry and has published on Forbes and tech crunch.