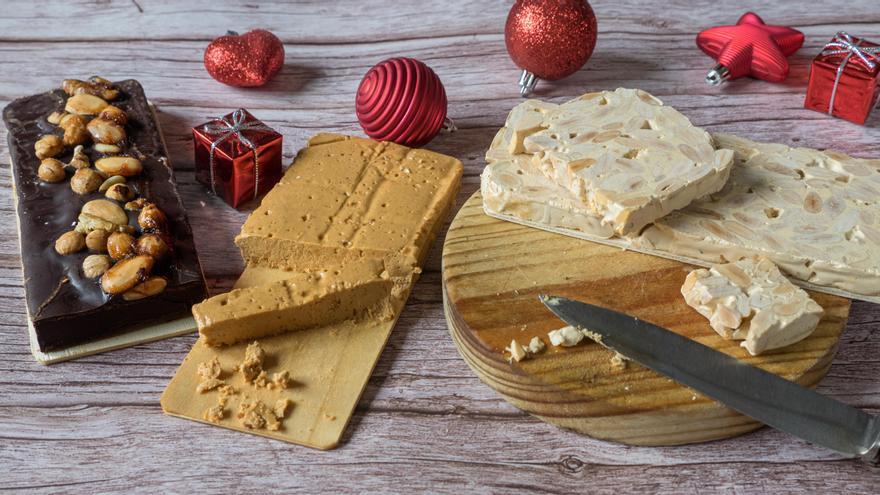 By all it is known that this Christmas will be very different to which we have lived until now. However, despite the uncertainty that the crisis caused by Covid-19 has brought, we all hope, at some point, to take refuge in it. warm and cozy home of our loved ones and to be able to enjoy these special dates. Contribute some light, sweetness and joy Christmas this year is more important than ever.
Take a parenthesis and put your worries aside. Imagine how you will dress your Christmas table, when to put the tree or the long after-hours with mistela and nougat in hand. This year you can also make it possible and Turrones Picó has the key: the nougat of happiness.
Do you know what the nougat of happiness is?
Between the novelties that incorporates this year the Jijonenca company highlights, without a doubt, this nougat specially made to provide joy and happiness to those who try it. You want to know why?
You've probably heard of the serotonin, the hormone of happiness, essential in the functioning of the nervous system, sleep and mood. Serotonin is a true natural antidepressant, which will help you to be less sad and less irritable, reducing the risk of suffering from anxiety or depression. To synthesize serotonin it is necessary to consume ingredients rich in tryptophan, an essential amino acid.
Among the foods that contain tryptophan, the dairy products, nuts, white meat, fish, eggs or chocolate. And what variety of nougat has up to three ingredients from that list? ANDl nougat of cream nuts, as it is mainly composed of milk, almonds and walnuts, the two nuts with the most magnesium, a mineral involved in the production of tryptophan.
In addition, it is a variety with a unique flavor, with crushed, not roasted, almonds that remember snow nougat, but with the plus of the delicious nuts. So go ahead and try the nut cream nougat that will elevate your happiness.
What flavor would your favorite nougat be?
If the Picó nut cream nougat was not enough for you, wait until you know the novelties in nougat for Christmas 2020. When experience, know-how and large doses of affection put in each one of the elaborations are united give as final result a explosion of flavors that give no truce to your palate.
For all tastes, of all flavors and in different formats, all the new additions maintain the essence of the centennial Jijonenca company: quality, tradition and flavor.
For example, the box of 3 assorted cakes, where the can has been replaced by a cardboard box, much more comfortable and less heavy.
New flavors have been incorporated such as nougat brownie, a surprisingly smooth and delicious snack on the palate that is also suitable for celiacs why does not contain gluten.
Between the Picó 2020 news for the next Christmas eWe also find a new product: sticksfine dark chocolate sticks in two versions: with sesame and orange. This new modality will occupy an empty space in the pantry of the most chocolatiers because they are a true pure chocolate delight that satisfies the most demanding palates.
Among the chocolate nougats, the cake of crunchy chocolate with picolatinas, the crunchy dark chocolate, the crunchy chocolate with Maria cookie or the stracciatella truffle, all of them from Supreme quality and a real delight for cocoa lovers. Although Turrones Picó offers a immense variety from chocolate nougat.
With or without sugar, made by hand, of different qualities, chocolate or traditional … So as not to miss a detail of the wide range of possibilities and power choose according to your tastes don't miss the Catalogue from Nougat Picó 2020.
A recipe for dessert
Surprise your guests with this dessert fast and super easy To prepare: brownie with nougat ice cream. For this we recommend vanilla or nougat ice cream, of which we will tell you later how to make nougat ice cream at home.
It is a reinterpretation of one of the most emblematic desserts from the universal recipe book, adapted to a lifestyle in which, unfortunately, there is not enough time to cook.
Known as sweet kitchen is in fashion. The consumer appreciates a gastronomic experience from start to finish… and will remember that dessert, the final touch with which that dinner or that special occasion closed.
Strawberries with cream, cheesecake, flan, custard, Sacher cake or brownie are classics for delight your guests after a good feast, and here's a really simple suggestion.
You cut the nougat brownie pill, you heat it up a little and top it off with a scoop of nougat ice cream. A spectacular hot-cold contrast!
How to prepare nougat ice cream at home
This recipe is as simple as it is delicious, with only four steps, and you can use the tablets of nougat from Jijona Picó.
Ingredients:
1 tablet of Jijona nougat or 200 grams of Jijona Picó nougat cream
1/2 glass of milk

200 ml of liquid cream for cooking

Chocolate syrup or liquid caramel to decorate
Preparation:
1. The first step is go the nougat tablet into very small pieces. You can help yourself with a fork.
2. We put the nougat crumbled in a bowl and add the cream, milk and we stir it well, using a mixer.
3. Next, we place the ice cream in a medium tupper, and we decorate with syrup or caramel.
4. We have almost reached the end. It only remains to put it in the freezer for a few hours and, when we go to serve it, add one of the Picó wafers, filled with nougat, chocolate or cocoa (they have only 47 calories, in case you are in now becomes).
It should be noted that if you use the nougat cream you can skip the steps referring to the nougat tablet, as cream is a specific product to incorporate into recipes for ice cream, creams, sauces, etc. On the other hand, using the tablet comes in handy when you want to take advantage of a bar that has been left open.

www.informacion.es
Digsmak is a news publisher with over 12 years of reporting experiance; and have published in many industry leading publications and news sites.