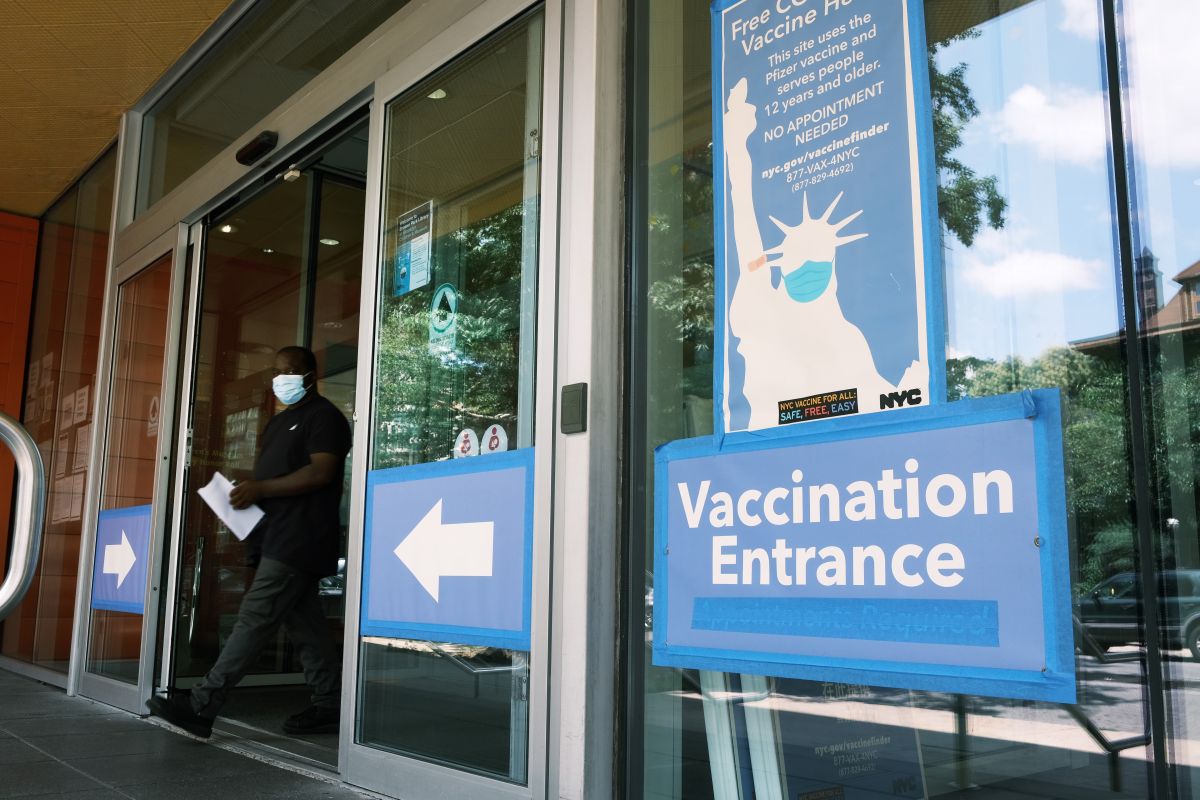 As soon as this Friday, or next Monday, the federal government will determine if the 'full' vaccinated will need a third 'booster' injection, in order to be 100% protected against the new variants of COVID-19 that continue to pose a threat even to those with the two doses. And to be prepared to carry out what is expected will be a massive process of 'booster shots', as it is known in English, Mayor Bill de Blasio announced this Thursday a new New York City plan.
The 'NYC Booster Shot Plan' consists of having the 1,900 vaccination centers throughout the five boroughs ready and keeping open the 25 immunization sites managed directly by the City, so that thousands can arrive without the need for an appointment to get vaccinated. In addition, there will be an extensive information campaign so that all New Yorkers know about this process and hold weekly events to achiever the goal of giving 45,000 third doses each week.
"For people with weakened immune systems, this third dose has been available for a long time, but now we are clear that the federal government he is considering authorizing that third booster dose on a large scale, and we must be prepared to move into that immediately, "said the Mayor.
And in addition to the information campaign, to directly reach the people who are eligible for that third booster shot, De Blasio indicated that "they will also be sent emails and text messages in a very proactive way, something that we will do one minute after the information reaches us. (authorization from the federal government) ".
To assure New Yorkers that this third-dose process will be done effectively, De Blasio recalled: "We have already proven that we can do a large-scale vaccination in the city, thanks to all the workers who give the injections and thank you. to the 'test and trace' team and to our health leaders ".
The Mayor explained that until this Thursday more than 11 million doses of vaccines and that 60% of all city residents are already 'full' vaccinated against COVID-19, while 80% of adults have already taken at least one dose, and the expectation is that they all return to give yourself the second injection.
What will happen in the next few weeks?
"Of the three authorized vaccines, currently only Pfizer's is being analyzed by the FDA and everything indicates that it will be the first to be approved for a reinforcement. We are still waiting for more data and analysis on Moderna and Johnson and Johnson, but we hope we will have it soon. And as always, vaccines will need to be evaluated to ensure they are safe and effective. And after that, the next step will be for an independent committee of scientists from the FDA and CDC to review the evidence and offer their recommendations, "explained the City's Health Commissioner, Dr. Dave Chokshi.
The City's top doctor indicated that this FDA committee will meet this Friday and that of the CDC next September 22 and 23. "Based on their reviews, the recommendation for a booster dose for New Yorkers who received vaccines from Pfizer may see the green light as early as next week."
"There is still a scientific debate as to who exactly will benefit from this third dose., if only the elderly or a larger percentage of the population, and that is why it is important to let the process carried out by the experts, as I described it, take its course, "said Chokshi, emphasizing that all the analyzes that are They have done so far tend to show that the third dose does help "extend protection, at least for some people."
The State also prepares
During her press conference on Wednesday to update on the COVID-19 situation in the state, Governor Kathy Hochul also discussed how her administration is preparing to carry out the process of applying the third vaccine once it is approved by the FDA.
The Governor ordered the State Department of Health authorizing basic emergency medical technicians to administer the COVID-19 vaccine. This immediately adds more than 2,000 trained, and 'fully' vaccinated people, to the State's immunization program. In addition, an additional 50,000 basic EMTs will begin receiving the required training to help administer the COVID-19 vaccine and booster doses.
"More than four in five adult New Yorkers have received at least one shot of the COVID-19 vaccine, and while we are significantly outpacing most other states with our high vaccination rate, the fact is that those who are not yet vaccinated are significantly more likely to experience severe symptoms and end up hospitalized, "said Hochul, insisting that the vaccine works," but only if we take it, and that is why we are using creative incentives for people who still need to be vaccinated and putting into practice the offensive necessary to fight the virus once again "
Vaccination figures in NYC:
11 million doses administered as of Thursday.
60% of all city residents are already 'full' vaccinated.
80% of adults have already had at least one vaccine

eldiariony.com
Eddie is an Australian news reporter with over 9 years in the industry and has published on Forbes and tech crunch.