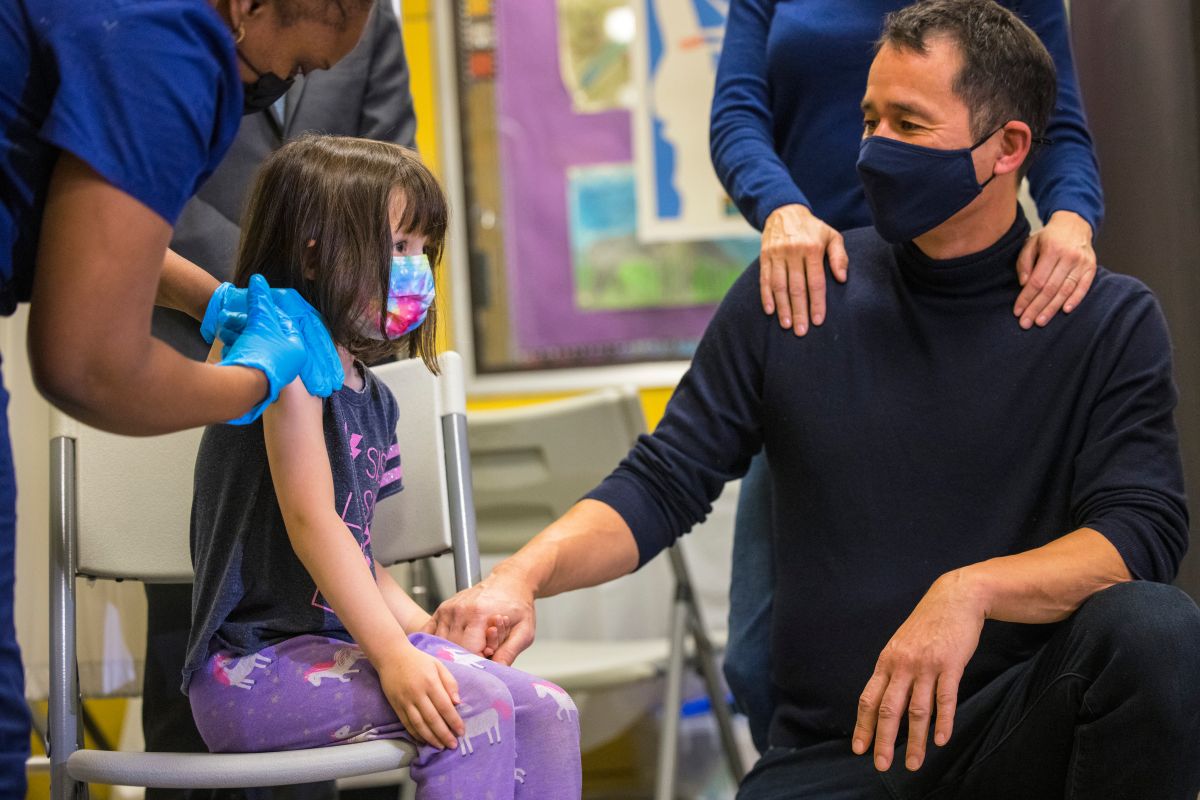 LThe holiday season is just around the corner, and unlike in 2020, when we were still dealing with the worst of the COVID-19 pandemic and there were many restrictions, this time families will be able to meet again, hug and celebrate without the worry of getting infected from the deadly virus, but only those whose members are already 'full' vaccinated.
That is why Mayor Bill de Blasio presented this Wednesday the 'vaccination schedule' that New Yorkers who wish to celebrate Valentine's Day as a family must follow. Thanksgiving ('Thanksgiving'), 'Hanukkah', 'Kwanzaa', Christmas and the New Year, in order to keep their loved ones, and themselves, healthy and safe.
In the case of Thanksgiving, which is celebrated on November 25, the deadline to be 'full' vaccinated that day is this Thursday, November 11, and only by putting the single dose of Johnson & Johnson.
"We want to help people to plan ahead what they have to do to be fully vaccinated in time for the holidays, and the first one that comes very soon is Thanksgiving, so they have to get vaccinated tomorrow (Thursday) with that of Johnson & Johnson, and thus be able to be fully vaccinated specifically for that day, "explained the president.
De Blasio went on to indicate that in the case of the Jewish celebration of Hanukkah, people have to be vaccinated no later than next Sunday the 14th, also with the single dose of Johnson & Johnson, if they want to be immunized for that holiday.
"And if you want to be fully vaccinated for Kwanzaa you must receive the first dose of Moderna also no later than the 14th, or the first dose of Pfizar for the 21 and Johnson & Johnson on December 12 ", specified the Mayor.
Kwanzaa is an annual celebration of African American culture that takes place from December 26 to January 1, and although it does not have a religious sense it is often considered an alternative to Christmas, and many people celebrate both holidays at the same time. .
And precisely about Christmas, the largest of all the season's celebrations, and which is commemorated on December 25 and 26, De Blasio indicated that New Yorkers should "wear the first dose of Moderna no later than November 13, the first from Pfizer on November 20 and the single dose from Johnson & Johnson by December 11 ".
"The holidays are a good reason for those who have not yet been vaccinated, now consider doing it and it is as easy as visiting nyc.gov/vaccinefinder, which is also free," he insisted.
Employee vaccination on the right track
The Mayor also took advantage of his daily press conference to give an update on how the vaccination plan of the municipal employees, indicating that there was very good news: "The vaccination mandate that we put into effect is working, and we continue to have more, and more and evidence of it all the time, as is that 95 percent of our workforce is already vaccinated" .
De Blasio highlighted, above all, that the numbers have "skyrocketed" in the past two weeks since the mandate was announced, with a total of 28,000 new vaccinations of employees from all City agencies.
"Even the week after the deadline for vaccinating officially expired (last October 29) we saw that up to more than 8,000 went and did it," said the president, adding that even if it is a bit late "if someone comes to their senses and he understands now that this is the right thing to do, we welcome him because the goal is for everyone to return to work healthy ".
The Mayor also said that while on November 1 there were 9,000 employees who were suspended without pay for not being vaccinated, that figure today stands at only 2,600, which represents only 1% of the entire municipal workforce that exceeds 300,000 workers.
This is how the vaccination goes:
86% of NYC employees (up 70% from two weeks ago when the mandate took effect).
87% the DSNY (increase of 62%).
84% the FDNY (up from 58).
91% of the EMS (up by 61%).
Goodwill vaccination in schools
Another update on immunization offered by De Blasio was on the vaccination plan in schools, indicating that after two full days, this Wednesday morning more than 10,000 children between 5 and 11 years were injected.
"The truth is that we are seeing something incredible in our schools, and it is compared to the older children that we did not see so many parents going to schools to vaccinate them and now we are seeing the opposite with the little ones," he said.
And as an example, De Blasio emphasized: "Just yesterday (Tuesday) more than 5,800 vaccines were given in school buildings and in two days we have counted more than 10,000 vaccinated in schools."
In total since last Thursday, when the youngest children began to be vaccinated at the immunization centers run by the City, 31,337 have already been injected.

eldiariony.com
Eddie is an Australian news reporter with over 9 years in the industry and has published on Forbes and tech crunch.