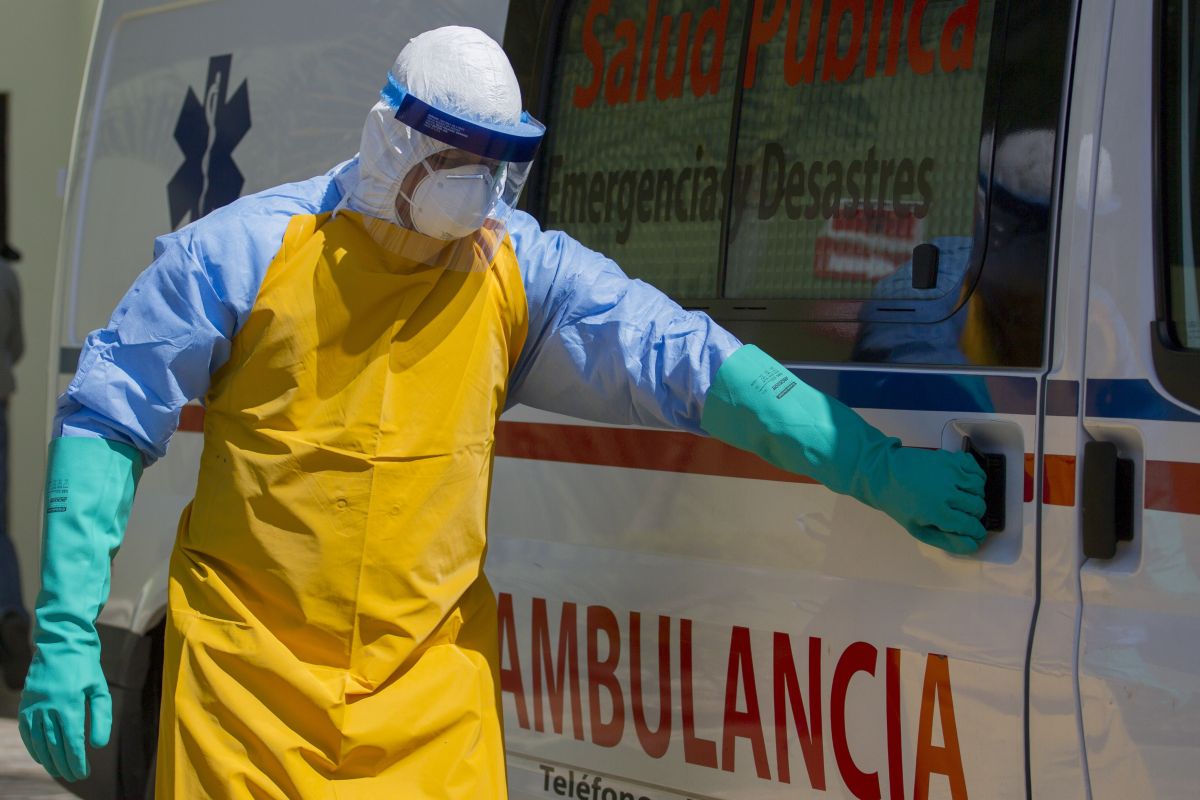 File photo of medical personnel in a hospital in Santo Domingo, capital of the Dominican Republic.
Foto:
ERIKA SANTELICES / AFP / Getty Images
Dominican television presenter Nancy Medrano used your account Instagram to demand immediate action from the authorities on the Caribbean island to stop the increase in deaths from drug use. drinks with adulterated alcohol or methanol such as "Monday".
Between tears, the driver referred directly to the case of her friend Ruth, who is survived by a child of 1 year and 8 months.
"Gentlemen, we are bad, we are very bad. How is it possible that on Good Friday, Holy Sunday and today is Tuesday they have already sent me more than 60 people who have died from drinking 'Monday', and no one has done anything yet… ", Medrano says through tears in a video on his Instagram account.
"I am living it closely because people who are from my environment have died, people who are from my neighborhood," adds the Dominican.
"My dear friend Ruth has just died, that is, she has just died, and left a 1 year and 8 month old child for this drink. In other words, it is a reality. This Monday drink is killing people. People are dying… I have more than 15 reports of people killed as a result of this measure. Nobody does anything ", he details.
The presenter also questions that they criminally prosecute only the distributors of the drinks in the neighborhoods and not the producers.
In another post that includes a photo of Ruth, Medrano directly called on the agencies that are supposed to follow up on these cases to take strong action to prevent more deaths.
"Ruth, my dear friend, God keep you in a better place with that joy and that same smile that characterized you. Another death from the damn drink that @luisabinader Mr. President, this can not stay like this @raquel_arbaje. My dear first lady, pay attention to this. Please, there are many dead and they do not say anything about where those responsible are @policard @saludpublicard Please do something! ", Medrano insists in the post.
What is "Monday"?
"Monday" is a clandestinely made frozen drink composed of adulterated alcohol and fruits.
The Ministry of Public Health this week asked the population to avoid ingesting the liquid that contains methanol. According to that office, the clinical picture of methanol poisoning can begin in a few hours to three days later and develops in three stages.
The institution recommended going to the nearest health center if a person consumed, in the last 48 hours, clandestine alcoholic beverages and presents headache, vomiting, abdominal pain, drowsiness, dizziness, vertigo, blurred vision and discomfort in light .
What are the authorities doing?
That entity in the Dominican Republic confirmed yesterday 26 deaths and at least 90 intoxicated, in a period of six days, due to the consumption of homemade alcoholic beverages such as the aforementioned.
The director of Epidemiology of the Ministry of Public Health, Ronald Skewes, indicated, according to the CNN report, that the methanol poisonings began during Holy Week. 88% of the cases correspond to that period.
The Ministry of Public Health updated the alert on Monday and asked the population to refrain from drinking alcoholic beverages of dubious origin.
At the same time, the Attorney General's Office, the Ministry of Health and ProConsumidor carry out raids and operations to dismantle clandestine laboratories that produce adulterated alcohol.
Yesterday, ProConsumidor began an operation with 32 inspectors who will verify that establishments do not sell these products that can lead to death.
A dealer delivered in Bonao
In Bonao, a man turned himself in on Tuesday in connection with the death of three people who consumed alcohol in the community of Villa Sonador.
Néstor Reyes went to the governor of Monsignor Nouel, Raquel Jiménez, with the mediation of his lawyer to assume responsibility in the case after he sold the product to the trio.



eldiariony.com
Eddie is an Australian news reporter with over 9 years in the industry and has published on Forbes and tech crunch.