Dennis Rodman burst into tears during a live interview with CNN in 2018. The reason was that two of his best friends, Donald Trump and Kim Jong-Un, had ended their differences. "Their differences," in this case, were the threat to destroy the United States and North Korea with nuclear missiles. The video went viral because it is pure Dennis Rodman: grotesque, overflowing emotions, drunkenness and media spectacle. He's also one of the biggest "you wonder how I got here" in recent pop culture. Even if as explained Former Chicago Bulls teammate Michael Jordan, the amazing thing is not where Rodman ended up but that he arrived alive. Today, the most famous player in the NBA during the nineties, turns 60 retired from public life. He has lived lives for various books.
His father left home when Dennis was three years old. He grew up with his mother and two sisters, who used to pretend to dress him up as a girl, put on makeup, and walk him down the street in high heels. Rodman let his teammates beat him daily. He felt unable to defend himself. And then, like the protagonist of a story, he grew 12 inches at age 18.
With his brand new 2.07 height he began playing basketball for an Oklahoma team and, after 20, he finally made a first friend: Bryne Rich, a 12-year-old white boy traumatized by accidentally killing his best friend with a shotgun. That story was told ad nauseam because it fit with the idea of ​​interracial conciliation in the United States of the 1980s. The kid's family, which in an incredible metaphor was called Rich (rich), they adopted Dennis, gave him a home, and made him feel like family. Dennis returned the favor by working from sunrise to sunset in his garden (creating another unintentional stereotype: African-American servility), and when his father took him to do the shopping, Dennis wept with joy. The mother of the family covered her face with a newspaper when she was on the train with him so that the neighbors would not see her sitting with a two-meter black man.
Considered the greatest rebounder in NBA history, his physical delivery was relentless – he often flew with such force that he would roll off the track and land on the crowd, driving fans crazy. "I was not afraid of anything or anyone", extolled his coach at the Detroit Pistons, Chuck Daly. Rodman spent Thanksgiving, birthdays and Christmas with Daly, his new father figure. The few times he went to a bar he asked for a glass of milk. When he won the title of best defender in the NBA, he began to cry and the president of the federation took him off the stage immediately. "I did not know that you should not cry in a situation like this", would he clarify later.
After winning two league titles, the Pistons lost in 1991 and Chuck Daly resigned, pushing Rodman into a slump. He was also in the middle of a legal battle with his ex-wife for the custody of his daughter, born in 1987. In February 1993 Rodman got into his truck and took a rifle with the intention of committing suicide. He reached out to remove his shoes to pull the trigger with his big toe, but turned on the radio and fell asleep. "I did kill the Dennis Rodman who was trying to please everyone," he announced in his book.
At the end of the year he went to the San Antonio Spurs. The day before his press conference he went to the cinema to see Demolition Man and became obsessed with his villain, Wesley Snipes, so he showed up at his Spurs debut in a platinum blonde crest. By the age of 30, the introverted child had turned into a rebellious teenager.
Another star is born
Rodman dated Madonna for a short time –counted in Playboy They had broken up because she had asked him to get her pregnant and he didn't want to – and he had gotten a taste for celebrity. Her makeover was orchestrated by her new agent and male reference Dwight Manley, a coin collector she had met in Las Vegas. Posed for the cover of the sports magazine Sports Illustrated with some shorts made of leather, a woman's bodice and a parrot perched on her hand. She said that she had sexual fantasies with men, that her favorite places to party were gay bars, and that she found the NBA locker rooms deeply erotic. He kissed the drag queen RuPaul on television and recounted that he had had sex with trans women. When he presented his autobiography, he did it in a wedding dress.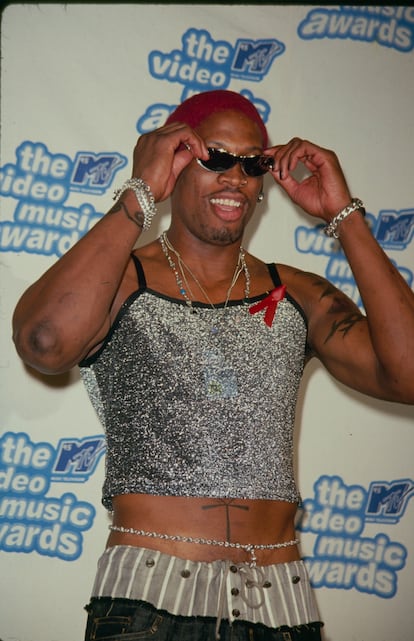 Thousands of people crowded to see it live. Millions bought the book. Rodman didn't get ridiculously mischievous like a macho man at a carnival: he hired Kevyn Aucoin, the legendary makeup artist for divas like Cher, Whitney Houston or Madonna. Her aesthetics, made up, with a skirt or heels on the red carpets, flowed between the masculine and the feminine. Some of the basketball fans rejected him but his fame reached unprecedented levels for an NBA player. In 1995 he signed for Michael Jordan's Chicago Bulls.
Positive and self-destructive attention
Jordan was an idol because he was the best, but he was cold, sober and cerebral. Rodman came as his nemesis: his fury further underscored the other's elegance. When he was fined for kicking a reporter during a game, Bill Clinton defended him: "I'm sure he regrets in his heart, I'm a big fan of Rodman."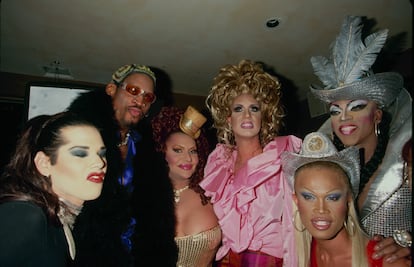 Meanwhile, he made his film debut in a Jean-Claude Van Damme action film called Double Team. In 1997, his father reappeared after a 30-year absence, recounted that he had had 25 children in the Philippines, and began watching every Bulls game in person. They said by then that Rodman could drink 40 shots of Jägermeister in one night. His bodyguard warned him that his gang of colleagues were only interested in his money and he replied that he already knew. "He is convinced that he has to maintain that theater, but I know that it is not him. He is a shy boy ", Chuck Daly assured in The New York Times. In 1997 Rodman made about $ 10 million off the court, three more than the Bulls paid him per season. That year the police went to his house 70 times due to complaints from neighbors. He was arrested on several occasions for drunk driving, violent altercations and public scandal. A Las Vegas dealer sued him for rubbing dice across his bald spot, belly, and groin to see if he was lucky.
After the success of his autobiography he edited another, A walk on the wild side. It was a sales flop. He said he was going to change the name to "Orgasm." Nobody cared. He married the actress of The Baywatch Carmen Electra in Las Vegas and broke up the next day. "As an ignored teenager, Rodman never understood the difference between positive and self-destructive attention," explained journalist Stephen Rodrick.
After a season with the Lakers, he left the NBA through the back door: he was late for training, claiming that he had lost his shoes and the Los Angeles team terminated his contract. His attempts to return to the court, as a player or coach, were useless: "I opened all the doors and now the NBA doesn't want me. Even the dullest white guys have tattoos now. " claimed in 2003.
He remarried and had two children, but never built a relationship with them just as he was never present in his first daughter's life. In 2011 he entered the Hall of Fame, the Olympus of American athletes, and in his speech during the ceremony He promised that he would try to be a better father even though he had no idea how to do it. Before she started crying, she told her mother: "You never hugged us because it didn't come out, but I'm going to try to love you the way I loved you when I was born." He still does not maintain a relationship with his three children.
In 2013 he traveled to the Vatican, sponsored by an Irish sportsbook to witness the election of the new pope. And at that time of not saying no to anything, his agent received a contract proposal for Dennis Rodman to help improve North Korea's image in the West. The agent did not know the difference between one Korea and another, so he agreed. When he realized that he had signed with the north, it was too late: Dennis Rodman was the first American to meet Kim Jong-Un, who during his stay at a Swiss boarding school in the 1990s became a fan of the Chicago Bulls.
"Protecting ourselves is not my job, it's the black's [en referencia a Obama], but if I do not end up as a finalist for the Nobel Peace Prize, something is wrong ", he declared in an interview to Sports Illustrated. On one of his visits in 2014, on the occasion of Jong-Un's birthday, Rodman brought him several gifts: a batch of soaps, a book of Where is Wally?, a puzzle of a mermaid and a copy of The art of the deal of Donald Trump. Rodman hit it off with Trump when he participated in two editions of his reality show, The Apprentice, in its famous edition. Missionary Kenneth Bae, detained for a year by the North Korean government, was released and publicly thanked Rodman's help.
When the summit between North Korea and the United States was held, in which Trump became the first president of the White House to visit the country, the Washington Post speculated that Rodman was actually a diplomatic envoy for Trump, arguing that it was an eccentric theory but no more than Donald Trump's own election as president. In 2020, by the way, Rodman did not support Donald Trump's candidacy, but Kanye West's.
You can follow ICON on Facebook, Twitter, Instagram, or subscribe here to the Newsletter.



elpais.com
Eddie is an Australian news reporter with over 9 years in the industry and has published on Forbes and tech crunch.