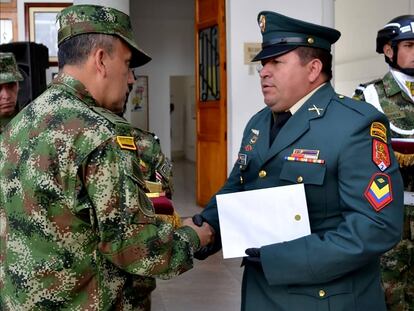 Each detail revealed in Colombia or in Haiti further separates the images that exist about former sergeant Duberney Capador: on the one hand, that of a man dedicated to the field, who spent his time among chickens and cattle with his mother, as his mother remembers. family; on the other, that of the recruiter and mastermind of the 24 ex-military men identified by the assassination of the Haitian president, Jovenel Moïse, on July 7 in Port-au-Prince.
Capador is one of the three Colombians killed in the operation to capture the assassins. According to the director of the Colombian police, General Jorge Luis Vargas, he knew that the trip to Haiti was not to arrest Moïse, as the rest of the detainees claim, but to assassinate him. "We know that Colombian citizens Germán Rivera and Duberney Capador participated in the planning and organization of what was initially an alleged operation to arrest the president of Haiti and, for this, they contacted more people in our country," explained Vargas.
From Armenia, a department 300 kilometers from Bogotá, Yenny Capador refuses to believe the fate of her brother Duberney. "He told me that they hired him from a security company to work in Haiti. Since he left the Army, he was dedicated to the fields and to our mother ", he assures. The woman says she spoke to Capador on Wednesday at 6.30 a.m., almost five hours after Moïse's murder. "He told me that things were getting complicated, that they had been late for what they were going to do, that they were cornered and that they were being shot. We talk all day until 5:50 pm ", he assures.
Little is known about the death of the ex-military. Some versions indicate that he was killed in a house where he took refuge with several members of the command. Some of those captured today hid in the Taiwanese embassy. As he told his sister, he was hiding in a house and "was negotiating his way out," Yenny Capador tells EL PAÍS. In one of his latest communications, the ex-military man asked his sister if she had seen the news and begged her not to say anything to her mother. Later, the woman sent him messages at 7:00 p.m. and 8:00 p.m. and 3:00 a.m., but had no response. "His cell phone was active until 6:53 PM," says the sister.
Capador was born in Genoa, a municipality in the Colombian coffee region, to a humble family of five siblings. He had been linked to the military forces during the earthquake that struck several towns in that region in 1999, and requested his retirement in 2019. According to his resume, he became a deputy first sergeant and was part of the urban anti-terrorist special operations unit. .
His sister assures that he had training in parachuting, counter-guerrillas and had taken a course on Human Rights in the United States. Precisely this week, the Pentagon confirmed that a small group of hitmen had received training in that country, something common for the military forces to Colombian troops.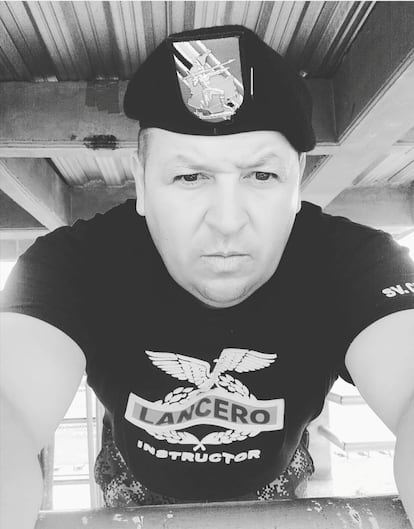 After leaving the Army, Capador began to receive his pension (which usually ranges between 300 and 400 euros) and, according to his sister, he spent the last months of his life "putting folders with his resume to work in security companies." While receiving some response, Capador returned to his mother's house to work in the fields. In April, during Holy Week, he informed the family that he was going to work in Haiti with a security company on a two-year contract, in exchange for $ 2,700 in salary.
However, for the Colombian police, Capador was key in the recruitment of the ex-military and one of those who had direct contact with the company CTU Security, based in Miami. This was evidenced by the chats shown by some ex-soldiers summoned who did not travel. "Gentlemen, you have already been selected, all of you who are going so far, calm down. There is still more. I am advancing work, security study. I know all of them and I know their capabilities, "wrote the Colombian in the WhatsApp group, called Effort Principal, in which he called himself 'Don Manuel Capador'.
The former noncommissioned officer had passed through different military bases, such as those of Tolemaida (Cundinamarca), or the Army's 30th Brigade in Chiquinquirá (Boyacá). In the latter, he would have made most of the contacts with ex-military personnel. Many of them said that they trusted him and that was why they accepted the job offer. In one of the audios sent to the Special Endeavor group, Capador's voice is heard asking his recruits to specify their abilities in detail. "It's not just about saying I'm a rifleman. If you performed in direct action, in close combat, special reconnaissance, you are a high precision shooter, you are a tracker, a pointer, a counter-pointer, you are an intelligence expert, that's what I need you to put there, "he told them.
In that same chat he reveals to the group that he was already in Haiti. He also revealed to his colleagues that they would travel to Port-au-Prince to provide the security of President Moïse. He told them that the CTU company would pay for everything and that, as soon as they were selected, they would have only two days to be ready and travel. Some did not make it and kept the suitcase ready
Capador invited "his soldiers"
On that, his sister confirms that he "invited his soldiers." "He told me: 'I'm going to go, but I want my friends to also benefit from the job offer." For the Colombian authorities, he and a handful of his men knew that the job was to assassinate the Haitian president; the rest would have traveled deceived.
The role of Capador, whom several of his acquaintances describe as a discreet man, has gradually become known. Today he is considered one of the brains of the attack that has shaken the Caribbean country. Capador and former captain Germán Rivera had been informed that they would arrest President Moïse, they would have had meetings with Haitian political leaders and, after a new meeting, they received a new order: to commit the assassination.
In Quindío, however, his family and his two sons, ages 19 and 13, consider him an honest man. "I do not know what happened. I hope that the investigations give us clarity, because my brother was honorable, "says his sister. Then he asks the Colombian government to help him repatriate the body.
Subscribe here to newsletter from EL PAÍS América and receive all the informative keys of the current situation of the region.

elpais.com
Eddie is an Australian news reporter with over 9 years in the industry and has published on Forbes and tech crunch.