Dyson's new scares a bit. He actually looks like he's straight out of some sci-fi movie, because even though the Dyson Zone They are first of all ambitious headphones, they are also something else.
And the other thing they are is an air filter that protects us against urban pollution. We can use the headphones without that accessory, but once attached, its appearance is, of course, unique.
Technical sheet of the Dyson Zone
DysonZOne

Headphone type

on-ear

Active noise cancellation

Yes

Frequency range supported

6Hz – 21kHz

Autonomy

50 hours (audio only)

4 hours (audio and purification)

Burden

USB-C

100% charge in three hours

Air purifier

Detachable, two layers:

Electrostatic filters: capture 99% of particulate contamination down to 0.1 microns
Potassium-enriched carbon filters: against acid gases such as NO2 or SO2

Price

na
You will know them by their appearance
Dyson products often have a distinctive look and design, and the Dyson Zone is no exception. These supraaural headphones have a format that certainly stands out for the size of the headphones themselves and their cups, but also for their external format.
That format is actually required considering that the headphones They are also an air filter against pollution. The filters are precisely inside the headphones, and the exterior is starred by a design in which the metal that dominates that design is perforated everywhere to let air in and out.
The headphones have an active noise cancellation system that is fed by no less than 11 microphones capable of reducing sound up to 38 dB from 20 Hz to 20 kHz. These microphones monitor the sounds of the environment 384,000 times per second.
Active cancellation is aided by the call passive attenuation: The external sealing (earpad and materials) ensures that even when the headphones are not connected or turned off, there is also protection against external noise.
Headphone audio includes frequencies that go even beyond what is audible to humans: the range is from 6 Hz to 21 kHz, which according to the manufacturer ensures that every note or word is heard. 40mm 16 ohm neodymium speakers are the heart of the audio system.
They have a design aimed at offering ultra-low distortion. For this the output of the transducer is further equalized by intelligent signal processing. 48,000 times per second. That process is combined with noise cancellation to neutralize harmonic distortion down to inaudible levels across the entire frequency range (0.08% at 94dB and 1kHz).
Full-spectrum sound is further characterized by a neutral, balanced "character" that tries to have no one frequency dominate the others. With this, the native equalization tries to respect the vision of the artist, but the equalizers can be customized.
That same approach also applies when using the headset for voice calls, something we can do with or without the detachable visor. A series of microphones with beamforming allow to have clear calls and thus create an environment of conversations with optimal audio quality according to Dyson.
The headphones have batteries that are capable of providing a autonomy of 50 hours in audio only operation. The headphones have a USB-C connection for charging, which is fully completed in three hours.
Safe from contamination
The other great proposal of the Dyson Zone is its role as an anti-pollution filter. The detachable visor covers the nose and mouth and attaches to the earcups for a truly amazing, futuristic look.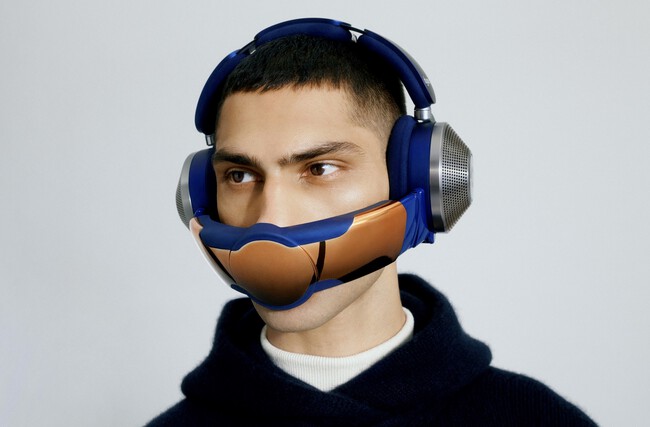 The filters are capable of projecting the purified air towards the nose and mouth of the user. According to Dyson these electrostatic filters capture 99% of particulate contamination down to 0.1 micronswhile the
Potassium-enriched carbon filters focus on the most frequent acid gases associated with urban pollution such as NO2 or SO2.
Why offer air purification? For Dyson the answer is obvious: according to his studies, it is expected that by 2050 seven out of ten people will live in big cities and that will make pollution an increasingly problem. According to the WHO, 99% of the world's population lives in areas that exceed safe levels of contamination.
The purification system makes use of compressors in each earpiece that draw air through double-layer filters and project two streams of purified air into the user's nose and mouth, channeled through the detachable visor.
These precision compressors rotate at a speed of up to 9,750 revolutions per minute without according to Dyson there is hardly any audible noise due to that operation.
The first layer of electrostatic filters is responsible for capturing ultrafine particles such as allergens or dust from sources such as combustion or construction.
The second layer, K-Carbon, is a potassium-enriched carbon layer that specifically captures polluting city gases such as NO2 , SO2 and O3 , as well as unpleasant city odors such as smoke from construction, sewage or stale air from the subway, for example. Filters last up to 12 monthsdepending on geographic location.
The MyDyson app is also capable of recording NO2 levels in the air along with ambient noise levels in real time. The app allows you to have information about various parameters of the Dyson Zone or control features such as the speed of the air flow, the noise cancellation mode or the audio equalization.
Dyson Zone price and availability
The new Dyson Zone will go on sale from January in China. In March they will be available in the United States, the United Kingdom, Hong Kong and Singapore.
In Spain these headphones will be available in june. At Dyson they have not indicated the sale price of these air purifying headphones.
George is Digismak's reported cum editor with 13 years of experience in Journalism