James Clayton y Stephane Vincent
BBC News, Les Cayes, Haiti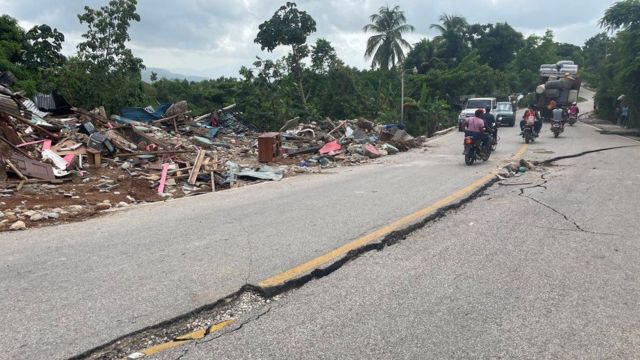 Marceline is a 30-minute drive north of Les Cayes in Haiti.
Before the earthquake, the town had two churches – one Catholic and one Baptist -, a medical center, a school, and a voodoo community center.
An asphalt road runs through it, and as you exit it, there are only narrow paths flanked by banana trees that wind between cinder block houses.
The town we come to is unrecognizable.
The path to Marceline is marked by landslides and huge fissures on the road.
The driver slows the car at times, until it stops to be able to avoid the cracks.
The city of Les Cayes was severely affected by the 7.2 magnitude earthquake of August 14. Perhaps one in six buildings collapsed.
Here it is difficult to find a standing house.
Interrupted life
Kelly Phildor was a 15-year-old boy preparing for a new term in school.
He was bold and full of life. Her nickname was Kelly Forever, and she had scrawled that nickname on her shirt.
"I didn't know her life would be so short," says her mother, Marie Rose.
Kelly had woken up early and left her house on Saturday morning. But his phone was running low on battery, so he decided to go back.
When the earthquake struck, a wall made of heavy lumps of concrete and rock fell on top of him.
He broke both his legs and his skull. He had no chance of survival.
"I don't know what to do. I have his shirt wrapped around my waist to give me strength," says Marie Rose.
No water, no food, no medicine
The level of destruction here is difficult to comprehend. Both churches were destroyed.
At the voodoo community center, people were getting ready for a dance in the chapel. They were waiting for the priestess to start when the earthquake occurred.
The building collapsed in on itself.
A neighbor tells us that they managed to remove the priestess's body, but there could be more than 25 people still under the rubble.
What everyone is wondering is why there is no help: no medicine, no search and rescue teams, no food or water, nothing.
Promises
Margaret Maurice and her eight children managed to survive the collapse of their home with only minor injuries.
However, now they are letFrom a your luck, amid the rubble of their old houses.
"Do I have to shout to get the attention of the government?" He wonders, "or are they letting us die?"
He says he has little food and water, and the few aid trucks he has seen have passed by.
The government, aid agencies and the international community have promised help.
But those promises mean little to the people here.
The medical Center, a place where perhaps people could have organized supplies, was also left destroyed.
Here in the mountains it can be cold and wet at night. Some people have tarps and others don't even have them.
From time to time there is brief jerks, aftershocks, which increase stress.
The people here are not thinking about their long-term future, they are focused on surviving.
But with the entire infrastructure of the town completely in shambles, it's hard to see how Marceline will recover.
Haiti is currently in a state of political turmoil. The president was assassinated last month.
The country simply cannot give people like Marceline the help they need.
Everyone here has several friends and family lost in this earthquake, which killed more than 2,000 Haitians.
But now, there is fear that more may die, not because of the earthquake, but because the basic supplies that were needed never arrived.
Rremember that you can receive notifications from BBC News Mundo. Download our app and activate them so you don't miss our best content.

www.bbc.com
Eddie is an Australian news reporter with over 9 years in the industry and has published on Forbes and tech crunch.