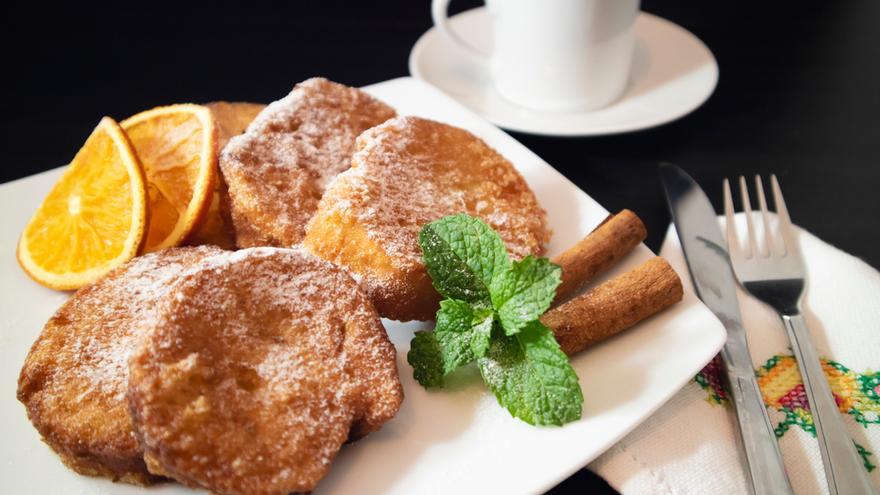 Matcha tea and spirulina torrijas or monas and Easter eggs turned into small works of art are some of the proposals of the traditional pastry of Easter week that during these days are presented in their most avant-garde alternatives and coexist with the classic recipes, sweetening the Easter days through these sweet bites that dot the gastronomy Spanish.
Torrijas of cinnamon, honey, syrup or wine coexist with pestiños, monas and Easter eggs, sweet protagonists during Holy Week that can be tasted at almost any time of the day. These recipes with a lot of history are now reconverted into new versions for the most daring, which show through different options for all tastes that these days passion also comes in the form of sweets.
"The most important thing is always to work with very good quality materials; the key lies in making the bread, which in our case is a French egg and butter brioche ", the pastry chef explains to Efe Lucas Gonzalez, in front of Paco Pastel, chosen this year as the best torrija in Madrid by the Association of Artisan Pastry and Bakery Entrepreneurs of the Community of Madrid.
"The most important thing is always to work with very good quality materials"
This bakery in San Lorenzo de El Escorial, which stands as the winner of the best torrija in the capital in this edition, reaches sell about 5,000 units of French toast per weekend thanks to this traditional recipe made with flavored milk, eggs, sunflower oil and brioche bread "broken with a cross section, which gives rise to a large torrija", which, according to him, is also the hallmark of the house.
"We follow the traditional elaboration, incorporating matcha tea or spirulina, which are very pleasant flavors"
This sweet, the protagonist of Holy Week par excellence, already appeared in the work of the Roman gourmet Marco Agavio Apicio (SI). This recipe, made by dipping bread in milk, becomes the predecessor of today's most popular versions, which add eggs to the mixture, as well as being divided into different flavored versions.
"Superfoods" such as spirulina algae or matcha tea are nowadays sneaked into torrijas cookbooks, such as those proposed by Juliettas in Madrid: "we follow the traditional preparation, incorporating matcha or spirulina tea, which are very pleasant flavors that do not alter the original essence ", he explains to Efe Raul Armengol, director of the Juliettas group, which presents this recipe with the aim of "respecting tradition by using trendy products", reels.
With intense green or electric blue torrijas as a result, both recipes have, according to Armengol, "the same success", so much so that before reaching Holy Tuesday the pastry shop has already sold more than eight hundred units of the thousand that they will sell. this "special version", he points out.
Those who have also become a reference point for torrijas are the Ambroisus pastry shop, in Seville, which after settling in the Andalusian capital from central Europe to sell European pastries, They ended up being a fixed point during Holy Week to consume this sweet, whose secret, as they explain, lies in "infusing the brioche for twenty-four hours with a powder of spices and orange blossom honey, which evoke Arab fragrances."
But not only do torrijas take center stage in confectionery these days, in which in the form of small bites of flavor, Easter eggs, made with chocolate, also one of the most consumed sweets. Now, they stop being small cocoa spheres to become sculptural carvings that are small works of art, and they show that culture is also ingested.
A proposal that has gone viral these days is that of the chef Jordi Roca, which sells in Rocambolesc its particular Mona Lisa chocolate sculpture, one of the most recognized works of art in the world that Roca literally turns into a chocolate mona, made together with the sculptor Montse Zurilla, and that can be reserved and bought in the Rocambolesc stores in Girona, Barcelona and Madrid.
"Look how cute … made with milk chocolate, stuffed with roasted and salted peanut balls covered with milk and cocoa powder", they publish from Rocambolesc, that every year makes a special monkey during Holy Week and that this time is inspired by art through a play on words.
Also from Roca, the gironese Casa Cacao presents a monkey from "casa cacao", stuffed with cocoa beans from Bolivia coated in Kerala-India 72 & chocolate, and finished in white chocolate, simulating the effect of a quail egg in the shape of a small house that lives up to the name of the establishment.
New proposals such as the one made by master pastry chef Oriol Balaguer, who last year launched Easter eggs in the form of figures inspired by the circus, which could decorate houses as small sculptures before being consumed and which transcend gastronomy to become in small works of art.

www.informacion.es
Eddie is an Australian news reporter with over 9 years in the industry and has published on Forbes and tech crunch.