The Echo family grows and changes shape with this Echo Show 15, one of the most ambitious and original devices not only from its catalog, but also from the home automation market. This new form factor promises new uses and a much more discreet presence. We have tested it.
Amazon Echo Show 15 data sheet
amazon echo show 15

Dimensions

402 x 252 x 35mm

screen

15.6 inches

Full HD resolution (1,920 x 1,080 pixels)

speakers

2x41mm

processor

Amazon AZ2 Neural Edge

functions

Visual ID (coming soon)

Alexa integrated

camera

5MP

others

camera cover

Microphone mute button

price

€249.99
Introducing the Echo Show 15 | 15.6″ Full HD smart display to organize your family life with Alexa
Design: Amazon "The Frame"
I've tried a few Echo's and my general feeling is that Amazon was looking for practicality and functionality over aesthetics: The Echo's are plastic and mesh fabric, and while well-finished, they squeaked in certain salon aesthetics. Of course, you could always place them in the background, of strangers.
However, the premise has changed with this Echo Show 15 that, saving the distances, reminds the Samsung of The Frame. Stay with this reference because we will come back to it later. It's still made of plastic, but it doesn't look like it: it has a thin and sober dark frame that could well be wood and a white border that emulates a passe-partout.
The design goal of the Echo Show 15 is to make it look like just another painting.
The design goal of the Echo Show 15 is to make it look like just another painting.. One of the two characteristics that reveal its nature compared to mere decoration is that a cable hangs from it. In the frame you will find a physical button to open and close the camera cover, which is a dot located in the upper left part of the passe-partout. Here is the second element.
The screen is no longer an extra, but is the absolute protagonistsomething that is perceived both in the design and in its features: with 15.6 inches diagonal and Full HD resolution, like many laptops.
As a quick review, in the upper frame you will find the following buttons, common in Echo models with a screen:
A slider button to physically cover the camera.

Two buttons for volume up and down.

A button to mute the microphone.
The rear part is aesthetically much more modest: with a plastic chassis, in the central part we find elements for hang it on the wall, either portrait or landscape. Another option: buy the tilt stand and place it on a surface. At the ends and distributed vertically, some holes through which the sound comes out.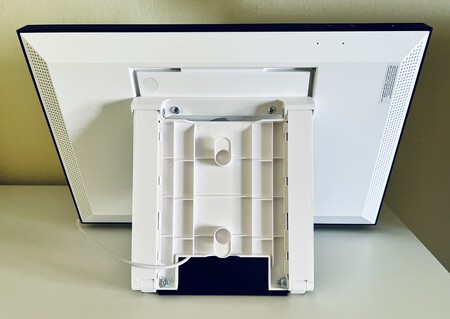 A screen that exponentially elevates its functions
A "smart" speaker has in its voice assistant a promise of almost infinite functionality… at least in theory. In practice, for the vast majority of users, it boils down to asking the time and weather, resolving existential questions that make us "win" an argument, turning off a light or other connected device, and playing music.
Alexa has two assets that place it in a privileged position: its extensive ecosystem and an acceptable understanding of human language
In this way, Alexa has two tricks that place her in a privileged position: A wide ecosystem of compatible devices and an acceptable understanding of human language, although with a lot of room for improvement.
But with the Echo Show 15, Amazon has left those features in the background – which are still – to maximize the possibilities of your screen.
First of all, some background on its features: it has Wi-Fi and Bluetooth connectivity, integrates a 5MP camera on the front and has the Amazon AZ2 Neural Edge processor, with machine learning and a quad-core architecture in charge of 'ID Visual'.
What is 'Visual ID'? A system that, once configured with our data, voice and image recognition (in the style of configuring Face ID) identifies us when we enter the room. This allows personalized greetings, reminders, calendar events, recent music, and notes from us to be displayed on the screen.
What's the coolest thing you can do with the Echo Show 15?
Substitute for a secondary TV (with shades). Go ahead because of benefits and diagonal, logically it does not serve to replace the one in the living room, but it can do the job in the kitchen or in the bedroom. After all, its screen is similar to that of many laptops that we use to watch a series in bed. Thus, you will be able to play content from platforms such as Prime Video, Netflix, Atresplayer, for example. Important: stand right in front of it, as the viewing angle is not very wide.

Photo framestar utility with Amazon Photos as upload platform and the passe-partout. Seriously, she totally sucks.

Surveillance. A key characteristic of a surveillance camera is that it goes unnoticed, and we've already seen the Echo Show 15 sneak in like a picture. Being able to enter the application to see and hear what is happening in the room at any time is a very useful security extra (and lack of privacy, when you forget that it is there).

calendar/bulletin board. If you also have a calendar in the kitchen where you write down your doctor's appointment or a whiteboard where you write down your shopping list, you can replace both with the Echo Show 15. Just place it vertically and configure it with widgets like the calendar, the shopping list or the task list.
video calls. Just as for surveillance the 5MP comply, that Amazon has not increased the benefits of its camera to 13MP means that it does not shine precisely for image quality or sharpness, but it complies.
These are some of the most original uses offered by this peculiar design, although of course you can continue using it for more tasks mundane such as listening to music, watching YouTube videos, managing your smart home, creating routines or following recipes.
One question you can ask yourself if you are excited about placing it as a painting in your room is whether the lighting from the screen will bother you. Well, since it has an RGB ambient light sensor and an accelerometer, he alone knows when to turn on or off.
a satisfying sound
Although the star is the screen, the responsibility of accompanying it to reinforce the audiovisual experience also falls on the integrated speakers.
It features dual 1.6-inch (41mm) full-range speakers located, one on each side, at the rear of the device. To get an idea, it is something like having two echo dots for soundalthough with a very different distribution.
It is not a device designed for music, but it is designed to set a room
This reference is interesting to know what we can expect from it acoustically speaking with respect to its brothers: in the Amazon catalog it is placed above compact models such as the Dot, the Spot and the smaller Show. It is not a device designed for music, but it is designed to set a room.
For this analysis the Echo Show 15 has been in a room of 15 square meters, allowing me listen, understand and enjoy series dialogues without problem. In this scenario of use, it is doubly important to be right in front: first, because of the reduced viewing angle, but also to squeeze the lateral distribution of the speakers, which allows the sound to come from both sides. Considering that it's probably used as a replacement for a TV by a lot of people, more directionality is missing, with stereo speakers or even support for Dolby Atmos (something the Echo Studio actually has).
About the music, there is plenty of volume for a standard room. The sound, although flat, is acceptable especially if we listen at low or medium volume. Of course, taking it to the maximum shows some distortion, especially in the bass tones.
Echo Show 15, Xataka's opinion
As usual in our reviews of smart speakers and screens, we divide the final reflection into two sections. The first has to do with Alexa as the engine of the ecosystem and the second, more specific, with the device itself.
The Amazon ecosystem is a winning horse in home automation. Currently you will find a lot of compatible devices and appliances with which to set up your smart home.
Likewise, Alexa continues to excel in human understanding and contextualization against the competition. Of course, she still has a long way to go: there is no more than putting my mother, 66 years old and who handles fairly well with the mobile and the computer, to interact with her. You don't have to learn to talk to a robot, it's Alexa who has to make an effort to understand you.
With this Echo Show 15 Amazon follows expanding the family for different types of users, needs and budgets.
Watching videos was something more testimonial than anything else: now you can watch a series in a "decent" way
It is true that there was already an Echo with a screen, but watching videos was something more testimonial than anything else: now you can watch a series in a "decent" way. And the quotes go because the experience is similar to watching something with a laptop. It's not amazing, but it works. In fact, in this scenario, a few more inches and a somewhat more ambitious sound would be nice.
The second use in which this device has shone is to be decorating my living room as a painting – watcher, that is, one more photo frame that helps us to take a look at what is happening. In this sense, an option to always leave the screen on and with a fixed image would be great.
As you can see, he stays in no man's land in both functions. for price, this is not an Echo for beginners who want to try that of smart speakers, but who already knows what to expect from them, takes advantage of them and also sees utility in this format will have in it a most attractive device, especially when there is an offer.
The device has been loaned for testing by Amazon. Can inquire our policy of relationships with enterprises.
George is Digismak's reported cum editor with 13 years of experience in Journalism