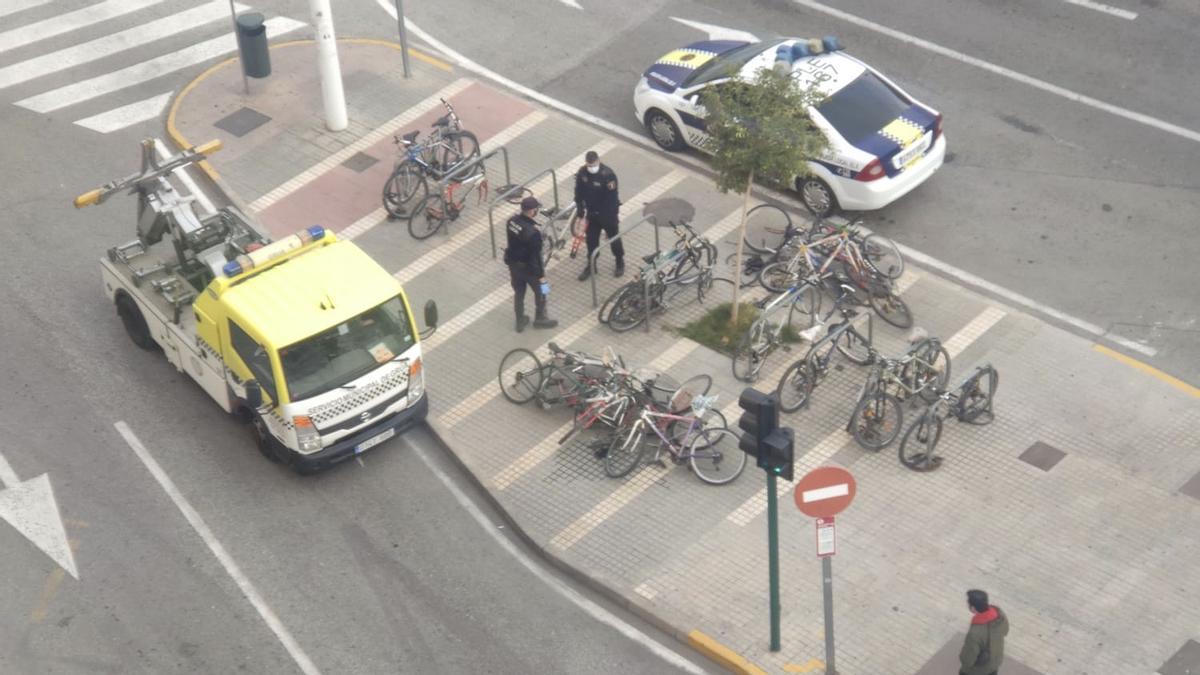 Margalló-Ecologistes en Acció d'Elx registered a letter on Tuesday morning addressed to the Councilor for Citizen Security, Ramón Abad, in which ask for explanations before the seizure by the Local Police of numerous bicycles, several of them in operational condition, as can be seen in the photograph that this group has made public.
"Sometimes we find bicycles tied to urban furniture or other street elements that make it difficult for pedestrians to pass. However, this is not the case of the bike racks located in front of the Mora gas station (next to Plaça de Crevillent), since it is a space specifically set up for this purpose. It is a fairly visible bike rack during most of the day, since it is a place of passage and is also located in front of a gas station open 24 hours a day. Its high visibility discourages theft of bicycles and it is also the aspect that motivates many Sub-Saharan day laborers leave your bicycle in said space (somehow, guarded by the gas station 24 hours a day), your only means of travel to go to work at the Camp d'Elx, "this group indicates in a press release.
In addition, it should be noted that these bike rack They are located on an island "and do not hinder or impede the passage of pedestrians, so it would not be infringing the municipal circulation ordinance, in which article 81 guarantees the places enabled to park bicycles", add the same sources.
For this reason, in Margalló-Ecologistes en Acció, taking into account that this is not the first seizure of bicycles to be carried out in the same location, they have asked the Councilor for Citizen Security what is the criterion Local Police to seize operational bicycles chained to bike racks; if any kind of notice has been given to users of these bike racks; and if so, how far in advance and in what way.
In addition, they ask if notice has been left after the performance to recover bicycles; In what exact state a bike must be to seize it and if any kind of prior monitoring is carried out; In addition to taking into account that the aforementioned bicycles may be the only vehicle available to "day laborers with few resources to travel to work, in which hypothetical case it could be a dangerous practice based on classism, racism, xenophobia and aporophobia (phobia of people with fewer resources) ". Precisely, as reported by Margalló, "the Administration must ensure the solidarity and aid towards the most needy people and this action, in all probability, has caused that on Monday a few day laborers found themselves without their only means to go to work ".
In any case, from Margalló, an appeal is made through the media and social networks for anyone affected by this bicycle seizure to contact them through their e-mail ([email protected]), offering thus their help and the mediation that is necessary to recover their bicycles.

www.informacion.es
Digsmak is a news publisher with over 12 years of reporting experiance; and have published in many industry leading publications and news sites.