Daniel Pardo
BBC Mundo correspondent in Colombia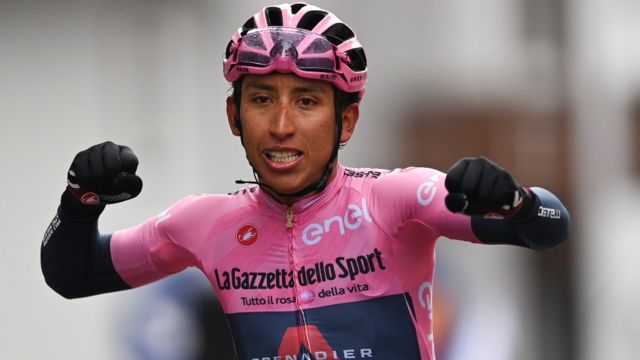 The Colombian Egan Bernal won this Sunday the Giro d'Italia, one of the most important cycling competitions in the world.
When the country experiences a violent social outbreak derived from anti-government protests, the 24-year-old's victory gives a respite to a shocked society.
Journalist Mark Rendell has spent decades studying Colombian cycling as a phenomenon linked to the reality of the country.
The Briton has interviewed and profiled the cyclists of the generation that in recent years made Colombia a world power in this sport.
Bernal has already won a Tour de France in 2019 and his victory in Italy is the second by a Colombian at the event, after Nairo Quintana in 2014.
Rendell's latest book, "Colombia is Passion," will be published later this year by Planeta publishing house in Latin America.
BBC Mundo spoke with him to understand how Egan Bernal and national sport are related to the political moment in the country.
How does Egan compare to the young people who are now protesting on the streets of Colombia?
Egan was born in Bolívar 83, in Zipaquirá, an unsafe neighborhood that didn't even have water. His parents are farmers, but he is more urban. He connects the crisis in the countryside with the crisis in the city.
And I explain it with two words that his mother told me: "Viche matured".
Because he was born in a context, common to many young people in Colombia, that prevents him from having a childhood because when he was 10 years old he was already working as a flower delivery man and soon he was negotiating contracts and deciding on his career.
Do you think that the figure of Egan has a political connotation?
Egan belongs to an informed, critical, globalized generation. He started traveling at a very young age and that gave him a complex and intelligent reading of reality.
He lived firsthand the criminality of his environment and his reading of what the world is goes beyond black and white.
He does not position himself on one side or the other because he is very calm and seeks to hear all voices. At one point, when cycling was not profitable for him, he wanted to leave the sport and dedicate himself to journalism.
There is an interesting anecdote. Bolívar 83 is a neighborhood that Gustavo Petro (senator and presidential candidate) helped found when he was a young politician and student leader.
And after Egan won the Tour de France, Petro tweeted saying "I have an effect somewhere."
Egan said that he did not understand why people came out to criticize Petro, because it is true that he helped found that neighborhood.
What kind of Colombia is seen abroad through cycling?
I think that, first, a lesson in multiculturalism has been given. The darker-skinned cyclists who have been on a podium in the Tour de France have all been Colombians.
And it's interesting because these competitions are ways through which your countries, France and Italy, celebrate themselves. They are an ode to their geography, their culture, their history, and they are doing it through the victories of a Colombian.
And more this year with Egan, who has chosen to compete in the Giro and not on the Tour. This makes Italians feel very flattered, very honored by a Colombian. And he, speaking perfect Italian, but also being very young, reminds them of Marco Pantani, the great hero of Italian cycling.
It is a role that Colombians did not use to play abroad before.
Cycling gave Colombians for the first time a reason to overcome the shame of violence, drug trafficking and war.
I have seen the immense communities of Colombians around the world celebrating their cycling victories without any trace of shame.
Before, Colombians abroad preferred to be confused with Venezuelans, with Ecuadorians. But cycling turned that around.
And I think that Egan is part of that transformation that restored pride to Colombians, because it proves that Colombia can be number one in something other than violence.
Why is Colombia a cycling powerhouse?
Cycling allows the son of the peasant to put into practice all the virtues of the peasantry: patience, resilience, observation of the other, resistance to pain.
Several cyclists have told me that they are used to pain because they come from being used to the pain of blisters, scrapes, the blow of the cow, the cut of the machete.
Part of the Colombian drama, present in the protests, is precisely the precariousness of peasant life.
Cycling embraces that culture of peasant life by being a sport, as a modern, urban cultural phenomenon.
So cycling in Colombia is a way of bringing the countryside to the city, of harmonizing the relationship between city and countryside, of giving the peasant dignity after many decades of suffering.
These Colombian cyclists did not go to live in the city: they continue to live and train in the countryside where they grew up.
Cycling has allowed people from the city to get closer to the countryside. It has been an invitation and a chance to get to know a different country.
What role has cycling played in the history of Colombia?
On the one hand, it has taken Colombia out of its shell.
Colombia was a very isolated country for many years. When Venezuela, Argentina, Chile or Peru received thousands of immigrants during the 20th century, Colombia remained absorbed perhaps by its own violence.
So cycling, perhaps as drug trafficking did in a very different and perverse way, gave the country a reason to feel part of the world and measure itself with the world.
But it also gave the possibility of thinking beyond violence.
Few things in Colombia have been neutral: all cultural expression has always had a kind of attachment to one or the other side of the political conflict.
But cycling has managed to stay neutral and current. The Vuelta a Colombia, with all the setbacks, has been carried out despite the violence for 70 years.
Do you think cycling can teach Colombians a lesson about what to do with their violence?
Cycling is an extremely violent sport, but it is an internal violence that does not harm the other.
We already saw Egan climbing this week under the snow in a scenario as hostile as a war. And we saw the teamwork he did with his partner and compatriot, Daniel Martínez.
So they, and cycling in general, suggest another way to link to violence.
They do not deny or suppress it, but use it for their own benefit. They use the stoicism, strength, courage and energy of the group to advance and to win in an honest competition that does not harm the other.
It is a celebration of violence in a different key.
Now you can receive notifications from BBC Mundo. Downloadour app and activate them so you don't miss our best content.

www.bbc.com
Eddie is an Australian news reporter with over 9 years in the industry and has published on Forbes and tech crunch.