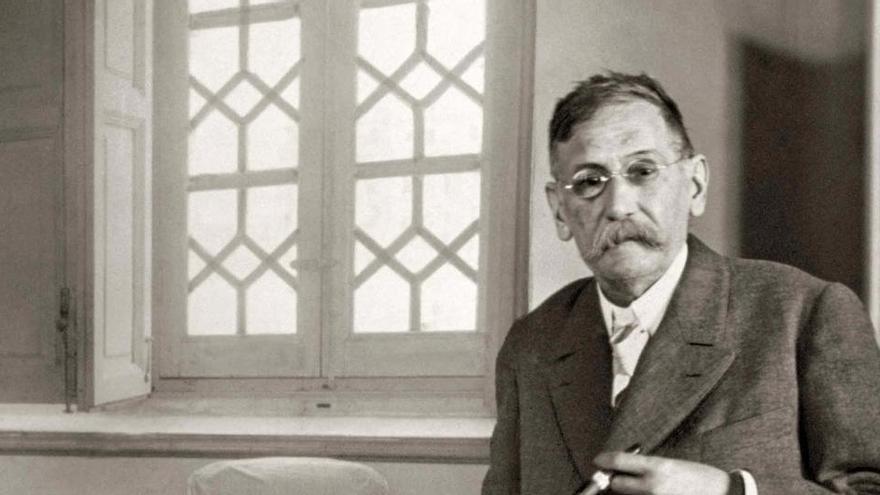 The fate of the passionate letters that Benito Pérez Galdós wrote to his beloved Emilia Pardo Bazán It is a mystery and the possibility that they had been destroyed was even considered. But an antiquarian bookseller in Madrid assures that there is 80 of them in a private library.
Benito Pérez Galdós (Las Palmas de Gran Canaria, May 10, 1843-Madrid, January 4, 1920) and Emilia Pardo Bazán (La Coruña, September 16, 1851-Madrid, May 12, 1921) maintained a friendship relationship for many yearsbut for two they were lovers, while she was married, and their correspondence was fiery.
Little more than 90 of the letters that the Galician writer sent to Galdós are preserved, but those that the author of Los Episodios Nacionales wrote to his beloved are not found. There are many theories, and it has even been said that Carmen Polo burned them when she arrived at the Pazo de Meirás, where Emilia Pardo Bazán previously lived.
And when the year in which the centenary of the birth of Benito Pérez Galdós is about to end, the antiquarian bookseller Guillermo Blázquez, belonging to the Association of the Cuesta del Moyano in Madrid, maintains that their whereabouts are not unknown, but "private" because he saw them 30 years ago in a private library, which he does not reveal.
Card owners don't want to make them public nor do they want to sell them, something the bookseller has been trying all these years. "They are quite a lot, about 80, not all the letters that must have been very extensive" over the years, and they are in very good condition, explains the bookseller and antiquarian in an interview.
Of the letters from Galdós to his beloved that Blázquez was able to read in that library and "at the time they were written, they were of a rather raised tone. Today it would be almost ridiculous, certainly not pornographic as it is said … risque, a little erotic. "
He is convinced that they were handwritten letters from the author of the National Episodes: "They were signed, unless they were forgeries… But in the world of ancient books it is normal to see letters from authors like Galdós, Baroja, Lorca, this one a little more scarce … Unamuno. I have had several that I have been selling and in book auctions some letters still usually appear loose, "he assures.
What is the reason why their current owners do not want to go public or sell them? Blázquez does not know it. "I tried to buy them when they showed them to me. They showed them to me in secret and asked me for discretion, which is why I'm not going to give the name, I can't," insists the antiquarian, who continues to maintain commercial relations with this particular library, to which keep buying some books.
"They taught them to me with a lot of mystery. I've been reading a couple of them", remember. These private collectors not only have letters from Galdós, but also from other authors, both books and letters and documents. Sometimes if the owner is a collector "he has them like a jewel and does not want to get rid of them. It is normal, another thing is that a dealer had them, but it is not the case", he ventures.
Other letters from Galdós, not with this content, more literary or those addressed to friends, are usually auctioned around 500 or 600 euros, perhaps even less. But in this case, due to its uniqueness and the fact that it is a fairly large group of missives, its value is higher, says Blázquez, who says that he would buy them without hesitation if he could.
The letters that Emilia Pardo Bazán wrote to Galdós were first compiled in a biography written by Carmen Bravo Villasante and, later, through 'My dear, Letters to Galdós' (Taurus, 2013), by Isabel Parreño and Juan Manuel Hernández.
Isabel Parreño has pointed out that it is not uncommon for letters like this to appear, although she does consider it strange "that she has kept them for 30 years, because since 2013 – when the first compilation of letters from Emilia Pardo Bazán came out – she was in the media and could I am not saying that I have already sold them, but rather leave them to make an edition, even if they keep the originals. "
Parreño recalls that, regarding the fate of Pérez Galdós's letters, there have been many theories. The most likely theory is that they were destroyed in the house where Emilia Pardo Bazán lived in Calle Princesa de Madrid, which was looted during the civil war.
"It could also be that when he died, his daughters discovered that correspondence and were not interested in making it public since she was married when they maintained that relationship, and they made them disappear."
And about the legend that they were burned by Carmen Polo in the Pazo de Meirás, Parreño says: "It looks very nice but I don't think he read the letters and decided to burn them because he said they were immoral. Yes they burned papers, bills and I don't know if they burned too, but it seems weird to me. "
And she remembers that they told her that Franco's granddaughter said that in the Pazo de Meirás there were Pardo Bazán's personal things that they put in a box and gave her daughter. "I don't know if the letters were in that box … I'd like to know."
Both writers they corresponded from 1883 to 1915, "practically the whole life". From mutual admiration, they moved on to friendship, to love, and then back to friendship.
Thus, the first letters were of admiration from a young woman to an already consecrated writer, disciple and teacher. "When she goes to live in Madrid, they move in the same literary circle and become friends and maintain a more complicit relationship, with carefree tones in the letters. And later there is a very intense love affair of two years, which is when we read ' miquiño ',' little mouse 'and' I eat the mustache '".
After they distanced themselves, although they always maintained a friendship and loyaltyAnd then the letters reveal that melancholy because for Pardo Bazán he was the love of his life, says Parreño.
More than a century later, this Saturday, the actors Mateo Franco and Paula Usero will interpret their love letters in Madrid's Cuesta del Moyano, an initiative promoted by the 'Soy de la Cuesta' Citizen Association.

www.informacion.es
Digsmak is a news publisher with over 12 years of reporting experiance; and have published in many industry leading publications and news sites.