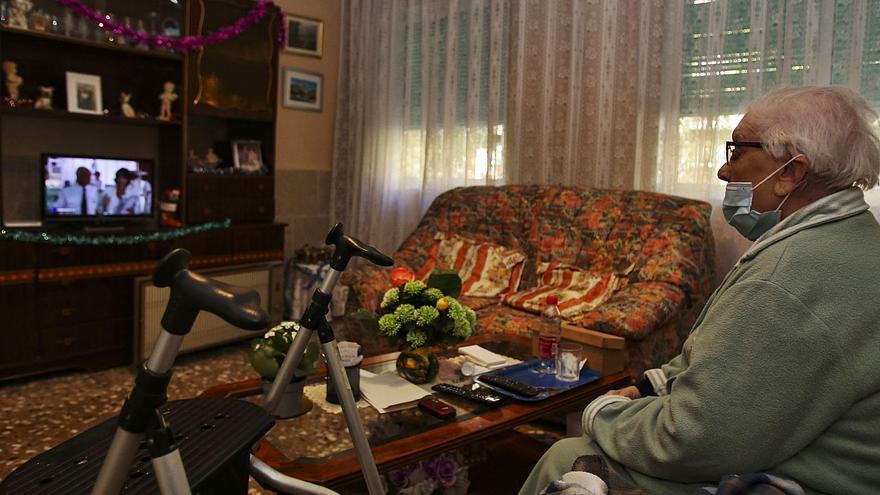 Maria Jimenez Ortega, of 88 years and neighbor of Alicante, is used to spending Christmas alone. He has been dining on Christmas Eve for years and drinking the grapes without company but this time he is having a worse time thinking about his contemporaries with family who are forced to be isolated during the holidays by the covid and especially by the grief of so many elderly people who died from SARS-CoV-2 respiratory infection. This Christmas Eve was the first lonely in her life for Juan Miró, 85-year-old from Alcoy: her daughter had to be quarantined due to contact with a positive person who she did not know had the infection and with whom she was related through her work. Luckily, he was able to say goodbye to the disastrous 2020 in company. In the province there are almost 83,000 people over 65 who live alone, according to the National Institute of Statistics. Another piece of information for reflection: one in four seniors lives alone and 43% of Alicante residents who live in single-person homes are over 65, a figure that is also progressing. The pandemic aggravates their isolation in a holiday that most are spending without their relatives, who prefer to leave them alone at the risk of infecting them. To mitigate this situation, the Red Cross has promoted the initiative "Letters Against Loneliness", a virtual communication space in which children and youth ages 8 to 17 and older from all over the province have exchanged letters with the best wishes, which have not been left alone on paper. Intergenerational contact is completed with video calls to deepen this special connection between people of different ages who do not know each other and who have crossed their lives because of the pandemic.
«The mask bothers us a lot», «we are all like that but it is for our good», «we are fed up with the pandemic», «I am very lonely but I have to put up with it like many people» or «I am very happy to see you, Let's see if we can meet one day »are some of the messages from each other in this virtual forum launched through the youth section of the Red Cross and the entity's senior program. Returning to the parties in María's solitude, the woman chose to have dinner on Christmas Eve and on New Year's Eve a frugal meal for health, a sandwich with York ham, trying on New Year's Eve to endure the chimes to drink the grapes.
For her loneliness during these familiar days is not something that catches her again. "I spend Christmas at home alone, calm, there are many times already," she explains, because she has a daughter but lives abroad. "I was envied 32 and a half years ago," he recalls. Some neighbors are watching her, including a young man who decorates her house with ornaments, "although now everything is sadder. Before I was younger and I wore it differently. I am older and not quite well, but I pass it.
These parties are different for her due to the suffering caused by the news related to the coronavirus, especially the numerous deaths in nursing homes. "I was in a nursing home a few years ago and spent Christmas in bed. They held festivities for the elders but he was not comfortable and did not participate. Despite loneliness, I am better at home. It saddens me that so many older people are affected. The residence where I stayed is in the province of Murcia and I think that two or three people have died there.
The old woman has home help. He works only half because he broke a bone in his shoulder and had an arm surgery. She does not go out to the street much and when she does she is accompanied and with a walker; and he cannot cook too much so he orders the food or a neighbor takes it, minutes of company that he appreciates. The woman points out that 2020 has been one of the worst years she remembers for everything that has happened with the covid-19. "Seeing how people die without being able to do anything is bad, and Christmas has been worse for those who have been alone these holidays due to the coronavirus. But they must be encouraged, that this is so and hopefully it happens. Things come as they come. María, born in Campo de Criptana (Ciudad Real), was able to communicate thanks to the Red Cross with her sister by video call and feel some closeness even through a screen.
Juan Miró's Christmas in Alcoy has not been as isolated as María's because she was able to say goodbye to the year with her loved ones but, due to the risk of contagion from the respiratory virus, she spent her first Christmas Eve and her first Christmas day alone. His descendants, who live in Valencia and who were about to visit him, were forced to quarantine when one of his daughters had been in contact with a positive because of his work with social groups. «I watched television, a movie and went to bed. It is the first time that I have been alone because they always accompany me at these parties but it was possible to bear. It is one more day without company, "he explains. Juan Miró, who had a soup and few sweets for dinner "because they eat too many at this time," was widowed six years ago and is in good health. "The coronavirus scares me but like all people. We cannot be thinking about it all the time, we have to cheer up and live, and let it not touch us ». He spent the entire confinement without seeing his two daughters or his three grandchildren, although he communicated with them by video call. He understands the absence of Christmas Eve "to protect themselves and especially me." Miró hopes to have the opportunity to meet more often with his family this new year. Although he had prepared the tree and the nativity scene at the end he barely mounted four figures, "2021 will be another year," he says. Faced with the forced loneliness of this Christmas, the Alcoy neighbor found comfort in the Red Cross initiative, "communicating with children and young people is a good thing, and encourages the elderly." Because the letters at the initiative of the NGO do not ask for gifts but rather the wish that the elderly are not alone.
"It is a project that helps generate these intergenerational connections, instill values ​​of solidarity and combat loneliness, especially aggravated by the pandemic. A beautiful project and more necessary than ever ", summarized in a video of almost 7 minutes and financed by the Generalitat through the Valencian Youth Institute, they explain from the entity. The person in charge of the program, Omar Ibáñez, points out that a total of 30 people participate, and 9 of them in the short.
«They live in different parts of the province and do not know each other. In addition to children, there are young people who, contrary to what is said, show that they are responsible, "said Ibáñez in defense of a group whose responsibility is often questioned due to their tendency to make a social life despite restrictions. "For the Red Cross, young people have been very important in 2020 because, during confinement, the elderly, being a population at risk, could not leave home, they were alone and they brought them the groceries or medicines", remember.
The NGO has more than 200 young volunteers in the province, who also carried out tasks with children admitted to hospitals as help with homework during the closure of the first wave of the new coronavirus.
Telephone system that recognizes age by voice
The priority care service for the elderly of the Telefónica mobile company attended 53,159 calls in the province from April to November 2020. Those of the elderly account for 11% of calls to 1004. The company considers that, from the beginning of the confinement, «communication is an essential good for the elderly, especially if they live alone, hence they are guaranteed urgent care in order to avoid double isolation. To this end, they use a voice recognition system that helps to differentiate the age when the elderly call 1004, or 1002, number of breakdowns, and they are treated as a priority. The elderly call for voice, TV and connectivity incidents; and installation and management of alarms.

www.informacion.es
Eddie is an Australian news reporter with over 9 years in the industry and has published on Forbes and tech crunch.