Drafting
BBC News Mundo, Mexico City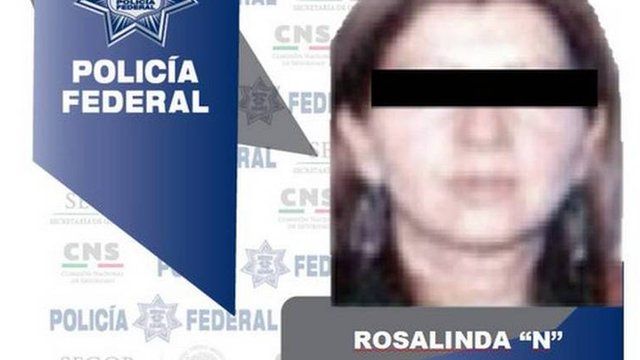 The financial structure of the Jalisco Nueva Generación Cartel (CJNG), one of the most powerful in Mexico, has just suffered "a significant blow."
This is how the Mexican National Defense Secretariat defined the arrest on Monday of Rosalinda González Valencia, wife of the leader of the CJNG, Nemesio Oseguera Cervantes, alias El Mencho.
Various crimes are attributed to her, such as her alleged relationship with "the illicit financial operation of an organized crime group," according to a statement from the authorities.
Known as La Jefa, she was detained in Zapopan, in the state of Jalisco considered a stronghold of the CJNG.
But it's not the first time. González Valencia was already arrested in 2018 in the same municipality accused of organized crime and money laundering, but he got out of jail three months later after posting a bond of around US $ 78,000.
Her husband, El Mencho, is considered the leader of one of the most powerful drug cartels in Mexico along with its main rival in the country, the Sinaloa cartel.
Still unaccounted for, El Mencho is one of the most wanted drug traffickers in Mexico and the United States, whose anti-drug agency (DEA) offers up to US $ 10 million to anyone who provides information that allows his capture.
After her arrest, González Valencia was placed at the disposal of the judicial authorities at the Federal Center for Social Readaptation No. 16 "CPS Femenil Morelos" in Coatlán del Río, Morelos.
Los Cuinis
According to various Mexican media, González Valencia married Mencho in 1996. As a result of their relationship, they had two children.
His daughter Jessica Johanna She was sentenced this year in the US to 30 months in prison for ties to drug trafficking.
Your son Rubén, alias el Menchito, he was arrested in 2015 and last year he was extradited to the United States to face drug trafficking charges.
Meanwhile, her mother Rosalinda lived in recent years in one of the most exclusive residential areas near Guadalajara, the same place where she was arrested for the first time in 2018.
He belongs to a large family in which several of its members were identified as part of Los Cuinis, the financial arm of the CJNG and dedicated to money laundering.
His brother Abigael was the leader of the group. Arrested in 2015, he was considered the second in command of the CJNG and alleged financial operator of Mencho.
Alias ​​el Cuini, Abigael remains in prison and recently became a collaborating witness in the case of the 43 missing Ayotzinapa students.
José, another of the González Valencia brothers, was extradited just a few days ago from Brazil to the United States on charges of drug trafficking.
Now you can receive notifications from BBC Mundo. Download our app and activate them so you don't miss our best content.

www.bbc.com
Eddie is an Australian news reporter with over 9 years in the industry and has published on Forbes and tech crunch.