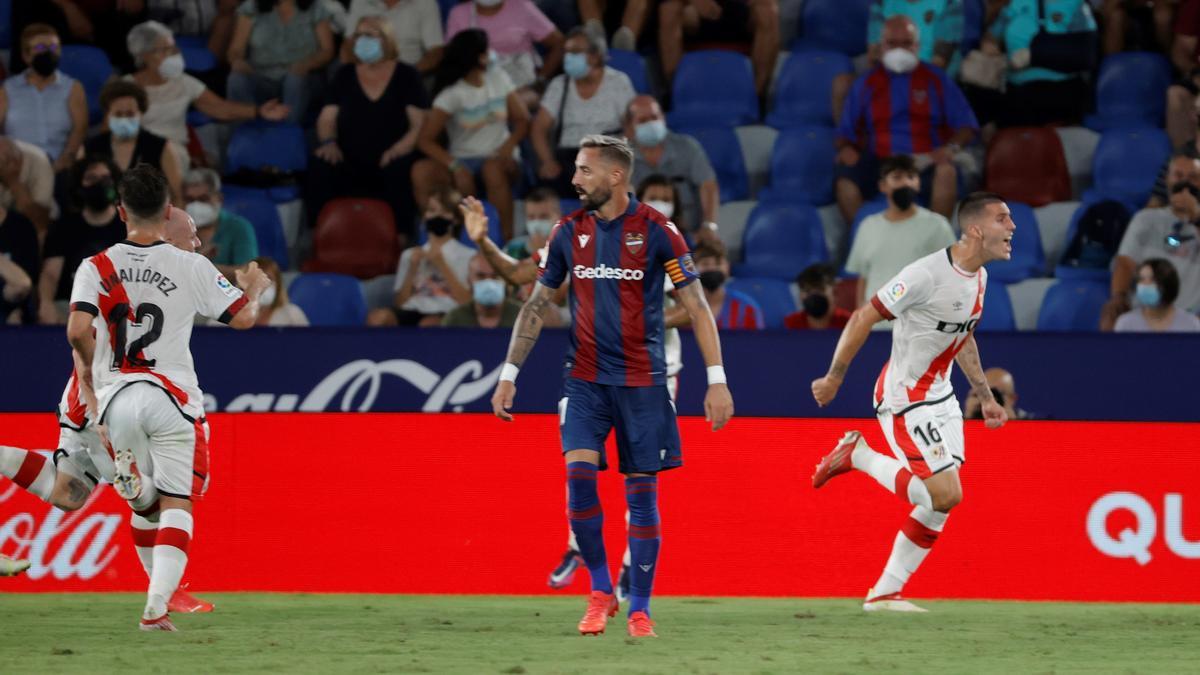 Rayo Vallecano started a draw this Saturday in his visit to Levante (1-1) thanks to a goal by rookie Sergi Guardiola in extra time that neutralized the both Roger's penalty in the first half and it did justice to what was seen on the pitch, as the Madrid team smashed two balls into the post and had more and better chances than their rival.
The game, as expected, started fast, with two teams looking very vertically for the rival area. Levante, despite reaching the danger zone easily, was very erratic in the final pass and lateral centers, only Roger Martí was able to generate danger.
Rayo was not daunted and looked for the goal. In the equator of the first act enjoyed two clear occasions that had the unfortunate protagonist of the Levantine Campaign. First a bad control of his allowed Nteka to face Aitor but the Basque goal prevented the goal. Just a minute later, a shot from Isi, who entered to replace the injured Merquelanz, touched the Levantine player and the post repelled the ball.
The goal seemed closer to Iraola's team but some Pathé Ciss's clear hands in the area ended in a penalty, after consulting the referee Alberola Rojas the VAR and not appreciating Vezo's prior lack of the French midfielder. Roger, with quality, raised the score 1-0 in the 39th minute. Rayo sought the equalizer and a spectacular Chilean from Álvaro was about to allow the Vallecanos the equalizer.
The game resumed as it ended, with a frenetic pace and with the Ray generating more danger. Again the post avoided the goal of the Madrid team, this time after a personal move by Nteka, in which he used his physical power to overcome Rober Pier and Miramón.
Andoni Iraola he hit the mark with a triple change in which he entered Unai López and Sergi Guardiola, two of his last signings who made their debut in search of at least a draw. Guardiola had it on his first ball but with everything in favor he missed his header.
Rayo cuddled a lot in the final minutes against a Levante who defended their meager income as best they could in pursuit of a first win that escaped them again in extra time, after a good assist from Baby who clinched Sergi Guardiola's goal.
Levante: Aitor, Miramón, Vezo, Rober Pier (Postigo, m.75), Clerc, Melero, Campaña (Malsa, m.59), Martínez (Pepelu, m.79), Morales, Roger (Son, m.75) and Cantero (Dani Gómez, m.59).
Vallecano Ray: Dimitrievski; Balliu, Saveljich (Guardiola, m.66), Catena, Fran García; Pathé Ciss (Öscar, m.66), Santi Comesaña; Merquelanz (Isi, m.14), Trejo (Unai López, m.66), Álvaro; Nteka (Baby, m.73).
Goals: 1-0, m.39: Roger, de penalty. 1-1, m.92: Guardiola.
Referee: Alberola Rojas (C. Castellano-manchego). He admonished Pablo Martínez, Morales and Malsa for Levante, and Pathé Ciss, Comesaña, Balliu and Álvaro for Rayo.
Incidents: Match corresponding to the fourth day of LaLiga Santander played at the 'Ciutat de València' stadium before 12,974 spectators. Paralympic medalist Ricardo Ten performed the honor roll.

www.informacion.es
Eddie is an Australian news reporter with over 9 years in the industry and has published on Forbes and tech crunch.