Gerardo Lissardy
BBC News World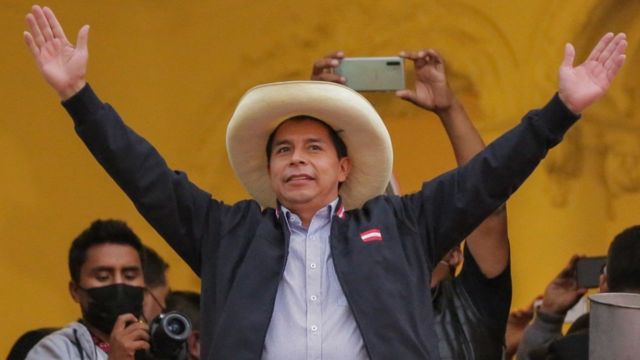 The surprising rise of Pedro Castillo as a political leader in Peru raises a basic question: which figure on the diverse Latin American left does he identify with?
The question gains relevance after in the scrutiny of the Peruvian second electoral round, which ended on Tuesday, Castillo won with 50.1% of the votes against 49.9% of the right-wing candidate Keiko Fujimori.
But the official definition of the winner may still take several days, while a request by Fujimori to review some 300,000 votes and annul about 200,000 in areas where Castillo had the most support is resolved.
This 51-year-old rural teacher, nominated by a party that calls itself Marxist-Leninist, was a virtual stranger in the region until his victory in the first round of April, prompting the search for similarities with other leftist politicians.
Some point out that Castillo is influenced by what he did Evo Morales when governing Bolivia between 2006 and 2019, or Rafael Correa when governing Ecuador between 2007 and 2017.
"Pedro Castillo intends to establish a popular economy with markets, inspired, precisely, by the model of Bolivia and Ecuador," wrote the Peruvian Nobel Prize for Literature, Mario Vargas Llosa, in an April column where he argued that his country's democracy would run risks with a victory for that candidate.
Morales was one of the first political figures in the region to support Castillo, who at the end of his campaign sought to approach another perhaps less controversial leader from the Latin American left who also backed him: the former Uruguayan president Jose Mujica.
"How well we tune in to the cause of the people," Castillo told Mujica during a virtual meeting that both held days before the second round. "I have always been aware of their activities."
The question, then, is what Castillo takes as an example of those and other leaders of the regional left.
"Redesign of the State"
One reason why Castillo has been compared to Morales, Correa or the former Venezuelan president Hugo Chavez it is his proposal to change the Constitution of his country, as those politicians did when promoting their projects of "21st century socialism."
Mujica, by contrast, avoided modifying the Uruguayan Constitution while he governed between 2010 and 2015.
The party for which Castillo was a candidate, Peru Libre, "has more radical left positions, more associated with Evo (Morales) than with Mujica in Uruguay," Farid Kahhat, a Peruvian expert on international relations, tells BBC Mundo.
A Castillo government plan presented before the second electoral round maintains that "the current Constitution prioritizes private interests over public interest, profit over life and dignity."
The stated objective is to convene, by means of a referendum, "a Constituent Assembly to draw up a new constitution" that expressly recognizes the rights to health, food and housing, among others.
It also provides for a "redesign of the State that guarantees transparent decision-making with active citizen participation" and "practices strategic planning, regulates and invests."
"Welcome private investment, but with clear rules. Do not exploit our workers," Castillo said in the last debate of the campaign for the presidency.
How he would accomplish that remains to be seen.
But many remember that the government program presented by Peru Libre for the campaign says that the State must be nationalizing and has the mission of reviewing, renegotiating or canceling contracts with transnational companies.
It also proposes that 80% of the profits they generate remain for the State, and the rest remain for the companies.
Castillo has proposed renegotiating contracts with mining companies, a sector that represents almost 60% of Peru's exports, and eventually nationalizing different minerals and gas.
All of this also evokes what Correa in Ecuador and Morales did in Bolivia when redesigning the State, giving it a more regulatory role for the economy, renegotiating contracts with foreign oil companies and ordering nationalizations in the hydrocarbon area.
"No chavismo"
One difference between Correa and Morales is that the latter, a former coca grower unionist, had a higher level of social organization to be elected as the first indigenous president of Bolivia than the Ecuadorian economist had.
In this sense, some see more similarities between Morales and Castillo, a teacher leader in Peru and an exrondero (a member of the peasant rounds, a community defense organization), elected largely by the rural vote.
"Castillo is more like Evo, he does have some level of social organization behind him," Kahhat compares. "There is also an ethnic element behind its call, although it is not always explicit."
Morales himself tweeted in April that Castillo has "a similar program" to the one he promoted in Bolivia, with a "peaceful democratic and cultural revolution, defending natural resources and promoting a Constituent Assembly, for the benefit of the people so that there is social justice."
But others warned Peruvians that Morales sought to be reelected beyond the term limit established by the Constitution that he himself promoted in Bolivia.
"Do not forget that whoever has the pencil to write the Constitution later believes himself the owner and sole interpreter of the Constitution, and violates it," said the former Bolivian president Jorge Quiroga on the Peruvian network RPP Noticias before the ballot.
In his campaign, Castillo avoided commenting on Morales' re-elections, denied having "models" of government and vowed to leave power after the end of his term in July 2026, without seeking to be reelected.
The then Peruvian candidate pledged to respect democracy and human rights, in response to fears that he could follow the path of other left-wing leaders in the region accused of authoritarian drifts.
In particular, it sought to differentiate itself from the socialist government of Venezuela. "No chavismo," he said and asked the president of that country, Nicolas Maduro, to "fix your internal problems" before referring to Peru.
However, Mujica thought it appropriate to give Castillo some advice during the talk that they both held live on Facebook a few days ago.
"Do not fall into authoritarianism, bet on the heart of your people permanently. And when you make a mistake, have the honesty to tell them: I was wrong," said the former Uruguayan president after warning that "it is not easy to twist the course of reality in favor of the weakest ".
While he was president of Uruguay, Mujica legalized abortion, gay marriage and marijuana, options opposed by Castillo, who defines himself as a Catholic and is married to an evangelical.
After the elections, the man who campaigned in a wide-brimmed straw hat and mounted on horseback again pledged respect for democracy and the current Constitution, as well as for economic and financial stability.
Some of his advisers have ruled out interventionist measures such as price or import controls, and suggested that instead of nationalizations, taxes on mining companies could be renegotiated.
Some distinguish between Castillo and the party that nominated him, whose leader, Vladimir Cerrón, is a radical left doctor who studied in Cuba, has expressed affinity with the Venezuelan government and was disqualified in the elections due to a sentence for corruption when he was governor of the Junín region.
"The party has authoritarian leanings. Castillo is not a member of that party and is not even a Marxist-Leninist," says Kahhat. "But he himself has made some statements that also pose a risk of authoritarian regression."
For example, remember that Castillo mentioned in the campaign the possibility of deactivating the Constitutional Court to elect a new one by popular mandate, another idea that some considered inspired by the Bolivia of Evo Morales.
"Later, in the second round, he changed his speech," says Kahhat, "but the question today is which Pedro Castillo do you believe in?"
Now you can receive notifications from BBC Mundo. Download the new version of our app and activate them so you don't miss out on our best content.

www.bbc.com
Eddie is an Australian news reporter with over 9 years in the industry and has published on Forbes and tech crunch.