Before the elections in the United States, two questions hovered about how President Donald Trump would react to a possible defeat.
The first question was whether Trump would accept a victory from his Democratic rival Joe Biden.
We already know the answer: Trump refuses to acknowledge Biden's victory projected from Saturday and he maintains that there was electoral fraud, without showing any evidence in this regard.
A second relevant question was whether the president would use his enormous power to avoid recognition of Biden.
And the answer to this began to unfold this week, with several measures by the Trump administration challenging the election results and hindering a transfer. orderly power.
In his battle for the election results, Trump has also won the backing of leading figures in his Republican Party, where few senators have congratulated Biden.
Some experts warn that the current scenario increases the risk of an unusual dispute in the US over the transfer of command.
"Where will this lead? Nobody knows. Ultimately, it will depend on his fellow Republicans pressuring him (Trump) to step aside. Otherwise, it can create a constitutional crisis, "Joshua Sandman, a professor of political science at the University of New Haven, an expert on the US presidency, tells BBC Mundo.
"A shame"
Biden on Tuesday called Trump's attitude "a shame" since the election, but said his team is carrying out the transition anyway.
The projection of Biden's triumph responds to that the Democrat surpassed the majority of 270 delegates in the Electoral College that on December 14 will elect the next US president.
Although different media reported on this and leaders of countries around the world have congratulated Biden on his victory, Trump decided to dispute the results in court of law.
US Attorney General William Barr on Monday allowed Justice Department attorneys to investigate allegations of wrongdoing if they are "clear", "apparently credible" and may affect the outcome of the election in any state.
This attracted attention not only because Trump and his team they still show no evidence of fraud, but also because traditionally the states are in charge of supervising elections, without interference from the federal government.
Indeed, Barr's decision prompted the resignation of the top official in charge of overseeing those investigations, Richard Pilger.
US Secretary of State Mike Pompeo also drew attention Tuesday by predicting "a smooth transition to a second Trump term," without making it clear if he spoke. jokingly to the press.
On the other hand, members of Biden's transition team have reported that their access to federal government facilities was hampered by a Trump-appointed official, Emily Murphy.
Murphy heads the General Services Administration, which must formally enable the start of the transition and has avoided doing so as Trump fights his legal battles over the election.
Members of Biden's team indicated that this prevents them from even receiving calls from foreign leaders, brokered by the State Department, and suggested that they could initiate legal action to reverse the situation.
In addition, the White House instructed federal agencies to continue preparing the government's budget for the next fiscal year in February, although Trump's term ends on January 20, the newspaper reported. The Washington Post.
"Nothing in my memory or in my knowledge of US institutions resembles this kind of behavior," says Lynn Ross, a public policy professor at Georgetown University in Washington who spent years in government. including the Executive Office of the President and the Office of Management and Budget.
"Until they present or provide some kind of credible evidence that prove there was a problem with this election (…) this continues to be only a kind of conjecture and an alteration that the current president imposes on our system ", Ross tells BBC Mundo.
The Republican Factor
Trump's behavior after the elections has once again demonstrated the enormous influence he has over the Republican Party, which has long become a kind of political arm of the president.
Different Republican figures have followed Trump's refusal to recognize Biden as president-elect.
Some supported the president without endorsing his claims of fraud, such as the Republican Majority Leader in the Senate, Mitch McConnell, who on Monday justified that Trump has every right to go to justice for the results of the election.
As of Tuesday afternoon, just four Republican senators had congratulated Biden on his victory, as did former President George W. Bush on Sunday.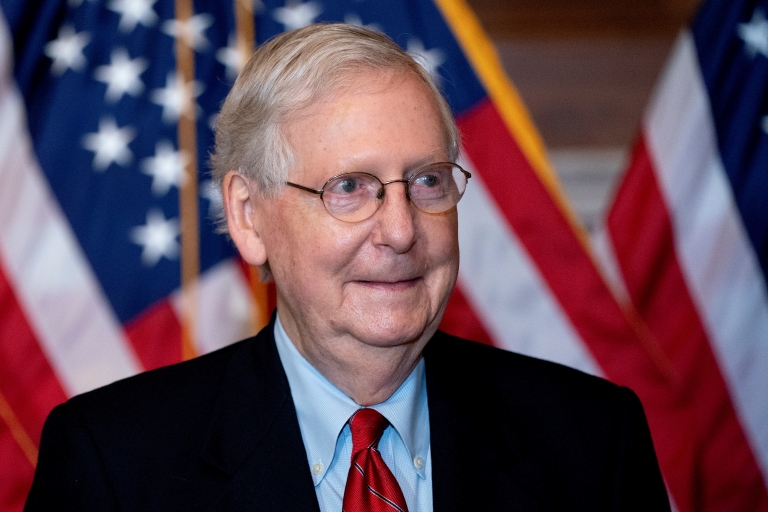 Reuters
"Trump has every right under the law to examine complaints and request recounts"
One of the strongest Republican criticisms of Trump came Tuesday from Massachusetts Governor Charlie Barker, who said he was "shocked to hear the unsubstantiated claims of the president and his team and many other Republican elected officials."
"This last measure, deploying the Department of Justice, is grossly inappropriate," he said.
Republican Party endorsement of Trump is attributed for different reasons, such as the sympathy or fear generated by a president willing to attack in public those who contradict him.
There are also electoral calculations that include the uncertainty of the next Senate majority.
This may hinge on Georgia's runoff for the two seats in that state on January 5: if the Democrats kept them, they would have a majority in both houses.
Republicans also want to avoid alienating the more than 71 million votes Trump won nationwide, but will have to decide whether at some point to require the president to drop his dispute over the results, Sandman anticipates.
"Right now (Trump) is not looking to do that; try to create a situation where you can challenge openly the result, waiting to see what the courts will do, "he explains." If the courts support the results, you will have no choice but to stand aside. "
Now you can receive notifications from BBC Mundo. Downloadour app and activate them so you don't miss our best content.

www.bbc.com

Digsmak is a news publisher with over 12 years of reporting experiance; and have published in many industry leading publications and news sites.