At a social gathering at the beginning of the third season of Dickinson (which Apple TV + premiered last Friday), one of the characters complains that he can no longer read the news, "they are too depressing." The carefree gossip has given way (only for a few seconds) to lamentations for the dark times that they have had to live. They refer to the Civil War (1861-1865), during which the series of chapters that ends this peculiar comedy takes place. Neither the scriptwriters nor the spectators of the series miss the parallelism in the feelings of the characters with the present times.
"We wrote the third season through Zoom very early in the pandemic, when everyone was in shock, confused and traumatized. The writers' room became a kind of healing room, where we met every day to talk about what was happening and try to process it together ", Alena Smith, creator and head of the series, who has reviewed the figure of the American writer Emily Dickinson from a contemporary, feminist and groundbreaking perspective, closer, according to her, to reality than the ideas that have circulated about the poet for decades.
"My relationship with Emily Dickinson possibly started in high school, when I read her poems. In college I read a biography that hit me hard. Her relationship with her family and the meaning of writing in her life resonated a lot with the young writer that I was at that time. And about 10 years later I had the idea of ​​doing a series about her, I wanted to celebrate that radical artist, queer and feminist who in her own time was utterly misunderstood. Also, I found it very inspiring to remain faithful to your work even though no one saw it, "he laughs, reviewing his relationship with the writer who was born in 1830 in Amherst, Massachusetts, and of whose work only six poems were published while she was alive. .
Faced with the permanent and voluntary seclusion in which she lived, the series shows the author as a passionate young woman with an overflowing imagination that is reflected in her collection of poems, the true guiding thread of the plot. Of the poet, Smith highlights a sense of humor "that many people do not see." "People tend to imagine all poets as sad people, and I don't think Emily Dickinson was sad. I think she was extremely passionate and very interested in the world around her, even though the world around her was very limited in the sense of what she experienced, because her life was confined and domestic, reduced to her own home, his city and his room. But he was able to find the infinite in the small ".
In her vision of Emily Dickinson, she has been awarded a premio Peabody, one of the most prestigious in the American audiovisual industry, Smith has no problem resorting to constant anachronisms that bring the character closer to the present day. "We wanted to take a mirror from today and show that everything that we saw as old is not as old as we think, and that what seems new to us is not so new, how the difference between past and present is blurred and the light is directed towards the position of women, people queer and anyone who has been marginalized and has not been in the center when telling the story.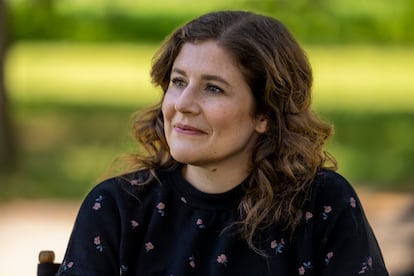 It is also a way of showing the modernity of Emily Dickinson as a poet and as a woman. "It is a radical spirit. He knew the rules, expectations, and norms of his world and consciously chose not to follow them. He did those weird rhymes, he used that punctuation and that spelling not because he didn't know how to spell it, but because the way it was supposed to be done didn't work for him. He broke the rules and created something that was almost 100 years ahead of its time in terms of enigmatic modernism, I would say. He never let us have an answer, he asked questions, presented possibilities, created a space of ambiguity and transferred his questions to us ".
An explicitly feminist workplace
Alena Smith, seasoned in the writing rooms of productions like The Newsroom and The Affair, always wanted hers to be a feminist series in front of and behind the cameras. "Dickinson it was always and explicitly a feminist workplace. We have a majority of women or people of non-binary gender in the cast and behind the cameras, a majority of women directors queer, stunt coordinator, costume designer … Dickinson It has been done by a lot of people who did not identify as a man ", summarizes who during the last season of The Newsroom He faced in the writers room, and publicly, the almighty Aaron Sorkin, creator of that journalistic drama, for the treatment that the series made of a gang rape.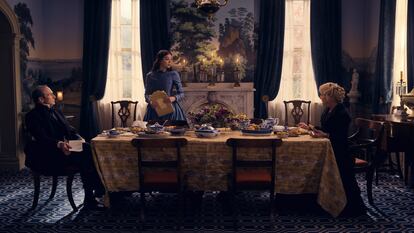 "The entire culture underwent a profound change in 2017 with the MeToo movement, which has had thousands of ramifications in Hollywood. Now only have an intimacy coordinator in the set for any scene that involves physical intimacy it was something that did not exist before 2017 and now it would seem crazy not to have it. Things have changed a lot and fast, they are still changing and I hope Dickinson be part of that change, "says Smith, asked about her past work experiences.
In the third and final season, Emily (played by Hailee Steinfeld) considers the usefulness and meaning of art in dark times. The Civil War was the poet's creative and productive peak in real life, with relentless activity that resulted in some of her best work, according to specialists. That his story ended with a third season that took place in times of the American civil war was always in the plans. "I wanted the show to tell Emily's coming of age, to shed light on all the misinformation we've received and to rebuild what I think is closer to her real spirit and identity. I wanted to focus on the young Emily who is struggling to get ahead as an artist. And in the civil war is where that happens, it opens from within and becomes the great poet that she is ".
You can follow EL PAÍS TELEVISIÓN on Twitter or sign up here to receive our weekly newsletter.



elpais.com
Eddie is an Australian news reporter with over 9 years in the industry and has published on Forbes and tech crunch.