Gerardo Lissardy
BBC News World, New York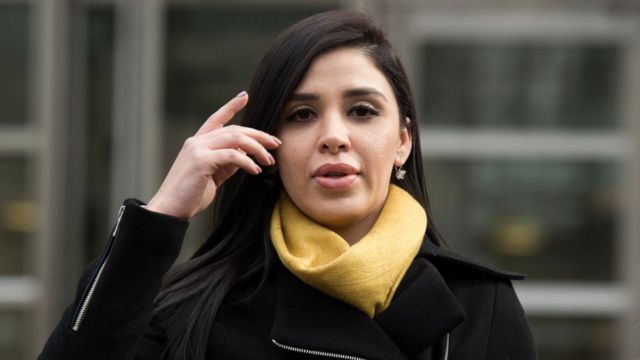 "Guilty," said Emma Coronel when a judge from the United States asked her how she declared herself before the charges she faced for helping her husband, the Mexican Joaquín "El Chapo" Guzmán, in his activities as a drug lord.
Colonel's admission of guilt this Thursday before a federal court in Washington DC seals the fall from grace of this 31-year-old former beauty queen who lived in the bowels of a gigantic international drug cartel.
His sentence is scheduled to be announced on September 15 and he will remain in prison until then.
Only the first of three charges against him for conspiracy to distribute cocaine, heroin and other drugs to the United States can carry a maximum sentence of life in prison.
The judge in the case, Rudolph Contreras, said during the hearing that he did not know what sentence he will impose on Coronel, who denied that he had been promised a lighter sentence for pleading guilty.
But legal experts believe Coronel faced a tough battle if he went to trial like "El Chapo," who is now serving a life sentence in the US, and instead accepted his charges in an attempt to reduce his jail time.
"Pleading guilty definitely gives you hope of receiving a lighter sentence," Tedd Yoder, a defense lawyer who has worked on several drug cases in the US, tells BBC Mundo.
In fact, in the plea agreement signed by Coronel, prosecutors propose that he receive between 108 and 135 months (from 9 to just over 11 years) in prison.
Drugs and money
Coronel, who has dual Mexican-American nationality and is the mother of two twins she had with "El Chapo", was arrested in February at Dulles International Airport, near Washington.
The charges against him, in addition to drug trafficking, included conspiracy to launder money and participation in transactions with a narco.
Prosecutor Anthony Nardozzi said at Thursday's hearing that Coronel helped the Sinaloa cartel led by her husband to bring to the United States more than 450 kilos of cocaine, 90 kilos of heroin, 90 tons of marijuana and 45 kilos of methamphetamine. between 2011 and 2017.
He added that after Guzmán was arrested in Mexico in February 2014, Coronel "served as an intermediary to deliver messages" to cartel members about drug trafficking and money laundering activities.
Nardozzi also said that Coronel conspired with Guzmán's children and others for a prison break from the capo, which took place in July 2015 through a one-mile-long tunnel from the Mexican prison in El Altiplano.
He specified that Coronel received deliveries of money from the narco in cash financing the cinematic escape.
"In 2007 the defendant married Guzmán and from that moment until her arrest in February 2021 she received monetary support from her husband" with money from drugs, Nardozzi said.
He added that Coronel controlled residences and commercial properties paid for by Guzmán and rented them for income.
The US had been investigating Coronel for about two years before his arrest, which occurred when he was gaining fame: he had appeared on a reality show about relatives of drug traffickers and had plans to launch a clothing line under the name of "El Chapo." .
During Guzmán's trial, which she witnessed every day among the public in a New York court in 2019, compromising testimonies and evidence emerged for her.
Dámaso "El Licenciado" López, one of the witnesses in that trial and a trusted ex-man of "El Chapo", told how she participated in the prison escape plan by meeting several times with him.
Evidence was also presented that Coronel served as an intermediary between her husband and her father, identified as another member of the Sinaloa cartel, in exchanges about drug shipments.
"Tremendous pressure"
Specialists believe that if Coronel had chosen to go to trial, he had a serious chance of spending the rest of his days behind bars.
"Just look at your husband to easily see what happens to someone who wants to challenge the government," says Yoder. "A life sentence often comes with a guilty verdict after a trial in these types of cases."
The judge now has the power to impose for Coronel a sentence of less than ten years in prison, the minimum established for the first drug trafficking charge he faced.
Colonel could further shorten her prison time with rehabilitation programs for being a US citizen and for good behavior.
Following his arrest, press reports surfaced from anonymous sources suggesting that Coronel could cooperate with US authorities by providing information about the cartel in an effort to reduce his sentence.
The plea agreement signed by Coronel lacks any reference to cooperation, but Yoder points out that this may respond to security reasons for her or her family.
In his opinion, there is still the possibility that Coronel cooperates with the authorities and, although it is unknown whether he will do so, the agreement he signed includes references to the motion that the government usually presents to reduce the sentence of a cooperator.
"She must have been facing tremendous pressure from all sides for the different crimes that they allege she committed, and now she has accepted responsibility," Yoder says. "I think this is a good deal for her."
Remember that you can receive notifications from BBC News Mundo. Download our app and activate them so you don't miss our best content.

www.bbc.com
Eddie is an Australian news reporter with over 9 years in the industry and has published on Forbes and tech crunch.